As Benjamin Franklin once said, "nothing is certain but death and taxes." If he had lived during our time, Franklin would probably have added a couple other certainties - and garbage would have been among them.
The US non-hazardous solid-waste services industry generates annual revenue in excess of $50 billion, a staggering number just to keep our streets clean. Public companies (like Waste Management (NYSE:WM), Republic Services (NYSE:RSG), Waste Connections (NYSE:WCN), etc.) dominate this market, generating greater than 60% of industry revenues and controlling an equal percentage of valuable disposal capacity. The top line for the group can be expected to expand at a nominal-GDP rate, with pricing growth in the industry adding an additional tailwind thanks to recent consolidation (Republic Services/Allied Waste), a rational focus on return on invested capital, and cost pressures facing independent mom-and-pop trash companies and municipalities.
There are a couple reasons to be fans of the waste-services industry:
1) Operators generate strong and predictable cash flow.
Within the collection line of a waste hauler's business (typically 60-70% of revenue; about 75%-plus in Republic's case), residential services provided to municipalities and individual households are on a service-based model (not-volume based) and can largely be viewed as insulated from economic pressures. Such a constant revenue stream helps to mitigate cyclical pressures in a trash taker's commercial collection and industrial roll-off lines, which also fall into the overall waste-collection category.
Cell-by-cell landfill build-out provides additional flexibility with respect to capital outlays, as haulers can scale back expenditures during troubled economic times. Waste Management's results speak to the cash-flow stability of this business, and Republic's free cash flow margin will return to double-digit levels this year following its acquisition of Allied Waste a few years ago.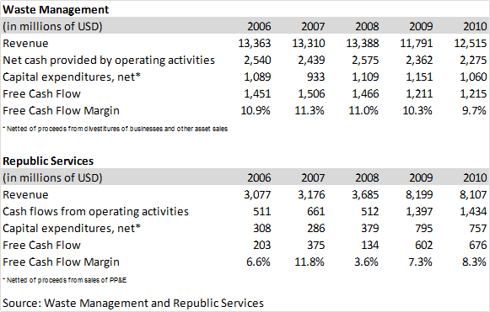 2) There are huge barriers to entry in the landfill business.
Transfer and disposal (typically 20%-30% of revenue; about 18% of revenue in Republic's case) is the most lucrative revenue stream in the waste business. Landfill ownership can largely be viewed as the primary competitive advantage for a solid-waste operator. Though anyone that can finance a truck can bid on collection routes (service is undifferentiated), new entrants are at a significant disadvantage for disposal.
For starters, building a landfill is expensive, time-consuming (permits can take 3-7 years to obtain, sometimes longer), and NIMBY (not-in-my-backyard) opposition has only increased with suburban sprawl. Subtitle D of the Resource Conservation and Recovery Act (1991) significantly increased the cost and complexity of landfill ownership (composite liners, leachate collection systems, zoning, etc.). As a result, many landfills in the US have been closed, and disposal airspace should only become more valuable over time.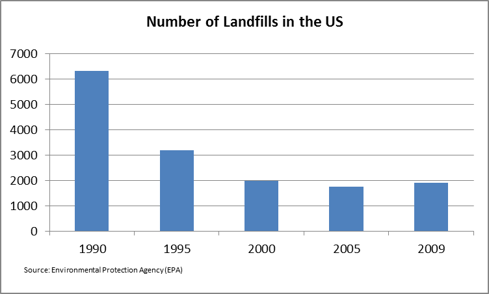 Since collected waste must go somewhere (direct haul is only practical for 40-50 miles), the company that controls the disposal assets in a given "wasteshed" (locality) often dictates pricing. Owning the only dump in town also limits hefty tipping fees paid to other participants. Waste Management and Republic Services internalize--dispose of into their own company-owned landfills--more than 60% of collected waste, bolstering operating margins relative to privately-held, independent operators. Importantly, landfilling still represents the most prominent form of disposal, declining only 3 percentage points (as a percentage of generation) during the last decade. Materials recovery (including recycling) should continue its march upward, but the pace of this trend is far from tragic for the waste-hauling sector.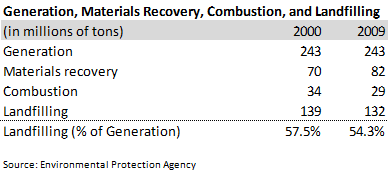 Why Republic Services?
After its acquisition of Allied Waste, Republic now operates roughly 190-plus solid municipal-waste landfills from under 60 pre-acquisition, second only to Waste Management's 271 sites. These disposal assets represent a long-term strategic benefit that will only become more valuable over time due to an increasingly onerous regulatory environment and continued citizens' group opposition to greenfield sites.
Through long-term exclusive franchise contracts with municipalities, Republic operates as a monopoly in nearly 30% of its markets. Plus, Republic arguably has the most attractive franchise deal in the country, an exclusive contract that runs through 2035 with Las Vegas. Its enormous Apex regional landfill in Clark County, Nevada, is the busiest facility in the country and should enjoy years of strong cash flow generation from one of the fastest-growing areas in the country.
Although Republic has largely captured its targeted synergies related to the Allied transaction, continued execution should drive free cash flow margins to levels even higher than peer Waste Management. Specifically, Republic's guidance for $860 million to $885 million for free cash flow in 2011 seems achievable and breaches the double-digit mark as a percentage of revenue (check out Republic's most recent presentation here).
On an enterprise free cash flow basis, we're looking at annual levels comfortably above the $1 billion mark. Assuming a meager 2% long-term growth rate, a high-single-digit cost of capital (perhaps a conservative assumption given yields on its recent new issues), and accounting for the trash taker's elevated net debt load, a fair value for the firm's equity rests in the high $30 per share, roughly 20% upside from current levels--and a fairly large mispricing for a steady-eddy, defensive firm such as Republic. To sweeten the deal for investors, the trash taker also pays a nice annual dividend yield of 2.5%, the payout of which will likely increase later this year.
Disclosure: I have no positions in any stocks mentioned, and no plans to initiate any positions within the next 72 hours.