Sticking with emerging markets over the past five years has indeed required a commitment to diversification and patience. The largest emerging markets ETF, the Vanguard FTSE Emerging Markets ETF (NYSEARCA:VWO) has badly lagged the SPDR S&P 500 (NYSEARCA:SPY):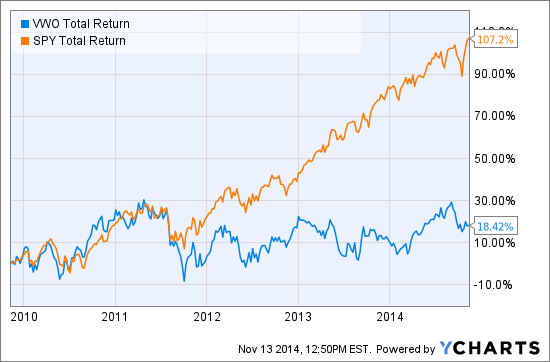 VWO Total Return Price data by YCharts
And that of course includes the latest round of volatility that arrived a few months ago: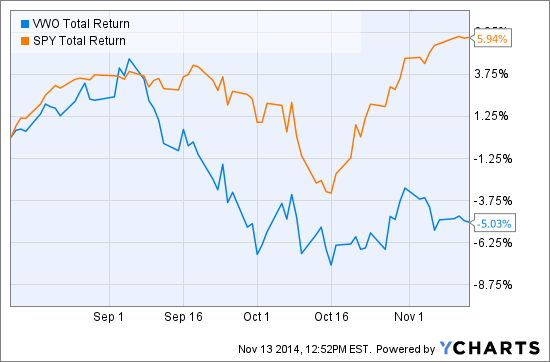 VWO Total Return Price data by YCharts
But that long-term drag creates even more opportunity, as long as your patience hasn't worn thin. Research Affiliates has recently begun posting its 10-year Expected Risk and Return. That emerging market equities have the highest expected return (and of course risk) isn't startling. What stands out is the gap in expected real returns. U.S. large caps have an expected annual real return of less than 1%, compared to more than 6% for emerging markets.
(You can see for yourself, using Research Affiliates' interactive tool. Part of that is driven by the fact that U.S. valuations have had a large expansion since the financial crisis and the meandering emerging markets less so. If you happen to believe in long-term mean reversion (and RA clearly does), then that's going to impact your forward return forecast.
Drilling down within emerging markets, the BRICs are expected to do a lot of the heavy lifting. Research Affiliates' real return forecast for the next 10 years has Brazil delivering more than 9% annualized, Russia nearly 14%, India around 6.5% and China nearly 7%. (Using Research Affliliates' interactive tool you can also see the projected volatility that comes with those return forecasts.)
The PowerShares FTSE RAFI Emerging Markets ETF (NYSEARCA:PXH) tracks a fundamentally weighted index developed by Research Affiliates (that's the RAFI). And right now nearly 60% of the portfolio is invested in the BRICs, a steep overweight relative to the 42% weighting within the MSCI Emerging Markets index. About one quarter is invested in China (vs. 21% for the emerging markets index), 14% in Brazil (vs. 9%), more than 10% is in Russia (vs. 4.6%) and 8.4% in India (vs. 7.5%).
Russian energy behemoth Gazprom (OTCPK:OGZPY) is the ETF's largest position. As if tensions with Ukraine weren't enough to spook investors, there's also now the severe fall-off in global oil prices to factor in. But a PE ratio below 2 for a company with revenue of more than $150 billion over the past year?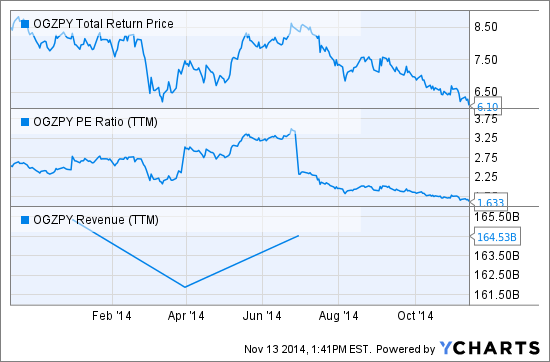 OGZPY Total Return Price data by YCharts
That's not to suggest that there can't be more downside for Gazprom, emerging markets or the BRICs in particular. But at this point, it sure looks like a lot of low expectations have been baked in to current valuations. And if Research Affiliates is right, over the long-term a reversion shift should produce outsize returns for the patient investor who can live through the volatility.
Disclosure: None
Carla Fried, a senior contributing editor at ycharts.com, has covered investing for more than 25 years. Her work appears in The New York Times, Bloomberg.com and Money Magazine.
Editor's Note: This article discusses one or more securities that do not trade on a major U.S. exchange. Please be aware of the risks associated with these stocks.