Most of us expect to enjoy a period of retirement of 25 years or more. Many who are near retirement or already retired have an investment strategy that includes income from dividend yields whether that dividend income is derived from a portfolio of handpicked stocks or part of an ETF or mutual funds. During the course of that retirement period, there will in all likelihood be cuts in the dividends of some of your holdings no matter which method you chose. That's part of the risk of investing in the equity markets.
In our last article, we began an examination of dividend cuts beginning with the last recession in 2008. In any discussion of dividend cuts he larger question remains this one: What can we do, if anything to reduce the number of dividend cuts we experience and their effect? This important series examines this question.
Eight practices common to Dividend Growth investors will be explored moving forward including: investing in high-quality stocks with credit ratings of BBB+ or higher, selling when the stock dividend is cut, limiting sector size, purchasing stocks that pass the total dividend return rule a/k/a Chowder rule, selling stocks when they underperform others in their sector for more than two of the past four years, eliminating the purchase of stocks yielding over 6% or reducing the position size of such holdings, favoring a low beta portfolio and limiting position size.
We started by examining the dividend payers in the S&P 500 Index and discovered that three sectors emerged as having the highest concentration of dividends cut or omitted:
Consumer Discretionary - 20% of the sector cut or omitted their dividends.
Materials - 24% of the sector experiencing cuts or omitted.
Financials - Where nearly 50%, 47% to be exact, cut or omitted their dividends.
Seeking Alpha Contributor David Fish has comprehensively tracked Dividends cuts since 2008 for the Dividend Champions and since 2010 for the Dividend Contenders and Challengers. Fish reports that in 2008, there were 9 Dividend Champions that cut their dividends. In 2009, an additional 28 dividend cuts occurred. Again, let's examine closer.
8 of the 9 companies that cut in 2008 were financials, 6 were large-cap members of the exclusive Dividend Aristocrats and members of the S&P 500. 6 Banks cut, 2 Insurance Companies and 1 Consumer Discretionary.
Next we move to 2009 and find there were 28 cuts among the CCC-listed stocks including besides traditional financials:
3 REITS
Cedar Fair (NYSE:FUN)
Kimco Realty (NYSE:KIM)
UDR Inc. (NYSE:UDR)
2 Consumer Discretionary
Gannett Co. (NYSE:GCI)
Supervalue (NYSE:SVU)
2 Materials
Masco Corporation (NYSE:MAS)
Vulcan Materials (NYSE:VMC)
1 Drug Company
Pfizer (NYSE:PFE)
Finally we have General Electric (NYSE:GE) with its large Financial component.
The 19 Traditional financials included 16 Banks among them:
Wells Fargo (NYSE:WFC)
U.S. Bankcorp (NYSE:USB)
BB&T (NYSE:BBT)
Of all the CCC-listed banks that cut their dividends in 2008 and 2009, what was even more alarming was the fact that all but two cut again: Valley National (NASDAQ:VLY) and Fulton Financial (NASDAQ:FULT).
You will see from a review of the dividend growth column from the Fastgraphs below that often for those stocks that cut, the first cut was not the deepest. This would clearly seem to support the common practice of selling when a stock dividend is cut, particularly when that action is viewed from an income perspective.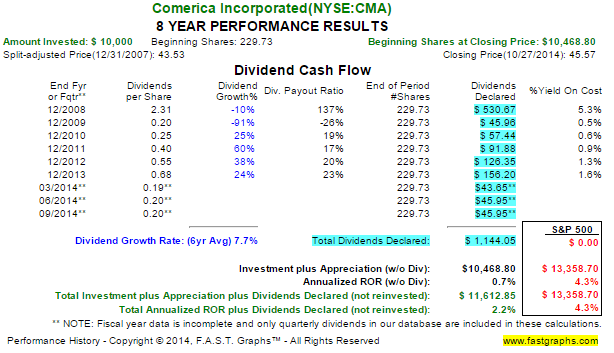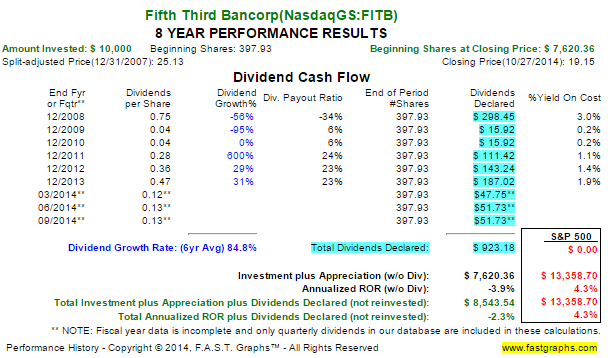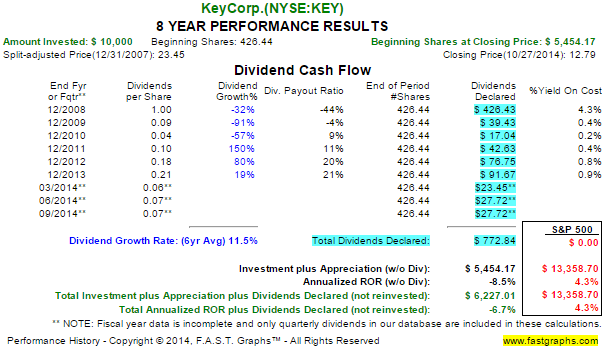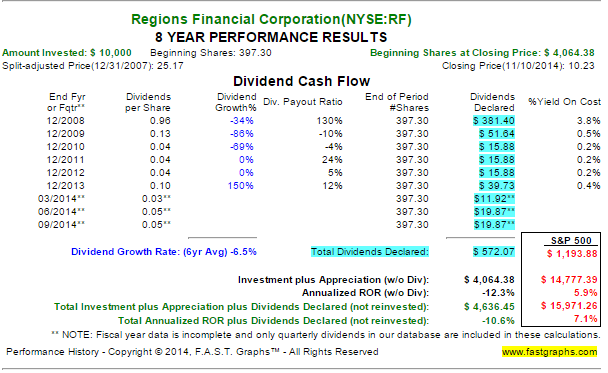 Most Dividend Growth Investors appear to have a policy requiring they consider removing a company from the portfolio upon learning of a dividend cut as part of their portfolio management plan. My plan can be viewed here.
Recently Contributor Dale Roberts wrote an article, "What Likely Happened To Dividend Growth Investors In The Recession" that detailed the results of a dividend cut with respect to Wells Fargo. In his next article, he stated that in response to his original article, "Many investors thought that removing a dividend growth company on a dividend cut was very poor portfolio management. I will leave that policy up to each individual investor, but I was happy to see that policy being challenged and that dividend cut policy up for discussion." As Dale requested, let's continue that discussion.
Dale was correct in reporting that Wells Fargo has enjoyed market-beating performance since 2008, but as you'll see in a moment, there is more left to report. Wells Fargo was but one of the 22 CCC-listed banks cutting their dividend since the start of the Great Recession. Of the 22 banks, only 6 or just over 27% enjoyed market-beating performance from the start of 2008 to today. It would appear more than 70% failed during that period from a Total Return perspective.
Let's take an even closer look at the six top performers beginning with Wells Fargo. This time the perspective will shift from capital gain to income. You can see by examining the Dividends Declared Column, that if you were a retiree living in part on income from dividends your income took quite a hit... a hit of over 75% to be exact, between the start of 2008 and the end of 2010.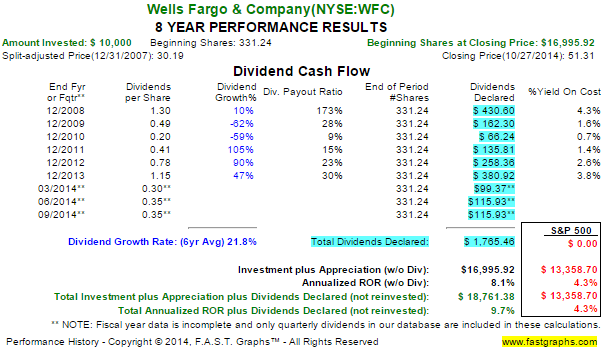 If you read Mr. Roberts' original article, you'll see he describes a scenario of an investor with a portfolio of over $1M with 20% of that portfolio invested in Wells Fargo. At the start of 2008 that $200,000 investment was producing annual income totaling $8,617.00; by the end of 2010, only $1,324.80 in annual income came from that same source.
For such an investor choosing to hold, it likely meant selling and/or increasing the number of shares "harvested" for income. At the start of 2008, WPC sold for $34.08. By the end of 2008 they were selling for just $18.90. While the market enjoyed a gain of over 26% in 2009, WFC closed 2009 with a loss of -6.78%. WFC managed to beat the market by .50% in 2010, while incurring a loss of over 11% in 2011.
Closer review of performance during the total period in review shows most of Wells Fargo's strength came between 2012 and today. In all likelihood if our investor had held, they would have had fewer shares with which to enjoy the fruit of that strength.
That's it for now and much still remains to be explored. We will continue to examine the eight practices common to Dividend Growth investors listed at the beginning of this article.
I feel the present examination has shown that risk-averse investors would be wise to consider adopting the rule to strongly consider a sell whenever a stock dividend is cut. In addition they might be wise not to be overweight financials in their income-oriented portfolio.
Time again to hear from you. What practices do you employ to help reduce dividend cuts and their effects?
Disclosure: The author has no positions in any stocks mentioned, and no plans to initiate any positions within the next 72 hours.
The author wrote this article themselves, and it expresses their own opinions. The author is not receiving compensation for it (other than from Seeking Alpha). The author has no business relationship with any company whose stock is mentioned in this article.