We published an update on LinkedIn yesterday which is available here, putting an Intrinsic valuation of $35-40 on the shares for 2011. It's true that in 2012 our IV goes up to $50 - but that certainly doesn't justify the $100 share price.
Even though we have moved on to other research work, we had requests from many to provide an IV model that supports the shares at this level to understand what expectations baked in here by the market. This is always the first step towards taking a position one way or another.
Shown below is our Intrinsic Valuation model built to support a $100 share price, $109 to be exact for 2011 and this expands to $123 for 2012.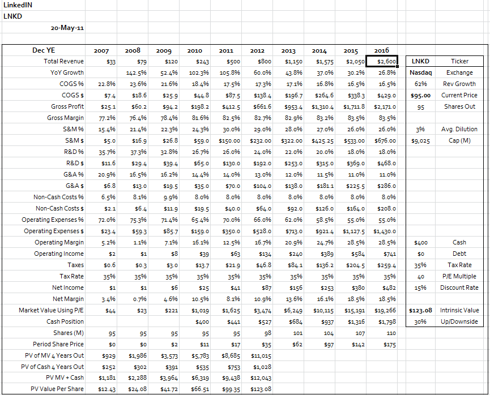 As can be seen by the model, in order to justify the current price the company would have to grow revenues at an increasing rate in absolute dollar terms (which is certainly possible) for the next five to six years.
Is this reasonable or doable?
Looking at some earlier examples like Veritas (1990's), Google (NASDAQ:GOOG) & VMWare (NYSE:VMW) (2000's) provides some instruction. For those that were not around back then, Veritas provided software that changed the way information could be stored and managed and helped (along with other companies like BEA Systems) usher in the age of distributed computing. Veritas posted an impressive revenue progression with expanding margins as the demand took off. Specifically, revenues went from $121M in 1997 to $211M in 1998, and then jumped to $596M in 1999 and $1.2B in 2000. Beginning in 2001, revenue growth moderated and the company did $1.5B in 2001 and the same in 2002. Growth was impressive, up 3-5x from "breakout" levels.
Turning to more modern times, we have Google and VMWare. Google broke the mold in terms of speed and scale of growth vaulting from $439M in 2002 to $1.5B in 2003, $3.2B in 2004 and $6.1B in 2005, with the story continuing from there to reach an awesome $29B in 2010. Of course Google is a pure Internet business and has enjoyed almost frictionless market dynamics. VMWare is another important example. VMW revenues broke out in 2006 when it jumped to $703M from $387M in 2005. From there it continued to $1.3B in 2007, $1.9B in 2008 and $2.9B in 2010.
Overall these numbers say that a forecast for LinkedIn that supports a $100 IV is not impossible. 2010 was the breakout year for the company, and the forecast to support upside from here bakes in a 10x increase in 2010 revenues to $2.6B in 2016. Of the three examples above, VMWare is probably the closest in matching the potential dynamics for LinkedIn. Google is too pure an Internet model, and Veritas didn't have enough Internet driving it to be valid beyond enterprise software. VMWare has the business end of the Internet (the cloud) and corporate sales in one package. There's no strong consumer Internet component (we'll leave VMWare Fusion out of the picture) and no advertising model in VMWare however.
For LinkedIn to deliver this level of growth three things need to be true:
no serious competition emerges in the professional networking/jobs space
management team executes their strategy with no major mistakes
there is no major economic or business slowdown in the next few years that would stall revenue growth
An investment in LinkedIn at these levels has to reflect a high degree of conviction that these three things are true, and that the company can deliver the numbers shown in the IV model shown above.
Disclosure: I have no positions in any stocks mentioned, and no plans to initiate any positions within the next 72 hours.