Dry Bulk shipping stocks have been clobbered as of late, due to persistently low spot rates and worse than expected iron ore imports.
Companies like Diana Shipping Inc (NYSE:DSX), DryShips Inc (NASDAQ:DRYS), Navios Maritime Partners L.P. (NYSE:NMM), Scorpio Bulkers Inc (NYSE:SALT) and Safe Bulkers Inc (NYSE:SB) have dropped significantly in market value in the last few quarters.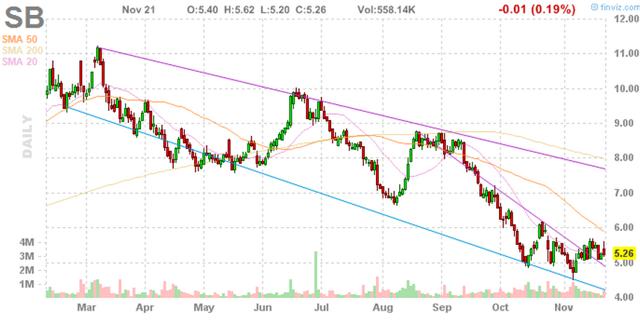 Source: Finviz
The drop was so severe, that the aggregate industry actually trades significantly below book value. Below is an overview of select company multiples.

Source: Finviz
The book value vastly exceeding the stock price usually means something fishy is going on, or that at least a large part of the market perceives it that way. However, there might just be some unappreciated value found in this industry that has been neglected and cast aside by the markets. For the investment to have significant upside, we don't need a great growth story or complete turnaround. We merely need to ascertain if the industry has reasonable prospect of earning a decent return on their invested capital in the future
In this piece, I will start off with explaining my view of the shipping market and follow up with individual company analysis in later posts.
A Primer on Shipping
This is how I understand the economics of the shipping business. Shipping companies invest in ships, lease these out to customers who want to bring stuff from A to B, and try to earn a decent return in the process. This service is fairly commoditized, since there is little room for innovation and/or offering a better product than your peers and customers don't differentiate beyond cost.
This means it's a question of aggregate supply and demand, and day rates move if there is an imbalance. The demand for shipping varies with the volume of national and international trade and should follow the overall economy to a certain extent. The supply of vessels, however, is generally very inelastic and fixed in the short-term. It takes 2-4 years to build a new ship and ship's fixed costs are too high to take out of circulation the way airlines park unneeded jets in deserts.
Making money in the shipping industry comes down to timing. A good shipping CEO knows
When to order new ships
How much spot market exposure to take
You want to order new ships if you expect dayrates to be high in the future. Over the whole industry, however, new orders are highly correlated with spot earnings. Ordering ships because dayrates are high at present will often backfire, since, just like in the stock market, you're probably not the only one with the idea, and when everybody else is doing it, it's usually too late. This is what a majority of shipping companies did right before the recession.
The second point comes down to similar thinking. When leasing out ships, you can choose to offer them at spot market day rates or you may choose to lock in rates with a fixed contract, depending on if you feel lucky about future spot rates.
I believe estimating dayrates in the short term is an exercise in futility, given their large sensitivity to even small shifts in the supply-demand dynamic. I do like the mid- to long-term prospects though.
The shipping industry can be sub-divided into tankers and LNG Carriers, used for transporting Crude Oil and Gas products, Containerships that carry consumer products and Dry Bulk carriers that transport commodities such as iron ore, coal and grains. This article will focus on the latter.
The Supply Side
Below is a chart of the BDI, which provides an assessment of the price of moving the major raw materials by sea. Most directly, the index measures the demand for shipping capacity versus the supply of dry bulk carriers.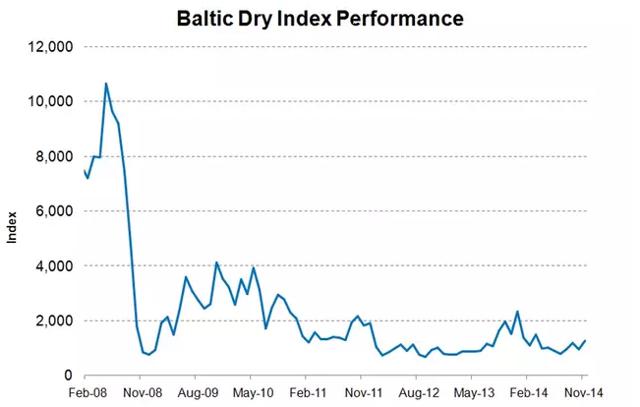 Source: Baltic Dry Exchange
The index ran up right up to the recession, due to a significant supply shortage. Shipping companies tried to capitalize on this by ordering large number of ships. After the recession hit, the volume of trade dropped significantly. Dry Bulk shipping companies, however, now sat on additional quantities of ships, driving day-rates down even more.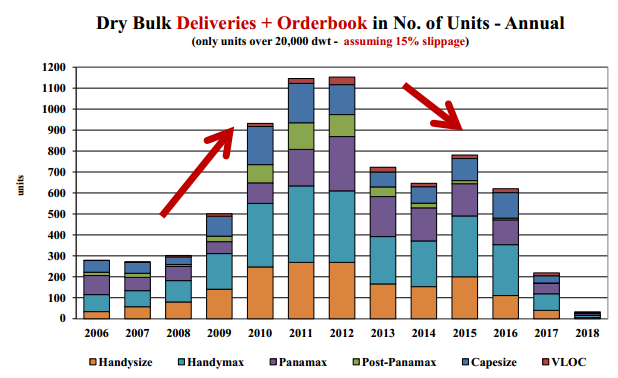 Source: SwissMarine Services
For the reasons mentioned above, there is no way for shipping companies to adjust for this discrepancy in the short term. Reselling is not an option, because post-recession the ship prices dropped significantly. Below is a depiction of historical second-hand vessel prices.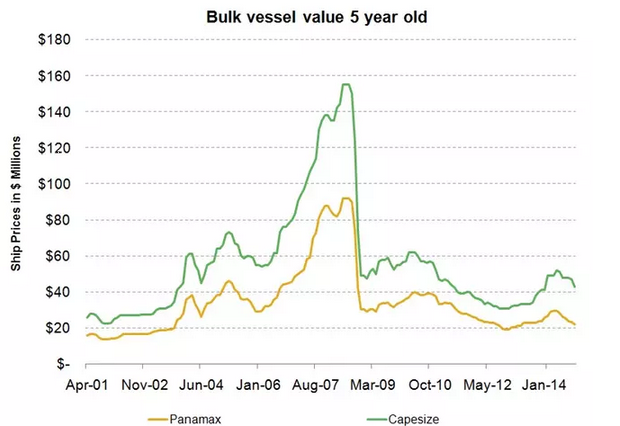 Source: Baltic Dry Exchange
Note that when you buy an old vessel, delivery is immediate in contrast to ordering new vessels, and prices are therefore a reflection of a more short-term outlook in comparison to new vessels.
This forced the industry to lease out ships at break-even cost or even less.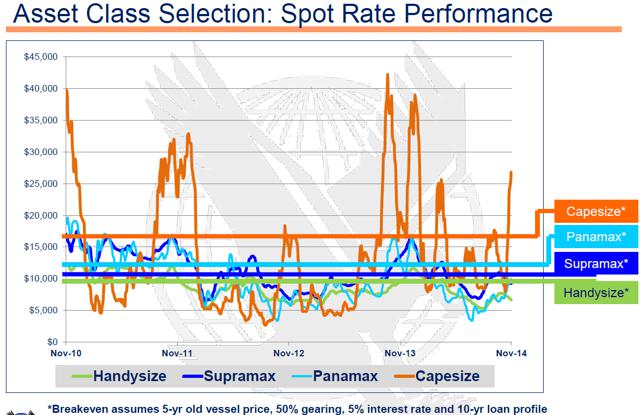 Source: Clarksons shipping intelligence
My, admittedly very crude, logic is the following. Dry Bulk shipping is a necessary industry, since it is by far the most economical way of transporting goods (save the fact, that you can't drive a truck through the ocean). However, an industry can't indefinitely sustain itself at a loss. Sooner or later, the supply-demand dynamics will have to converge.
Since the recession, most shipping companies have been reasonably conservative with adding to the fleet.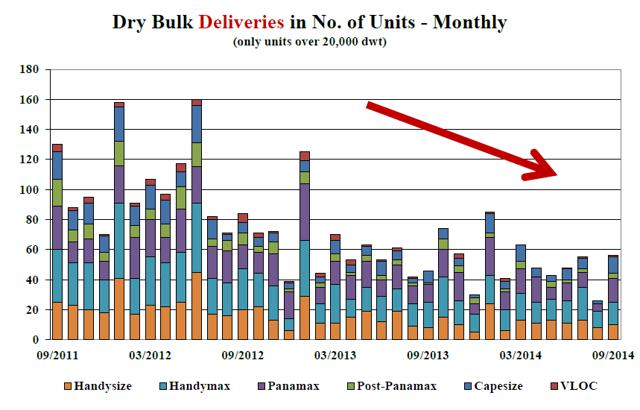 Source: Clarksons shipping intelligence
Additionally, the current orderbook as % of present fleet are close to their lowest points since before the recession.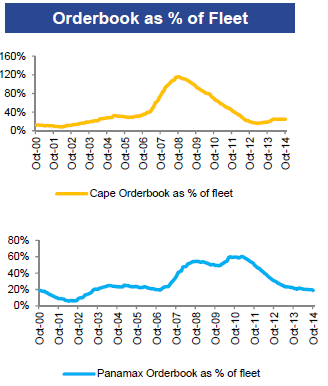 Source: Clarksons
Current orderbook + estimated adds - scrapping activity implies about a 5% fleet growth for the current and next year, measured in total tonnage. And without any unusually high new building orders, could fall even lower come 2015.

Source: Jefferies
Additionally, these estimates are rather conservative with projecting scrapping figures. With over half of the ships being 4 years old or newer, and older ships being around 20% less efficient than the average, there is potential for more scrappage than expected.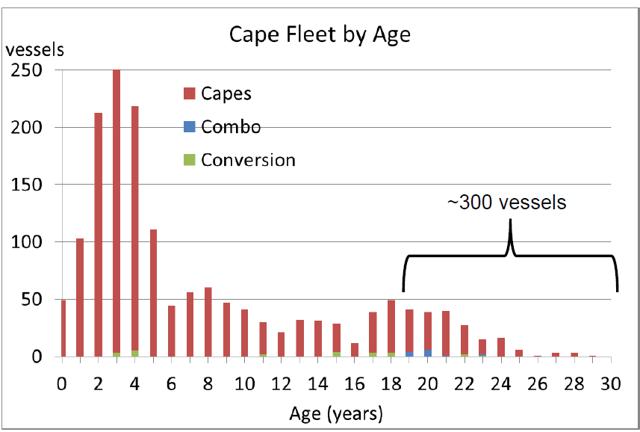 Source: Clarksons
The Demand Side
More than half of the cargo shipped by Dry Bulk shipping companies is constituted of Iron Ore and Coal.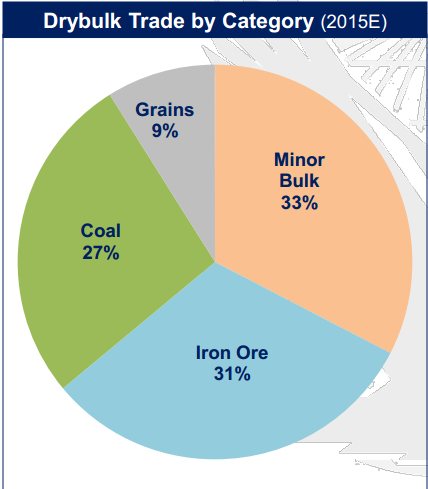 Source: EagleBulk shipping
The incremental growth in demand is dominated by China, although India could also be a significant demand driver in the mid- to long-term future.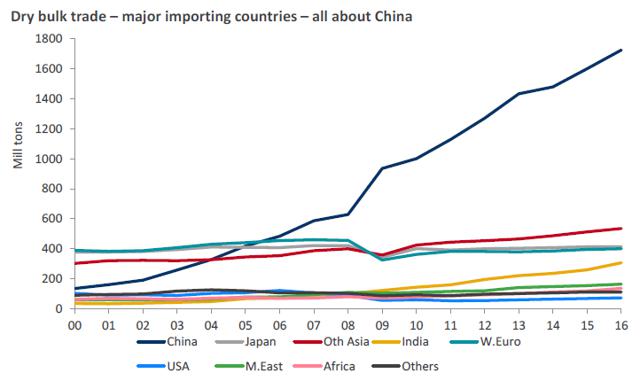 Source: RS Platou Research
Dry Bulk shipping stocks actually had a pretty decent run in 2013 and in the beginning of 2014. However, shipping demand shrunk mid-2014 due to an unanticipated 6% decline in China coal imports.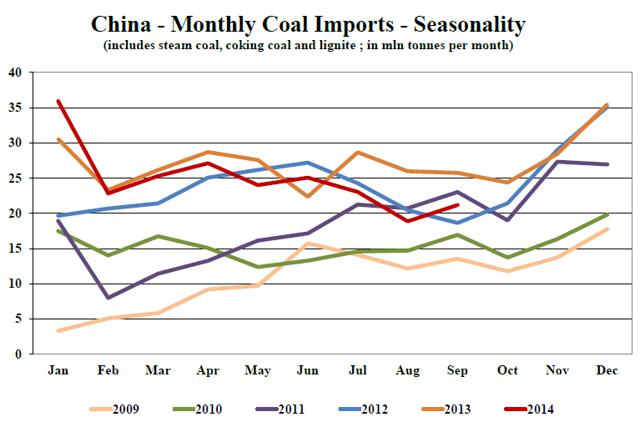 Source:Clarksons
The supply of raw materials has actually outpaced the demand considerably in the last year. Spot prices of all major bulk goods have fallen, which should act as a headwind for more demand, given that
Brazil and Australia have lower break-even costs than China, making it more economical for China to further shift to importing instead of producing
Margins of steel mills and power producers should rise, prompting them to buy more raw materials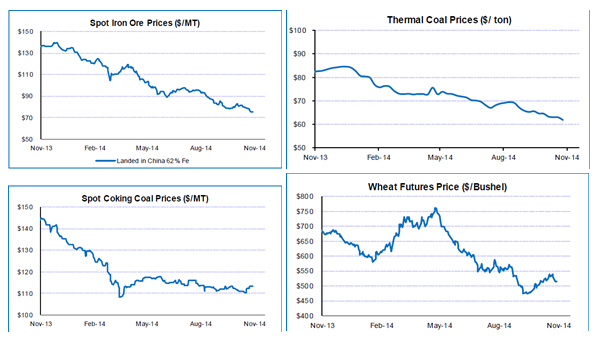 Source: Clarksons
India also has recently become a net importer of Iron Ore, a Country which very likely will be the next incremental growth machine in years to come. Overall the demand for shipping is and always has been rather stable save for occasional blips.
Summary
While the difference between supply and demand growth made Dry Bulk rather unprofitable in the last few years, there have been signs of demand outpacing supply as early as 2013.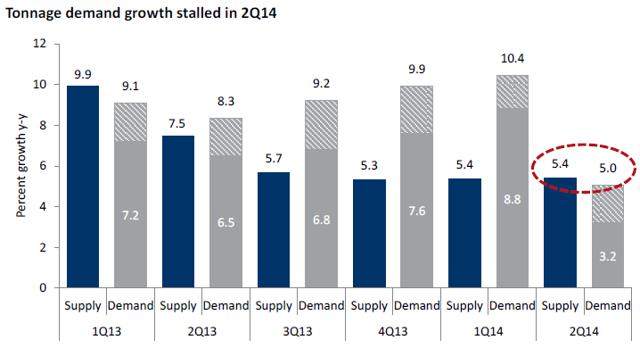 Source: RS Platou
I believe the downturn in the latter part of this year will only be a short-term fluctuation in the bigger picture, given that overall demand for global trade will follow the overall economy to a certain extent. While uncertainty about shipping rates will persist in the short term, the mid- to long-term prospects of the industry are attractive, as rising volumes and free trade zones, should act as secular headwind for the shipping industry, which is one of the beneficiaries of an increasingly globalized world.
Given the pessimistic sentiment towards this industry and stocks pretty much at rock bottom, I believe the Dry Bulk Industry could be a great anti-cyclical play. For Dry Bulk shipping stocks to perform well in the future, we don't need an unexpected demand ramp up or astronomical day rates. Merely a return to reasonable profitability is needed for an industry that serves as a necessary cog in the global economic machine.
I will follow up with specific company analysis in future articles.
Disclosure: The author has no positions in any stocks mentioned, and no plans to initiate any positions within the next 72 hours.
The author wrote this article themselves, and it expresses their own opinions. The author is not receiving compensation for it (other than from Seeking Alpha). The author has no business relationship with any company whose stock is mentioned in this article.