"The Real Thing" was once a slogan for Coca-Cola (NYSE:
KO
), which is among the "Dividend Aristocrats," companies with a rich history of raising dividend payments. And Coca-Cola is one of the stocks I picked to compare the performance of 7 individual "real" stocks against owning two widely held ETFs that emphasize dividend-paying equities.
One of these ETFs that comes to mind is the S&P Dividend ETF (NYSEARCA:
SDY
). It tracks the S&P High Yield Dividend Aristocrats Index, which is weighted (subject to some limits) by "indicated annual dividend yield."
And there's another widely held ETF from iShares, the Dow Jones Select Dividend Index Fund (NYSEARCA:
DVY
). It tracks a similar group of stocks, also using a dividend-weighted approach.
But should income investors buy shares in these ETFs instead of individual companies? Or does investing in "the real thing," actual shares of stock work best?
ETFs: Convenience but less control
With an ETF, you don't really know how much of a specific company you own. It's also difficult to predict a yield, both the present yield and your yield to original cost basis.
For example, if you own Coca-Cola, you know it pays 47 cents per share per quarter. And unless something extraordinary occurs, you can count on at least that much (and probably more) in the future.
With these ETFs, it's a pretty good bet that payments will increase over time, but you're never really sure what the payout will be. And in some cases, ETFs could return capital gains as part of their distributions. With an individual stock, you don't have to sell any of your shares unless you want to.
But how have these ETFs done in recent years? SDY wasn't launched until late 2005, so I decided to start in January 2006.
Here's a look at a hypothetical $10,000 investment in SDY, DVY, and the S&P 500 ETF (NYSEARCA:
SPY
)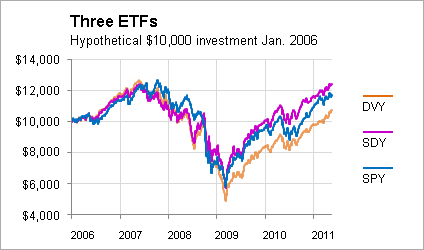 I'm not exactly wowed by this performance, although the yields for SDY and DVY do seem to outperform the broader averages.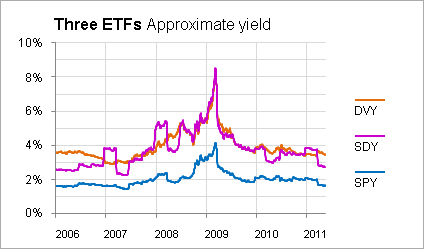 I did the best I could to present a fair picture of the yields for these funds, although it was difficult with SDY because payments were somewhat irregular and there was both a long-term and short-term capital gain paid in 2008.
Exceeding expectations: Meet 7 great dividend companies
To compare these ETFs with some individual stocks. I selected a few among different industries. They include: Abbott Labs (NYSE:
ABT
), Chevron (NYSE:
CVX
), Coca-Cola (
KO
), Entergy (NYSE:
ETR
), IBM (NYSE:
IBM
), Kimberly Clark (NYSE:
KMB
), and McDonald's (NYSE:
MCD
).
Not all are "aristocrats," but 6 of these stocks appear in the list of holdings for at least one of the dividend ETFs. IBM is the lone exception, but I picked it because I own it and think its recent history of raising its payments (nearly doubling its dividend over the last 4 years) suggests it could be a good income stock in the years ahead.
Comparing the performance of these individual stocks in a hypothetical $10,000 portfolio, I found that Entergy was the laggard in the group while McDonald's was a clear winner - (click chart to enlarge).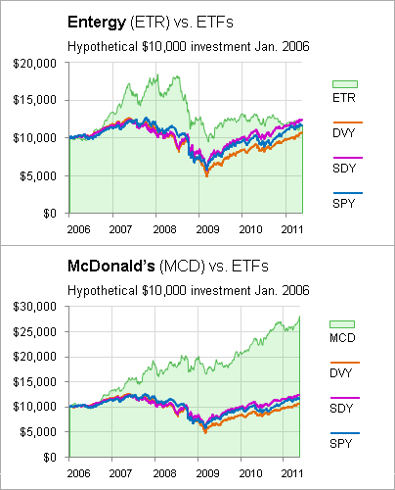 This is a look at how owning all these 7 stocks would compare to the dividend ETFs, and SPY – assuming an equal-weighted investment in January 2006, and reinvesting all dividends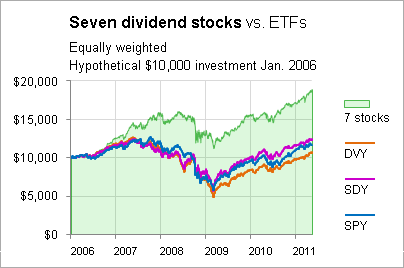 Note that even the financial crisis didn't seem to faze this group of 7 stocks nearly as much as the three ETFs. And the story gets even better.
A growing yield on cost basis
The average yield on these 7 stocks, based on market values, looks like this.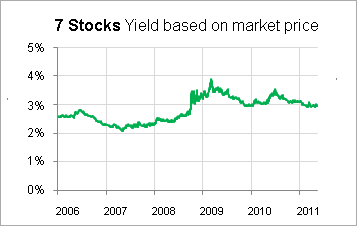 But what really counts to dividend investors is income generated on the original cost of the shares. By reinvesting dividends, you accumulate more and more shares. If you'd invested in these 7 stocks, your yield to original cost basis would be approaching 6 percent by now.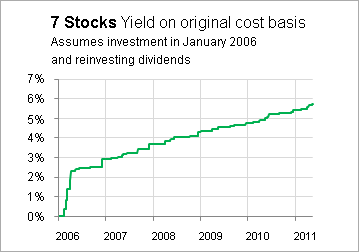 The yield to cost basis for the ETFs is something I didn't calculate, but I did create some charts of the actual payments. Compare distributions of the ETFs against individual stocks since 2006 - (click chart to expand).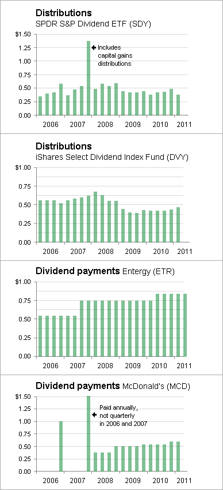 One problem I can see with owning ETFs such as SDY and DVY is that with a dividend-weighted approach to rebalancing the indexes, perhaps the lowest yielders aren't weighted high enough.
That's too bad, because as any income investor knows, you want some low yielding companies in your portfolio. Or to be more specific, you want the yield to go down after you buy the company – because if the dividends continue to rise, that means your stock has gone up, perhaps a lot.
Owning either of the dividend ETFs might make sense if you're looking for really broad diversification – and I wish both ETFs has more of a history to analyze. But this little study I did convinces me that picking your own stocks can really pay off.