On October 7, 2013, we published the article "Apple at $800: flight delay or cancellation?" whereby at such time Apple shares (NASDAQ:AAPL) were trading at their pre-split level of $483.03 ($67.19 when adjusted for dividends and June 9, 2013 7:1 stock split). We concluded in such article that Apple shares will likely see substantial upside during the next year, and recommended either buying Apple shares on an outright basis, or buying Apple $530 calls expiring January 15, 2015 for about $48 ($6.86 split-adjusted).
Apple shares closed at $118.63 as of November 24, 2014, equivalent to $830.41 on a pre-split basis. Hence, the $800 target has been reached, while Apple shares have appreciated by about 76.6%. Furthermore, the calls have appreciated by 526.4% from $6.86 (split-adjusted) to their closing bid of $42.95 as of November 24, 2014.
As a matter of a fact, since August 2011, we had published several articles calling for Apple to reach pre-split targets of $400, $500, $600, $700, $800, all of which materialized. This is prompting us, in response to our readers' multiple requests, to provide this latest perspective on Apple shares. Are further gains for Apple shares unlikely, or could Apple appreciate by at least an additional 20%, breaching $143 per share, the equivalent of $1,000 per share on a pre-2013 7:1 split basis?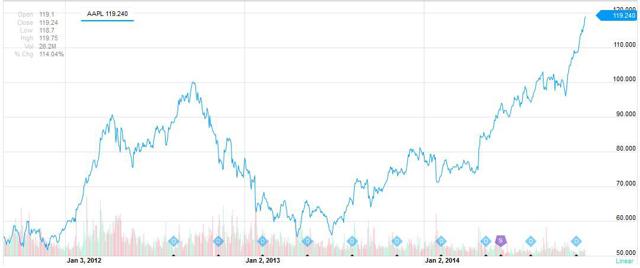 Apple Price Chart 8/1/2011 to 11/24/2014 - Source: Yahoo Finance
Valuation
Apple currently boasts a market capitalization of about $696.5 billion. With analysts' earnings estimates of $7.72 for the year ending September 2015 and $8.51 for the year ending September 2016, Apple shares have a forward price/earnings ratio of 15.37 and 13.94 respectively. Excluding Apple's $155.2 billion in cash and long-term investments, with an adjusted market capitalization of about $541.3 billion, Apple's adjusted price/earnings ratios would be 11.94 for the year ending September 2015 and 10.83 for the year ending September 2016.
Apple's forward price/earnings ratios of 15.37/13.94 are up from their October 2013 levels of 12.28/11.24, while the adjusted forward P/E ratios of 11.94/10.83 are also up from 8.17/7.48. However, despite such higher valuation, current P/E ratios are still reasonable and attractive, especially when taking into consideration the fact that 10-year treasury notes are yielding only 2.3%.
Possible Headwinds
Although fundamentally we believe Apple shares are attractive, there could be some technical headwinds due to Apple shares' 14-day relative strength index (RSI) of 81.91. Such momentum index is typically between 0 and 100, and whenever it drops below 25, it typically indicates that shares are oversold, while at levels above 75 it indicates that shares are overbought. Hence, technically speaking, it does seem that Apple shares are overbought in the short term, due to their latest rapid appreciation, and hence, there could be a short-term risk for such shares to either drop slightly or possibly remain at current levels.

Apple Stock 14-day Relative Strength Index (RSI) - Source: Yahoo Finance
Strong Fundamentals
Apple's continued success is a symptom of its strong fundamentals driven by nine hurdles Apple has managed to overcome as we first examined in 2011 under the heading: "Who will take a bite out of Apple? Anyone?" Such hurdles included 1- Innovation & Creativity, 2- Miniaturization, 3- Design, 4- Integration, 5- Durability, 6- Service, 7- Marketing, 8- Pricing, and 9- Management. Although at one point it seemed that Samsung (OTC:SSNLF) may have been able to take a nibble out of Apple, it has now become very clear that such hurdles mastered by Apple will be very difficult to be completely overcome by another contender. Most importantly, in the sphere of integration and ecosystem, Apple is continuously building further distance between itself and everyone else. Once again, the only potential major risk to Apple is an unforeseen disruptive future technology, unforeseen severe future mismanagement, or a total unknown (as Rumsfeld would say, "known unknowns" and "unknown unknowns").
Apple future revenues and profits can beat estimates
During its latest earnings release for the quarter ending September 2014, Apple reported $42.1 billion in revenues, $8.5 billion in profits, and margins of 38%. Apple generated 56% of its profits from the iPhone, 16% from the Mac, 13% from the iPad, 11% from iTunes & software services, 3% from accessories and 1% from the iPod. Meanwhile, international sales accounted for about 60% of sales.
Apple may witness some headwinds in its international sales due to the dollar's recent appreciation and continued strength, as well as slower European economies. The U.S. Dollar index DXY has appreciated by 6.72% from 82.75 on August 29, 2014 to 88.31 on November 21, 2014. On the other hand, we expect such headwinds to be overcome by strong Asia sales as well as a robust US economy driven by continued strength in payroll employment and a drop in the unemployment rate.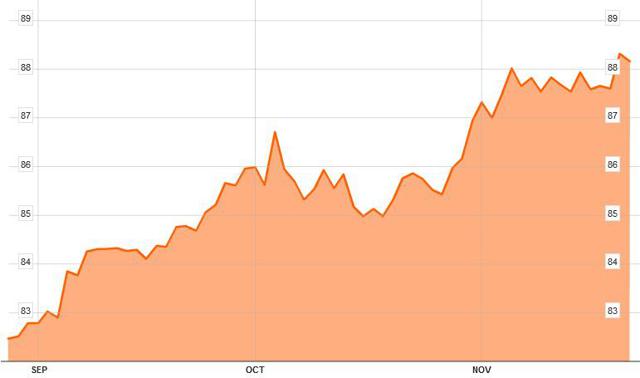 U.S. Dollar Index DXY 8/29/2014 to 11/21/2014 - Source: Bloomberg
Although Apple provided guidance for revenues of $63.5 billion to $66.5 billion for the quarter ending December 31, 2014, we believe there is a good chance Apple may hit over $71 billion in revenues, driven primarily by Apple's iPhone, which constitutes over half of Apple's profits. Meanwhile, we also expect margins to be over 38.5%. Hence, although average estimates are currently calling for profits of $2.52 per share for the quarter, we believe Apple could actually exceed $2.72 profit per share.
Can Apple shares reach $143, equivalent to $1,000 on a pre 2013 stock split basis?
Assuming that Apple profits beat current estimates by about 8%, as we are currently forecasting, Apple's forward P/E ratios for the year ending September 2015 and September 2016 would have to expand from 15.37 and 13.94 respectively to 17.15 and 15.56 respectively, in order to justify a price of $143/$1,000 (pre-split).
In light of the expectations for the Federal Reserve to start raising rates sometimes in 2015, in addition to short-term technical headwinds as illustrated by the RSI index, in addition to European economic weakness and strong dollar, although we do believe that Apple shares may still appreciate a little from these levels, we believe it is unlikely that the required expansion in P/E ratios will actually occur in the near term.
In essence, although we have been a strong bull on Apple shares since 2011, we believe additional meaningful gains will become harder to achieve. Hence, we believe that from a risk-reward perspective, it is not prudent to bet on Apple shares reaching $143 in the near term. This may be a good time to stay on the sidelines and book profits, either at current levels or within an additional appreciation of about 5% from current levels. The only catalyst that can change our perspective is if Apple beats earnings estimates by at least 10% during the next two quarters.
Disclosure: The author has no positions in any stocks mentioned, and no plans to initiate any positions within the next 72 hours.
The author wrote this article themselves, and it expresses their own opinions. The author is not receiving compensation for it (other than from Seeking Alpha). The author has no business relationship with any company whose stock is mentioned in this article.