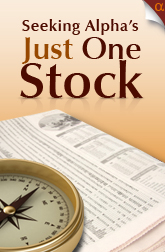 Several times a week, Seeking Alpha's Jason Aycock asks money managers about their single highest-conviction position - what they would own (or short) if they could choose just one stock or ETF.
---
Bill Jacobs is the founder and owner of Jacobs Investment Management, the Nashville, Tenn.-based firm he launched in 2006 that serves high-net-worth individuals. Previously, he was a partner at Chicago's Harris Associates (adviser to the Oakmark Funds), and he's a CFA charterholder.
If you could only hold one stock position in your portfolio (long or short), what would it be?
Time Warner (NYSE:TWX).
Tell us about the company behind that stock.
Time Warner is the slimmed-down media conglomerate with ownership of cable networks like TNT, HBO and CNN, Warner Bros. movie and TV production, and Time Inc. Publishing.
The biggest chunk of the value in TWX comes from the cable nets, which are tremendous cash-generating assets. There are two primary revenue streams: advertising and subscriptions. We have seen advertising come back strong as the economy has recovered. Despite the fracturing of TV audiences and the increased time consumers spend on other media, advertising should continue to grow nicely over time. Simply put, there are few avenues for advertisers to reach large audiences, and TV is still a great way to do that. TWX has developed its own programming with great success, strengthening the networks' brands and bringing more viewers and ad dollars.
The subscription revenue stream is more controversial, since distribution is changing quickly. The cable and satellite companies pay TWX a monthly fee, but if people really do "cut the cord," that monthly fee will drop. It will be a tricky transition for TWX and the rest of the industry.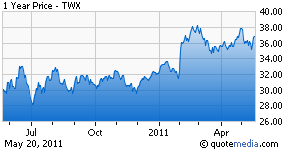 But that is why brand strength matters so much. Viewers will find their favorite shows and networks whether they are on their TV, computer, tablet or phone. Time Warner has been one of the industry leaders in making it easier for viewers who prefer newer digital distribution points. Management is looking at different models, but as long as the networks provide compelling content, the company will get paid.
I love the cash flow nature of the networks business. It doesn't take much capital to grow, so the earnings turn to cash fluidly.
The filmed entertainment division, Warner Bros., may be the best in the industry. The movie studio consistently puts out successful blockbusters, and the TV studio produces more broadcast shows than anyone else. The industry has been hit by a slowdown in home video purchases, and this is probably a permanent phenomenon. However, the declines in this piece of the business seem to have peaked, so that headwind should be less of an issue in the future. The only movies people are still buying seem to be the real blockbusters, and Warner has more than its fair share of those. This business unit is much more capital intensive than the networks business, and as such I ascribe a much lower multiple on that cash flow stream.
And publishing?
The publishing business, Time Inc., is classic "old media." Despite its industry-leading position, the business is not what it once was. Tablets may be pumping some new life into the business, but this is not the reason to own the stock. Management has gotten more aggressive of late cutting costs here, so the business should generate a boring, yet stable, cash flow stream for many years. It is the lowest-multiple business in my view and accounts for less than 10% of TWX's value.
How does your choice reflect your fund's investment approach?
Jacobs Investment Management looks to buy high-quality franchises at a discount to intrinsic value. Intrinsic value always sounds good, but is hard to define. So as an analyst I look for evidence of intrinsic value and try to find a couple of different approaches to value a business. If those different approaches yield similar results, that gives me more confidence in my estimate of intrinsic value.
The best proof of intrinsic value is private market value, i.e. what a rational buyer would pay to own a particular business. In the media space, we have seen numerous deals for cable networks over the years. The multiples have fallen over time from 20x EBITDA to closer to the 12x multiple Comcast (NASDAQ:CMCSA) paid for GE's media assets (NBC, Universal and some cable networks). Comcast is a pretty savvy media company, and to me they pass the test as a rational buyer.
If GE's media assets are worth 12x EBITDA, what are TWX's cable networks worth? I would argue GE's cable networks deserved a higher multiple than the other pieces of GE's media assets. Since the whole package was valued at 12x, the cable nets were worth maybe 13-14x. I like TWX's cable nets more than GE's, so I think private market value would be 13-15x.
But let's just put a 12x multiple on the TWX cable networks and subtract the debt. That values the cable networks alone at $35 a share. The stock trades at less than $37, so you are getting the rest of the business almost for free.
As a portfolio manager I like to hold businesses for several years, so I prefer franchise businesses where I can look out five years and have confidence that the business will be at least as strong competitively as it is now. Time Warner's brands, culture and scale give me that confidence.
How much is your selection based on Time Warner's industry, as opposed to a pure bottom-up pick?
I look at stocks from a bottom-up perspective, and TWX is in my mind a bottom-up pick. However, I also own Viacom (NYSE:VIA) and have held Discovery (NASDAQ:DISCA) in the past. As I noted, there are legitimate reasons to be skeptical about the industry's future, but I believe the companies that can create and aggregate the best programming will do well over time. I do not own any cable or satellite companies, because they are much more vulnerable to changing distribution.
How is Time Warner positioned with regard to competitors?
Defining TWX's competitors is more complicated today than in the past. Clearly the company's cable nets compete with networks like USA, ESPN (NYSE:DIS), Fox News (NASDAQ:NWS) and the broadcast networks (DIS, CBS, CMCSA, NWS). Ratings have been decent over time, although CNN has been somewhat disappointing. However, the strength of original programming and marquee sports events (like the NCAA basketball tournament) should allow the networks to perform well in the future.
The new competitive set includes other forms of distribution. For example, Netflix (NASDAQ:NFLX) is often described as a competitor to HBO. Right now, Netflix is great for TWX because it provides another way to monetize its older Warner Bros. movies and TV shows. However, if Netflix spends enough on bringing in newer movies and original programs, it could become a true HBO competitor. But we are talking about a huge amount of money to spend just to become another Showtime or Starz. HBO has competed effectively against those competitors historically, and if Netflix wants to spend the money to get into that battle, I still like HBO's leading position.
You talked about cable multiples earlier; anything else you would say about how TWX's valuation compares with its competitors?
TWX trades at about a 5% discount to the group average on an EBITDA basis. I like Time Warner's mix of businesses better, which is more skewed toward the higher-valued cable networks than the industry overall. On the basis of free cash flow yield, TWX trades at a discount closer to 15%.
Does your view differ from the consensus sentiment here?
I'd love to tell you the stock is hated, because I tend to have a contrarian bent. But the analysts tend to like the industry now because of the recovery in advertising spending.
The longer-term view is more negative, with many investors worried about cord-cutting and changing distribution. As I noted, I am confident Time Warner will thrive regardless of who wins the war for distribution. Since I am likely to own the stock for several years, this confidence is pivotal to my investment thesis.
Does Time Warner management play a role in your selection?
Jeff Bewkes has been CEO of Time Warner since 2008, and he has shown good judgment as a business manager, a portfolio manager and a steward of capital. Margins are improving in each business segment, including the no-growth publishing unit. Also, Jeff has been on the forefront of the shift to digital distribution, leading the company to finding new ways of letting viewers find (and pay for) TWX content. As a portfolio manager, Jeff has presided over the spin-offs of the competitively disadvantaged AOL and the cable business TWC (which I mentioned before I think is quite vulnerable). Then as a steward of capital, Jeff has taken the free cash flow the company generates and bought back a lot of stock. The company is currently on pace to retire 10% of its shares outstanding in just 2011 alone.
For investors like me who like cash-generating businesses, you have to trust management to make value-added moves with that cash. Jeff and his team are certainly doing that. So yes, management is an important part of the TWX story.
What catalysts, near-term or long-term, could move TWX stock significantly?
I am not a big believer in catalysts. I tend to hold the stocks I own for four to five years, and it is difficult trying to pick out what event over that time frame will make the stock move. When I find a high-quality business like Time Warner trading at a discount to intrinsic value, I am perfectly content to hold it as long as it takes for the market to appreciate the company the way I do.
Having said that, there is one thing I would love to see in the next few years. If Sumner Redstone ever decides to retire, I think Viacom and Time Warner should merge. It would create an even stronger creative powerhouse, and the cost savings would be substantial. It could change the industry.
I'll be sure to give Jeff Bewkes my address so he will know where to send the investment banking fee.
My next question was going to be about M&A. Warner Bros. agreed to acquire Flixter (the "movie discovery application company" that also owns film-review site Rotten Tomatoes), and TWX has $3B in cash and good flows; do you see acquisitions as something that could add to growth, or would they be more strategic (as Flixter seems to be for digital)?
The history of media M&A isn't pretty, and I think Jeff Bewkes is well aware of that. Historically we have seen companies either pay too much for acquisitions or try to get into areas that were too far from the core business. I think you will see Time Warner focus on smaller deals that increase exposure to international markets or in some way support the transition to new distribution. In either case, management will be sensitive to the returns on any acquisition. After all, money used for acquisitions can't be used to repurchase stock, and management and I agree that buying in company shares is an excellent investment at this price.
Of course, if management had the opportunity to do a once-in-a-lifetime merger of equals...
What could go wrong with your pick?
The biggest near-term concerns revolve around the economy. If we go back into recession, ad spending could fall back. TWX still would have the subscription revenue stream as a buffer, but the stock would likely not perform well (but then again, what stocks would?).
My biggest concern long-term is the shift to new distribution channels like the Net and mobile. The industry has to make sure it gets paid appropriately for its content, and if some players give it away too cheaply, it would affect everybody. I know Time Warner gets it, and I am pretty sure the rest of the industry does too.
Thanks, Bill, for sharing your thesis with us today.
Disclosure: Bill Jacobs and clients of Jacobs Investment Management are long TWX.
Read more Just One Stock interviews »
If you are a fund manager and interested in doing an interview with us on just one stock or ETF position you'd hold, please email us at Just One Stock.