The recent sector rotation in stocks makes sense. While cyclical stocks had been driving the market since the beginning of the current rally, defensive stocks have recently taken the lead. For those positioned in advance of this recent shift, it has provided a clear benefit to portfolio returns in the current quarter. However, the recent run up in defensive stocks has also changed the opportunity set for stock investors heading into the post QE2 market. As a result, investors will likely benefit more from de-emphasizing broad sector bets and instead favor individual stock selection once QE2 comes to an end.

Before going further, it is worthwhile to provide some brief definitions behind this analysis. Cyclical stock sectors are those whose underlying companies are typically sensitive to changes in economic activity and include industrials (NYSEARCA:XLI), consumer discretionary (NYSEARCA:XLY), technology (NYSEARCA:XLK), energy (NYSEARCA:XLE) and basic materials (NYSEARCA:XLB) for the purpose of this analysis. Defensive stock sectors, on the other hand, are those whose companies tend to hold up well regardless of economic conditions and include consumer staples (NYSEARCA:XLP), healthcare (NYSEARCA:XLV) and utilities (NYSEARCA:XLU). I have excluded financials (NYSEARCA:XLF) from this analysis given the specific circumstances associated with the sector since the outbreak of the crisis in late 2008.

Cyclical stocks had been the decisive market leader until recently. The current stock rally was kicked off on August 26, 2010, by Ben Bernanke and his Jackson Hole speech confirming the Fed's second quantitative easing stimulus program (QE2). From that date to the end of the first quarter 2011, cyclical stock sectors posted a total aggregate return of +37%. This was nearly triple the total aggregate return from defensive stock sectors at +14%. Enthusiasm for risk taking behind hopes of an eventually improving economy and the confidence that Fed stimulus would be flowing for quite some time helped fuel investor demand for higher beta cyclical sectors during this time period.
Click to enlarge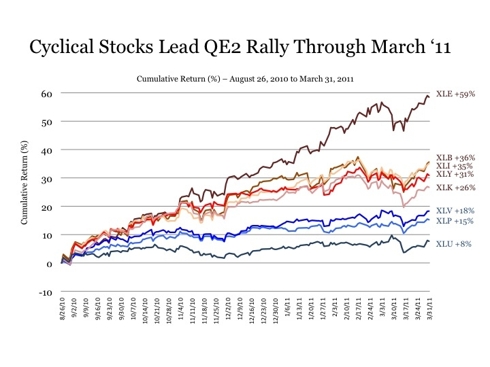 Starting from the first days of the second quarter, the rise in cyclical stocks ground to a halt as investors instead began migrating into defensive stock sectors. Three factors likely supported this shift. First, concerns began to mount about the still lackluster pace of the recovery and the potential for an economic slowdown with the end of QE2 soon approaching on June 30. Second, unlike the broader market, stock valuations in defensive sectors remained generally attractive both on an absolute and relative basis. Finally, defensive stocks held up meaningfully better after the end of QE1 than their cyclical counterparts. During the "QE Pause" period from April 26, 2010, when QE1 ended to August 26, 2010, when QE2 was announced, cyclical stock sectors declined by -15% to -20% across the board. However, defensive stock sectors either gained in the case of utilities (+1%) or posted more modest single digit losses in the case of consumer staples and healthcare (-4% and -8%, respectively). As a result, investors have likely been anticipating potential market weakness in the aftermath of QE2 and have been positioning in some of these defensive sectors in advance.
Click to enlarge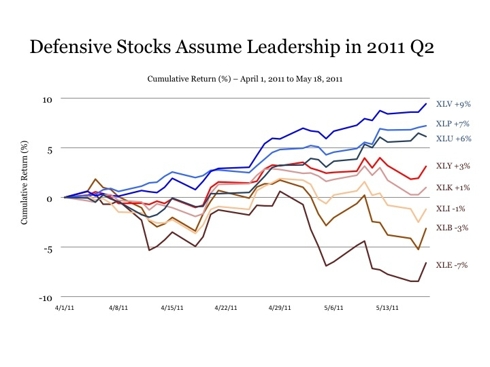 Defensive stock sectors are now overbought following their recently strong run. After spiking higher since the beginning of the quarter, each of the three defensive sectors are trading 6-7% above their respective 50-day moving averages and 10-15% above their respective 200-day moving averages. In addition, each of these sectors has had RSI readings above 70 since mid to late April. And in the case of healthcare and consumer staples, RSI readings are running at or close to 80. All of these readings suggest that defensive stock sectors may be set to at least consolidate recent gains if not correct in the near-term.
Click to enlarge charts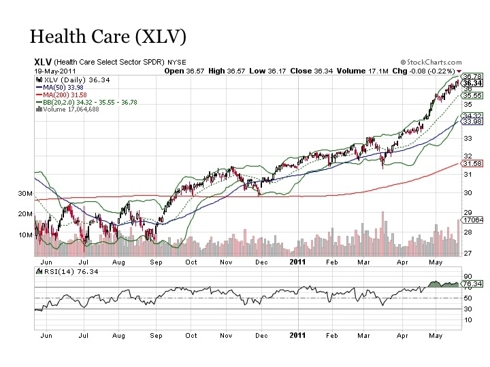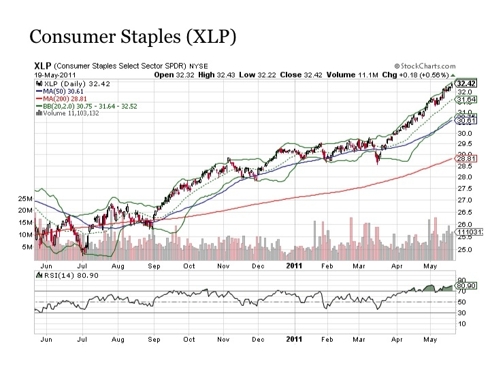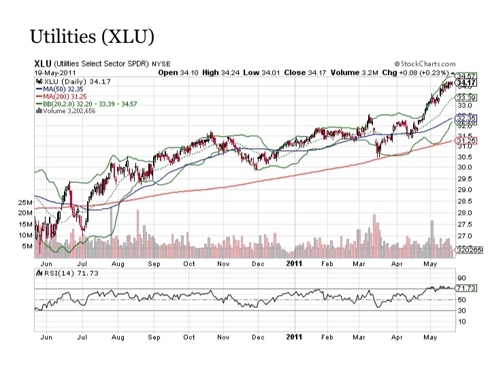 The recent defensive stock rally has also meaningfully narrowed the performance gap between cyclical sectors and defensive sectors. Whereas cyclical sectors were leading over defensive sectors in the current QE2 rally by a +37% to +14% margin at the end of the first quarter, this difference has been narrowed to +32% for cyclicals vs. +23% for defensives. Dissecting these readings further, both healthcare and consumer staples have fully caught up to their cyclical counterparts with essentially comparable cumulative returns since the beginning of QE2. Only utilities continue to trail the other sectors.

The fact that defensive stock sectors have essentially caught up to their cyclical counterparts has implications for positioning heading into the post QE2 summer. As mentioned above, defensive stock sectors meaningfully outperformed cyclical stock sectors once QE1 ended in April 2010. But as an important contrast to today, cyclical stock sectors were widening the performance gap over defensive stock sectors all the way up to the very end of QE1. For example, several months before the end of QE1 on December 31, 2009, cyclical stock sectors had gained +74% since the March 2009 market bottom vs. defensive stock sectors at +40%. And a few months later at the end of QE1 on April 26, 2010, cyclicals were up an even greater +96% from the March 2009 lows vs. defensives at a mostly unchanged +42%. In short, we saw the exact opposite sector performance trends leading up to the end of QE1 – cyclicals rallying and defensives flat – than what we are seeing today leading up to the end of QE2 – defensives rallying and cyclicals flat. Thus, investors have likely already captured in advance of the end of QE2 much of the sector rotation tailwind that aided defensive stock sector performance after the end of QE1. Furthermore, with the exception of perhaps utilities, any performance differentials between cyclicals and defensives are now likely to be much narrower post QE2 than they were after QE1.

In such an environment with potentially limited sector performance differentials going forward, a focus on individual stock selection is preferable in working to achieve relative outperformance. A key to this strategy is identifying stocks that have strong fundamentals and have the propensity to hold up well during down markets. This may include stocks from within any of the major market sectors. In addition, targeting stocks that continue to behave well technically and have shown the ability to respond well to key support levels in the past, particularly during the QE Pause last summer, should also prove beneficial. Such technical guideposts should provide investors with a variety of buy and sell points to help control risk and generate returns. Many of the stocks identified in past articles - QE-Proof Stocks for Summer 2011 and More on QE-Proof Stocks for Summer 2011 - meet many of these characteristics. As we move closer to the end of QE2 and beyond, I will be working to focus on particular names on these lists (McDonald's (NYSE:MCD) and Clorox (NYSE:CLX) are past examples) as well as introducing new names (Molson Coors (NYSE:TAP) is the most recent example) as opportunities present themselves.

This post is for information purposes only. There are risks involved with investing including loss of principal. Gerring Wealth Management makes no explicit or implicit guarantee with respect to performance or the outcome of any investment or projections made by GWM. There is no guarantee that the goals of the strategies discussed by GWM will be met.

Disclosure: I am long XLP, XLU, MCD, CLX, TAP.