Moving the Market
First quarter earnings season for 2011 is drawing to a close. The technology sector continues to dominate and keep its firm stronghold on investor interest and portfolio managers. Two tech titans - Intel (NASDAQ:INTC) and Cisco (NASDAQ:CSCO) - produced diverging results for the first quarter. Although both companies are evolving product-wise, insuring their long term survivability, it appears that INTC is making quicker strides, which ultimately is translating into stronger and increasing revenue streams. Cisco continues to lag behind, a trend that may well carry through 2012.
Intel posted positive EPS growth of 30% on April 19th and announced it will introduce more than 10 new tablet models that run on its own microchips on May 19th, a clear sign of INTC's aim to expand beyond its PC stronghold into mobile devices - an area that has been dominated by U.K. firm ARM Holdings.
Cisco posted a negative 11% EPS on May 11th. CSCO CEO John Chambers reiterated the company's plans to take comprehensive action to address problem areas and refocus on its operating model and core - i.e. routing, switching and services, comprehensive security and mobility solutions, data center virutalization and cloud computing, with significant changes coming in public sector focus (public sector includes states, municipalities, as well as the general public). Proposed changes will have an effect on CSCO's balance sheet, pushing the realistic hope of significant bottom line improvement out past 2012.
As would be expected, INTC and CSCO results produced a significant divergence in their respective stock prices with INTC gaining roughly 19% (prior to Goldman's general across the board downgrade of the semiconductor sector) and CSCO losing 6%.
Our Outlook
We have the unparalleled ability through the depth of our data to monitor and classify companies such as Intel and Cisco to include their customers, suppliers and competitors, which in turn has revealed investment opportunities based on these dynamic relationships.
In the case of INTC and CSCO, we looked at the supplier companies with a market cap of more than $1 billion that Intel and Cisco share in common. While conventional wisdom would say that the performance of supplier companies with two large clients should be less volatile than either the customer companies themselves or a portfolio of either company's suppliers, the case of Intel, Cisco and their supplier companies has proven to be the opposite since each released their most recent quarterly earnings.
Our Research Reveals ...
Supplier Returns vs. Customer Returns
Using our relationship data, we created a portfolio for each of these two tech titans' suppliers, consisting of 66 companies for INTC and 85 companies for CSCO. The returns of this portfolio were compared to INTC and CSCO's returns in the time since each company's respective earnings announcement. As expected, the returns of the supplier companies generally correlated to the returns of the customer.
Click to enlarge charts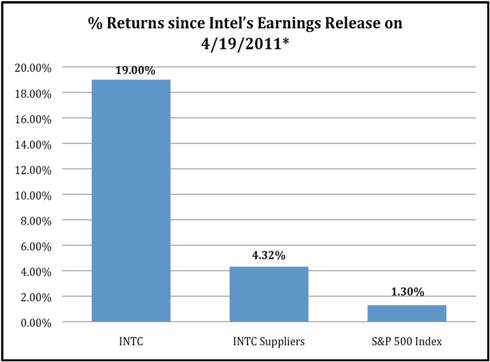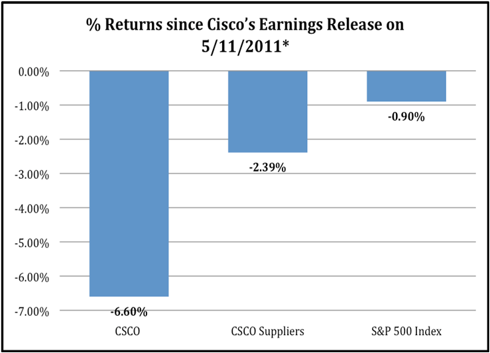 Overlapping Suppliers
When looking at the supplier companies with a market cap in excess of $1 billion that count both INTC and CSCO among their customers, we found some interesting results.
First, we identified seven companies that supply both INTC and CSCO:
Click to enlarge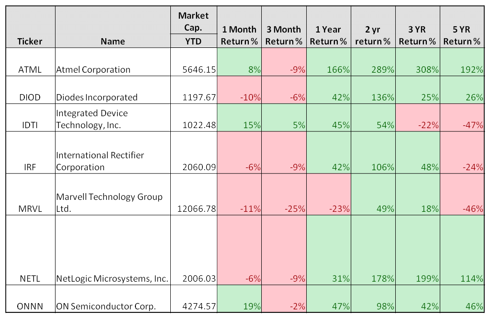 Then we tracked the performance of these seven suppliers over three time periods:
After Intel's earnings announcement (Since April 19th)
Between Intel and Cisco's earnings announcements (4/19/2011- 5/11/2011)
After Cisco's announcement (Since May 11th)
Click to enlarge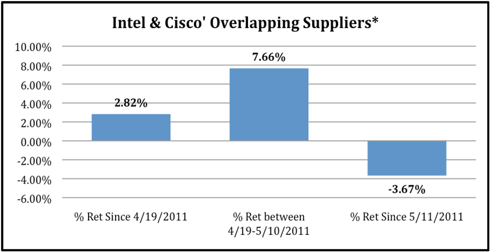 As a group, the seven overlapping suppliers delivered a 2.8% return since April 19th. However, when compared to INTC's larger supplier group's 4.3%, the overlapping suppliers underperformed by 1.5% for the same time period. It should be noted that much of the "underperforming" occurred after CSCO's announced earnings on May 11th.
"Pure-Play" Suppliers
Taking the results a step further, we analyzed INTC's "pure-play" suppliers (those companies which were unique to INTC alone). We did this to more fully capture the upside momentum of INTC without the downward drag caused by CSCO's results.
Click to enlarge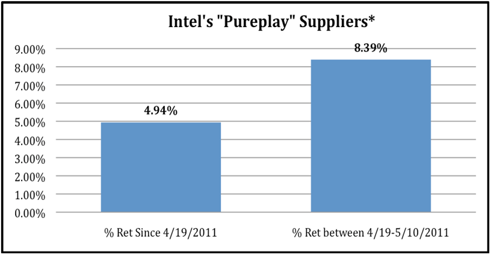 These results show that the group of "pure-play" INTC suppliers rose by 4.94% in the time since INTC released its earnings, which outperformed the entire portfolio of suppliers to INTC by 4.3% (including pure play suppliers and overlapping (in common suppliers).
Conclusion
By analyzing the large-cap supplier company performances of DJIA components, we found the supplier index to be highly correlated with their customers during catalyst events such as earnings announcements.
Investors can more fully identify risks and potential returns when they take into account the overlapping suppliers to major customer companies. To maximize returns from the effect of customer performance on suppliers, investors can identify the "pure-play" suppliers in considerations of the timing of earnings announcements from their major customers.
Companies to Watch
Since the impact of supplier-customer stock pricing has been shown in several highly regarded academic studies to typically have a one-month time lag, we believe that the prices of the seven overlapping supplier stocks of INTC and CSCO will normalize (the larger trend picks up again) as the market normalizes these atypical earnings results. Thus look for the seven stocks below to attach and follow more closely (price movement) the larger customer ( INTC or CSCO) it is associated with.