Like many investors, you're probably amazed every quarter when Apple, Inc. (Nasdaq: AAPL) announces that it once again has severely trounced analyst expectations.
Its groundbreaking (and addictive) products get most of the credit. Every month it seems like it's putting out a new product that revolutionizes the way we communicate and organize our daily lives. And as prices for Apple and other consumer electronics have plummeted, the use of these products has risen dramatically. The average U.S. household continues to use more and more consumer electronics every year. Sure… This is not exactly front-page news.
But buried on the back page, there's a different story about our love for these little gizmos. It's a story about the amount of power it takes to charge the gadgets plugged into our electric sockets… and how our total household consumption has changed and will change over time.
You'll find a strange disconnect between the two… It's quite puzzling at first…
Consumer Electronic Use is Booming
First, let's take a look at home use of the traditional electronics from decades past. The chart below is from the Energy Information Administration's 2009 Residential Energy Consumption Survey (RECS). You can clearly see households are continuing to increase purchases and use of televisions and computers.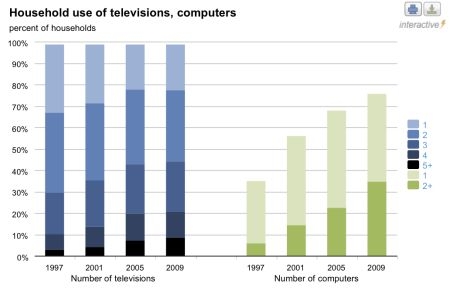 In 2009, more than 50 million households (nearly 45 percent) in America had three or more televisions. That's more than a 50 percent increase from 1997.
The rise in the use of computers is just as dramatic. Back in 1997, the majority of U.S. households didn't own one. Now, more than 75 percent do. The first time the EIA did their RECS survey back in 1978, personal computers were relatively unknown, and most homes had only one television.
Ever since, they – along with appliances – have taken an increasing slice of the average American's electric bill.
How much? As you can see below, the amount of electricity used by consumer electronics and appliances has nearly doubled from 17 percent to 31 percent.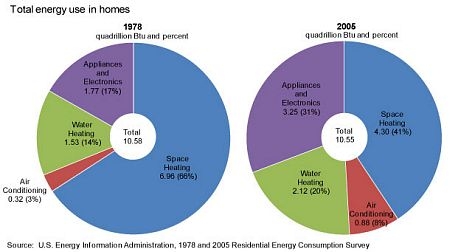 So growing ownership of electronics over the past three decades…a greater share of BTUs to power them… more households than ever before… and now we have tech firms unleashing a wave of new computers, iPads, iPhones, BlackBerrys and other gadgets…
You would assume that our overall household energy use would be rapidly growing as a result.
You also might think that utilities would be scrambling to bring new supplies online.
Well…
Residential Energy Consumption is Falling
You'd be wrong. Neither is true. While the percentage of energy used for the electronic gadgets and home appliances has soared in the last 30 years, our overall home energy use has plummeted. Now you see the puzzle.
Back in 2005, the energy used by the average household was 95 million British thermal units (Btu). That compares to 138 million Btu per household back in 1978.
That's a decrease of 31 percent.
Perhaps the most dramatic reason for this decrease can be attributable to more energy-efficient building techniques. (I recently wrote an article on energy efficiency as a "source" of energy.)
Back in 1978, America had 76.6 occupied housing units. These consumed 6.96 quadrillion Btu's (one quadrillion Btus is referred to as one quad) for space heating.
Even though the number of homes had increased 45 percent to 111.1 units in 2005, the amount of energy used to heat them had dropped to just 4.3 quads. That's a decrease of 38 percent.
More efficient heating equipment, energy-efficient window designs and super-insulation are primary reasons. Approximately 80 percent of houses are using double- or triple-pane windows, more than ever before, according to the EIA survey.
But perhaps the most interesting data point in the survey centered on home heating fuel sources. The use of home heating oil declined from 10 percent to six percent over a 16-year period. More than 55 million homes use natural gas as their primary source for space heating. That's 49 percent of all homes in the country.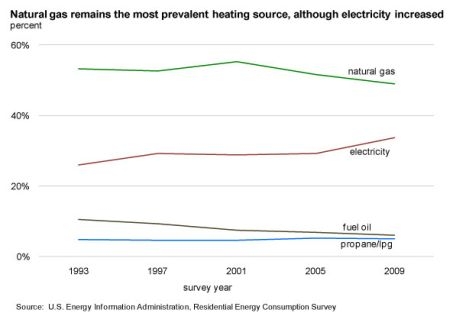 So What's the Latest Residential Energy Consumption Data Mean?
Even though America has more and larger households, and we've increased our use of consumer electronics and appliances, our overall energy use has decreased substantially. And that's expected to continue over the next decade and beyond, especially as new energy standards are brought online to increase efficiency.
Natural gas remains the prevalent home heating fuel, and it also remains relatively cheap when compared to other sources of energy. It's also cleaner, and has many other practical uses that will see increased demand, such as transportation.
Plus, we can expect domestic increases in alternative sources of supply, like wind, solar and geothermal. But it's the efficiency sector that could still see the biggest gains in terms of energy savings.
It's time to check out companies like Williams Companies (NYSE: WMB), a large transporter of natural gas, and Honeywell International Inc. (NYSE: HON) which provides control sensing and energy-efficient products for buildings and homes.
These will be the companies making sure there's plenty of power for our gizmos and gadgets as the disconnect between rising consumer electronics power demand and falling total household energy consumption continues into the future.
Disclosure: None