Nearly every Monday, Seeking Alpha contributor Paul Zimbardo writes about a strategy he executes with Apple (NASDAQ:AAPL) weekly and monthly options. Because Paul is likely too modest to pat himself on the back, I will do it for him.
Zimbardo holds a long position in Apple stock that he writes weekly covered calls against. Week after week, he sells covered calls, collects the premium, the calls expire worthless, and he keeps the premium. While I cannot speak for him, I am sure Zimbardo will do something similar, if not the same thing, with AAPL May 27 weekly calls. People dream of earning "passive income;" Paul banks it almost every week.
If you're long AAPL, you have strategies at your disposal other than writing covered calls. You can use weekly as well as monthly options to trade around your position. I discuss trading around your long position in an article that deals with recent bearish activity in retailer Ann Taylor (NYSE:ANN). If you are not an Apple shareholder, you can still use options to profit from movement or even no movement in the company's shares.
Bull Put Credit Spread
When you execute a bull put credit spread, you sell a put and simultaneously buy another put, but at a lower strike price. Because the put you sell has a higher strike than the one you buy, it also has a higher premium. You collect a credit on the transaction equal to the difference between the price of the put you sold and the cost of the put you purchased.
You would execute this strategy when you have a bullish sentiment toward the underlying stock and you do not think it will drop below a particular price. The following example works best if you think AAPL will safely trade above $335 for the remainder of the week ahead of the May 27 weekly options expiration date. You could give yourself even more cushion, this lowering your risk, by initiating a spread with lower strike prices. You'll also significantly reduce the amount of income you collect.
This example, shown in Schwab's StreetSmart Edge platform, uses the AAPL $330/$335 bull put credit spread. It shows your maximum gain as well as breakeven and maximum loss. You do not have to keep the position open, waiting for the options to expire worthless. You may close the position at any time ahead of options expiration.
images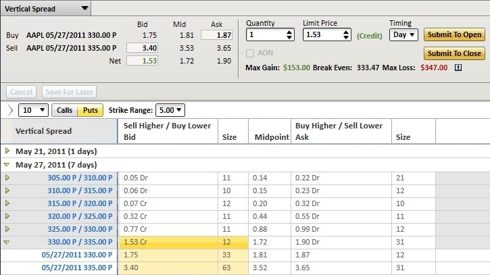 While $153 in your pocket per spread, excluding commissions, does not sound like much, you can open more than one spread and repeat the process week after week on a stock like AAPL. In terms of margin, you must have enough to cover the difference between the strike prices minus the credit received. In this case, roughly $347 (335 strike - 330 strike = $500 - $153 = $347).
Bear Call Credit Spread
If you're bearish about AAPL's prospects this week, you could open a credit spead with calls. With this spread, you sell the more expensive closer-to or at-the-money call and buy the less expensive out-of-the-money call. In the example shown below, you need to have conviction that AAPL will open the week lower and sustain below $335 so you can rest easy throughout the week.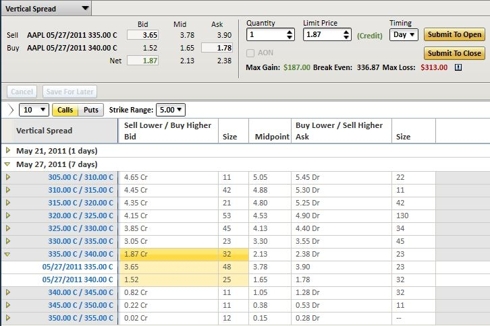 All things being equal, I would be on AAPL's bullish side for the next two weeks. A look at AAPL's chart shows a relatively predictable pattern. Clearly, however, nothing's truly predictable in this business. Who really knows if the stock will react more to the Foxconn (OTCPK:FXCNY) explosion or news of Apple's pending push towards an iTunes cloud?
Disclosure: Author may initiate a long or short position in AAPL at any time.