LEARNING FROM THE BEST
The best book I have ever read about shorting the market is How to Make Money Selling Stocks Short by William J. O'Neil (founder of Investor's Business Daily). If you haven't read it, I highly suggest you pick up a copy.
Shorting the market is difficult, but you need to learn how to do it well if you want to be a successful investor. O'Neil sums it up best in the foreword of his book:
It takes real knowledge and market know-how as well as lots of courage to sell, and particularly to sell short, because you will make many mistakes. However, I don't see how anyone can really do well in the market and protect assets if they don't learn how, when, and why stocks should be sold. If an investor doesn't know how to recognize when a stock has topped and should be sold, how can she be sure that the very stocks she is buying aren't actually given off indications that they should be sold? Buying without the ability to sell is like a football team that is all offense and no defense. To win, you must understand and execute both.
TWO KEY TAKEAWAYS FROM O'NEIL
If you don't take away anything else from this article, I hope that you remember these two key points from O'Neil about short selling:
Follow the General Market (S&P, Dow, and Nasdaq) - You should only sell short during a developing bear market. The reason is simple...most stocks go up in a bull market and go down in a bear market. You don't want to fight the general market. The key is to learn the type of market that you are in.
Don't Try to Time the Top in a Stock - According to O'Neil, "Your job is not to argue with the market, but to study it, recognize when it is weakening, and go along with it." O'Neil believes that once a stock has a serious break in price (e.g., through a key support level, like the 50-day SMA), there will usually be two or three rallies in price. This is the best time to short if it coincides with the general market weakening.
RISK MANAGEMENT: EXIT STRATEGY & POSITION SIZING
Entry points are very important when shorting a stock (as O'Neil points out), but I believe that exit strategy and position sizing hold the key to long-term success (this is true for all trades, long and short).
You've probably heard the adage, "Let your winners run and cut your losses short." If you don't cut your losses, you will not be successful in the long-term. The most important thing about cutting your losses is to have a predefined point where you will get out BEFORE you enter a position. If the market moves to your "stop loss", you must get out...NO EXCEPTIONS!
Position sizing can affect your portfolio returns more than any other factor. If your positions are too big for your capital base, you will eventually "go bust". A good rule of thumb is to not risk more than 2-4% of your capital on any single investment (i.e., for a $100,000 portfolio, you shouldn't risk more than $2,000-$4,000 per investment). Position sizing should work hand-in-hand your with exit strategy.
Example: Let's assume that you have a $100,000 account and that you are comfortable risking 3% of capital ($3,000) on each investment. You find a good short opportunity that is trading at $30 and you decide that the appropriate stop loss level is $33. Based on your 3% of capital threshold, you should only short up to 1000 shares of stock ($3,000 / $3 risk per share).
WHAT IS THE GENERAL MARKET TELLING US?
Before jumping into the various ways to sell short, let's take a quick look at the general market (to see if the environment is right for short selling). As discussed above, O'Neil's cardinal rule about short selling is to not go against the general market.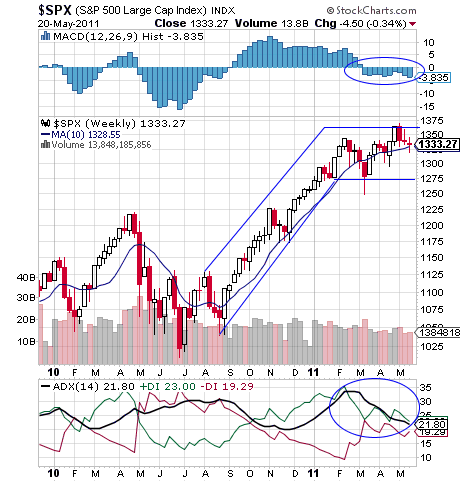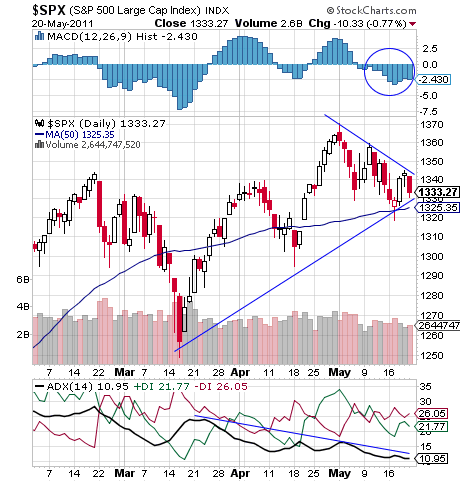 By analyzing the weekly and daily charts of the S&P 500 Index above, you can see the that the recent uptrend has weakened considerably (falling ADX) and downside momentum is strong (negative MACD). The technicals are definitely indicating that the market is weakening.
In addition, as I have highlighted in recent articles, I believe that we are in the last stages of a sector rotation shift that is signaling a market top (Is Sector Rotation Signaling a Market Top?).
Needless to say, I believe the market is getting ripe for short selling...
PRODUCTS USED TO SHORT THE MARKET
There are several different ways to put on a short position in a market or stock, with varying degrees of risk and reward. I am focusing on the 3 products below in this article.
Inverse ETFs - short the broader market or specific sectors.
Individual Stocks - short a basket of individual stocks or ETFs
Options - variety of bearish option strategies for optionable stocks
INVERSE ETFs
Inverse ETFs are constructed by using various derivatives for the purpose of profiting from a decline in the value of an underlying benchmark. Investing in these ETFs is similar to holding various short positions, or using a combination of advanced investment strategies to profit from falling prices.
Inverse ETFs are probably the simplest product available to short the market because it's as easy as purchasing a stock. You don't have to worry about margin requirements or ability to borrow. In addition, there is an inverse ETF for almost any benchmark that you can think of (and new ETFs are popping up everyday).
However, one major thing to consider with ETFs is tracking error, which are deviations from an ETF's benchmark (for more info on tracking error click here). If an ETF has a high tracking error, you may want to consider a different product to establish your short position because you may not be getting the exposure you want.
Below is a list of popular inverse ETFs (with avg. daily volume > 500k shares) for a variety of markets (in order of liquidity - highest to lowest).
ProShares UltraShort S&P 500 (NYSEARCA:SDS)
Direxion Daily Small Cap Bear 3X Shares (NYSEARCA:TZA)
ProShares UltraShort Silver (NYSEARCA:ZSL)
ProShares UltraShort 20+ Year Treasury (NYSEARCA:TBT)
Direxion Daily Financial Bear 3X Shares (NYSEARCA:FAZ)
ProShares UltraShort QQQ (NYSEARCA:QID)
ProShares UltraShort Russell 2000 (NYSEARCA:TWM)
ProShares Short S&P 500 (NYSEARCA:SH)
ProShares UltraShort Dow 30 (NYSEARCA:DXD)
Direxion Daily Energy Bear 3X Shares (NYSEARCA:ERY)
ProShares UltraShort Financials (NYSEARCA:SKF)
ProShares UltraShort DJ-UBS Crude Oil (NYSEARCA:SCO)
Direxion Daily Emerging Mkts Bear 3X Shares (NYSEARCA:EDZ)
ProShares UltraShort Real Estate (NYSEARCA:SRS)
ProShares UltraShort Euro (NYSEARCA:EUO)
ProShares UltraShort Yen (NYSEARCA:YCS)
ProShares UltraShort Oil & Gas (NYSEARCA:DUG)
ProShares UltraShort Basic Materials (NYSEARCA:SMN)
ProShares UltraShort MSCI Emerging Mkts (NYSEARCA:EEV)
Direxion Daily Technology Bear 3X Shares (TYP)
ProShares UltraShort FTSE China 25 (NYSEARCA:FXP)
Note: Many of the ETFs listed above are levered ETFs (i.e., funds that attempt to return 2x-3x the underlying index by using leverage). Positions sizes should be adjusted accordingly for levered ETFs.
As with any investment (long or short), plan your exit BEFORE you enter the trade. I can't stress that enough...
INDIVIDUAL STOCKS
By shorting individual stocks, you can take a much more targeted approach to your short exposure. Again, if you are going to start shorting individual stocks, I highly suggest that you educate yourself on the process and techniques to use (O'Neil's book is a great start).
Let's walk through a few examples of what to look for in a short trade. You'll notice that the stocks highlighted below are in the energy sector. In general, I believe that the energy sector is breaking down and that it will be one of the sectors that leads the general market lower (see Running Out of Gas: Energy Stocks to Avoid). I think it's important to pick weak sectors as a starting point when looking for individual stocks to short.
Note: These are just simple examples, but I hope it will help you establish a process and a strategy for your own trades. Keep in mind that short trade setups are typically driven by technicals as you are attempting to follow what the price is telling you.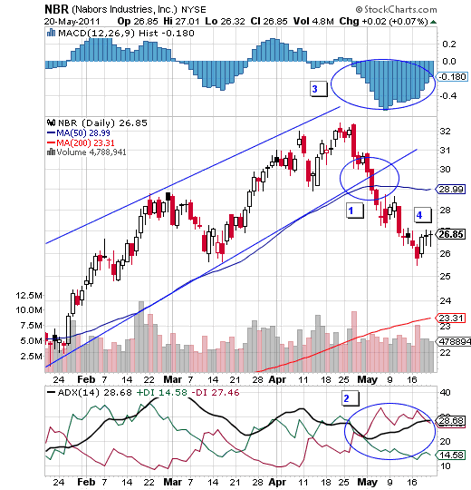 NBR broke through two key technical levels (major trendline and 50-day SMA) on the same day in early May. In addition, there has been significant downward follow through for the past two weeks.
The Average Directional Index (ADX) is showing that the downtrend is picking up strength. In addition, the -DI crossed above the +DI in late April, which is an early sell signal.
The Moving Average Convergence-Divergence (MACD) indicator shows that the price break through the support levels mentioned in #1 above had a significant amount of downside momentum. This signals that the break was real and that you should start looking for an entry point to short.
O'Neil believes that after a serious break in price, there will usually be two or three failed rallies in price. You should look for NBR to rally back toward the 50-day SMA over the next couple of weeks. This would be a good entry point to short (with a stop loss placed slightly above the 50-day SMA, which should now be a strong level of resistance.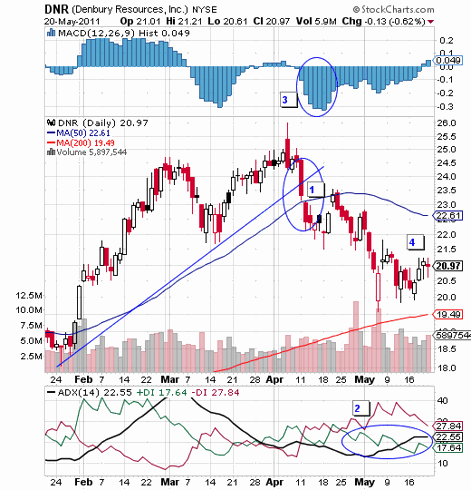 Similar to NBR, DNR broke through significant support levels in mid April. The stock attempted to rally back shortly thereafter, but failed miserably at the 50-day SMA.
Since the first rally attempt, the ADX has increased, which signals the downtrend is getting stronger.
MACD confirmed that the initial price break was real.
Since DNR has already attempted one failed rally, I would look to short this current rally. I think the $21.50-$22.00 level would be a great entry point for a short (with a stop loss placed around $23.00-$24.00 level, which is just above the 50-day SMA).
OPTIONS
Just as it is important to educate yourself on short selling, the same is true for options. There are literally thousands of books in the market on the subject, covering all kinds of complex strategies. The best book that I have ever read on options is Option Volatility and Pricing by Sheldon Natenberg. It's more of a text book read, but it is hands down the best book out there if you are truly interested in learning the ins and outs of the options market (including strategies and position analysis).
I like to keep things simple with options, especially when using them to enter a short position on a stock. Below are the bearish option strategies that I like to use (both of which have limited downside risk).
Note: I use the same technical analysis as above to time my entry point on a directionally short option position as well.
Buying In-the-Money Puts - Buying puts is similar to shorting a stock. Instead of shorting the stock, you are purchasing an option contract that gives you the right to short (or sell) the stock. Theoretically, buying an in-the-money put carries less risk than shorting a stock, because your downside is limited to the premium that you pay for the option. However, timing also comes into play with an option. Not only do you have to be right directionally, but the move has to happen before the expiration of the option.
From a risk management standpoint, position sizing is critical with options because of the inherent leverage that you get with the product. The most important thing to remember is that if you would only be willing to risk shorting 500 shares of a stock, you should only buy 5 put options on that stock and nothing more. This is the most common pitfall among option traders. In addition, if the price of the underlying stock rises to your stop loss price, you have to be willing to sell the option contract to get out of the position. You must exercise extreme discipline when trading options.
Bear Call Spread - This is a great strategy to employ to generate income on a stock that you believe is a good short candidate. Bear call spreads are typically created by selling a near-the-money call and buying an out-of-the-money call (a few strikes higher than your short strike). By buying the call with a higher strike, you limit your risk to the difference between your long strike and your short strike (less the premium you receive on the credit spread). If the stock stays below your short strike, both options will expire worthless and you get to keep the premium (income). Since you are selling upside volatility with this strategy, it will also perform well if the stock remains flat.
Below are examples of bear call spreads for the two stocks that we analyzed above (NBR and DNR), including a graph of how the spreads perform under various pricing scenarios. Note: The short strike should be the approximate price you would be willing to short the stock based on your analysis. The long strike should be your approximate stop loss level.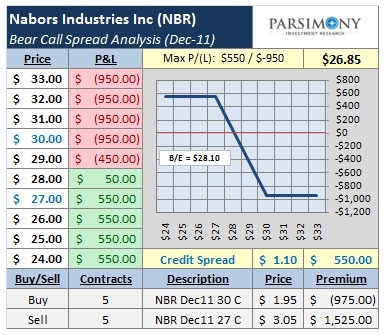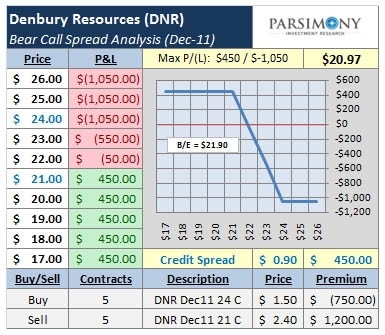 CONCLUSION
Shorting stocks is not for the faint of heart. However, anyone can learn how to do it successfully if they know what to look for and they implement sound risk management principles.
Disclosure: I am long SDS.