Theater exhibitor and real estate developer, Reading International (RDI, RDIB), which was highlighted in my September 30, 2010 Just One Stock interview, and several other Seeking Alpha articles, held its 2010 Annual Meeting this past Thursday. This year's meeting proved to be one of the most informative of the many I have attended.
In addition to a slide presentation discussing Reading's 2010 and Q1 2011 performance, Reading's Chairman and CEO, James Cotter, Sr. discussed his plans regarding each of Reading's largest developable parcels, including many I discussed in my March 2011 article, entitled "Reading International: There's More Popping Than Just Corn".
A very telling picture of 10-year operating performance –
One of the most interesting slides presented was slide showing the 10-year trend and levels of Revenues, Adjusted EBITDA, Assets and Debt from 2001 through 2010. What I found interesting that this slide illustrates (below) was the accelerated growth in Revenues, Assets and Adjusted EBITDA in the last 3 years while Reading's debt levels have been steadily declining since 2008. Normally growing fundamental operating performance combined with lower debt levels translates enterprise value into a higher market valuation.
However, instead, Reading's stock price and market valuation remains compressed to less than 50% RDI's January 3, 2008 high of $10/share.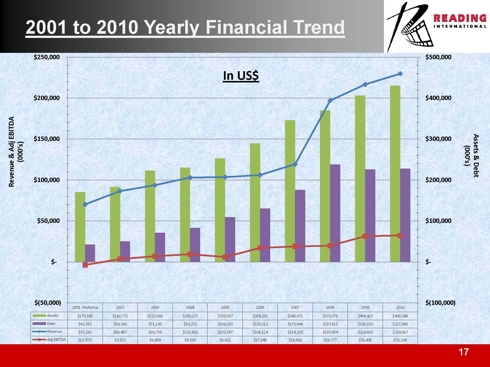 If the slide is not legible, it is slide 17 in the 2010 annual meeting slide presentation on Reading's website.
Comments regarding Reading's vast real estate assets -
What raised the quality of information flow at this year's meeting was Mr. Cotter's organizing his initial comments as answers to questions posed in a letter from a shareholder unable to personally attend the meeting. Following these extensive remarks, Mr. Cotter answered all questions from the floor until there were no more. Many of these questions surrounded Reading's vast real estate holdings, (discussed in detail in its 2010 10-K filing.)
Unlike other cinema exhibitors, in addition to interests in 58 cinemas, comprising some 462 screens, Reading owns over 16 million square feet of real estate. Only around 1.1 million square feet of Reading's real estate is already commercially developed, mostly as entertainment-themed retail shopping centers ("ETRC's"). In these instances, Reading dually benefits by having its own multiplex as an anchor tenant and by having itself as landlord for its multiplex. Developed real estate includes the Courtenay Central shopping center in downtown Wellington, New Zealand, the Redyard Centre in the Auburn suburb of Sydney, Australia, and the Newmarket Centre near Brisbane, Australia.
Reading's developed real estate generated adjusted EBITDA of approximately $15.9 million for the 12 months ended March 31 2011. However, no cash flow is presently generated (and some development expense is incurred) from the sizable 14.9 million square feet of developable land that Reading additionally owns through about eight meaningful parcels, which have been slowly migrated and up-zoned towards eventual cash flow generation and higher value, via either outright sale, joint venture or lease out. Finally, combining both developed and undeveloped real estate categories above, Reading additionally owns four live theaters and their underlying real estate in Manhattan and Chicago that presently generate theater rental streams (a small part of the $15MM EBITDA, above), while awaiting redevelopment into higher value alternatives.
Reading's plan to monetize the most valuable of its undeveloped real estate, its "crown jewel" in Australia, the 51-acre Burwood Square parcel in Melbourne, is but one major catalyst for unlocking some of the enormous asset value that I believe is not reflected in Reading's current stock price. The parcel has previously been up-zoned for mixed use as residential, commercial and retail/entertainment components. (For more details on this parcel and the plan to monetize it, see my May 27, 2010 and May 16, 2010 articles.) Reading's stock price stagnation has partially been a reflection of the lack of disclosed progress in the Burwood sale process, begun several quarters ago.
Several questions were asked at the Annual Meeting regarding this Burwood Square parcel with the main theme being whether the process ceased or when, and if, all or part of the parcel would be monetized or converted to cash flow. The basic answers involving Burwood Square were:
The sale process is ongoing.

The process included 27 indications of interest.

Selling the components separately likely maximizes value.

Reading is focused on its core ETRC, cinema and retail competencies and does not want to be a residential developer.

Reading is actively negotiating to sell the site's largest component, around 34 acres of real estate zoned residential.

Pursuit of a sale or development of the site's Commercial and Retail/Entertainment zones will follow a residential transaction.
Many annual meetings are perfunctory formalistic events that last only the 15 minutes it takes to read pre-prepared scripts of motions and seconds and pre-submitted vote tallies. The Reading International meeting thankfully hasn't been like that in the past and this year's didn't disappoint.
I believe Reading's book value still greatly understates the current fair market value of the company's Australian, New Zealand, New York and Chicago real estate, much of which has appreciated in value from up-zoning or development into rent-generating parcels. For those attending this year's annual meeting, Reading's transactional announcements at some future date won't come as a surprise, possibly just the valuations.
Disclosure: Funds I manage are long RDI, RDIB. These funds or its affiliates may buy or sell securities of this issuer at any time.