I have been monitoring North American banks since May 2009, ranking them in terms of market caps, price/book values, ROEs and relationships thereof in order to provide a systematic and rational method to value bank stocks (see all rankings here).

Canadian bank stocks have strongly outperformed US banks since the beginning of the financial crisis and rightly so given Canadian banks' much superior financial condition and operating environment. Their ROEs continue to dwarf US banks' ROEs although US ROEs have finally begun to lift. As a result, US bank stocks look increasingly attractive value-wise. Still, the apparent double dipping of the US housing market warrants continued caution on US banks. The PB/ROE chart provides investors with a snapshot of relative values within the sector.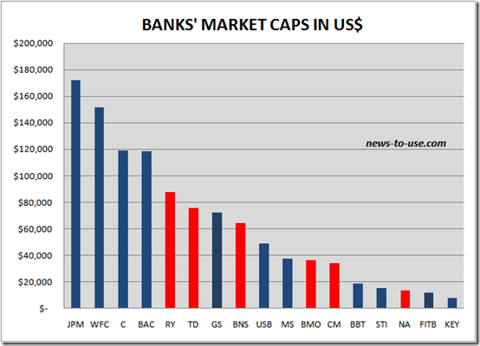 Since Feb. 2011, Citigroup (NYSE:C) moved up to #3 in market cap. from #4. TD Bank moved up to #6 from #7, ahead of GS. National Bank moved up to #15 from #16.
Canadian banks' aggregate market cap is US$310B, 40% of the 11 US banks ($773B) sampled here. That ratio was 36% in mid-February and 32% in March 2010. In effect, the 6 Canadian banks have seen their market cap grow from US$258B in March 2010 to US$310B currently, a 20% gain. Meanwhile, the 11 US banks' market cap has declined 3%.

The 6 Canadian banks are trading at an average P/BV of 2.2x (2.1x in March 2010) vs 1.0x (1.1x) for the US banks. Seven of the 11 US banks listed here trade at or below book.
The Canadian banks are selling at 2.8x tangible BV (2.7x in March 2010) while the US banks are selling at 1.4x TBV (1.6x). In effect, the TBV of Canadian banks represents 79% of their BV compared with 71% for the US banks. Three US banks are selling below TBV, including the huge C and BAC. All Canadian banks are over 2x TBV! In fact, 5 of the 6 Canadian banks are at more than 2.5x TBV.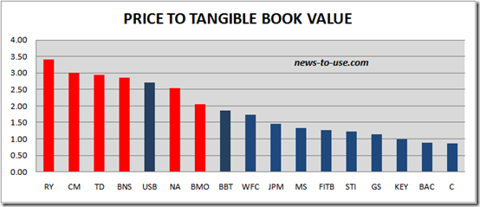 All 6 Canadian banks earn a ROE (2011e) of more than 15% with an average of 18.2% (17.1% for 2010e in March 2010). The US banks' average ROE is 10.8%, up considerably from 4.9% in March 2010.

The price of growth
The Canadian banks are selling at 2.2x BV for a ROE of 18.2%. Investors are thus paying 0.12 units of BV for each 1% of ROE. For the US stocks, that ratio is 0.09. In March 2010, the ratios were 0.11 and 0.14 respectively, indicating that the US bank stocks have become much cheaper relative to their ROEs than Canadian banks during the last 14 months.

Among US stocks, KEY and BBT are selling at "Canadian prices" while earning "US ROEs". Also interesting is the fact that investors are valuing GS' and BAC's ROEs similarly and at the very bottom of the range.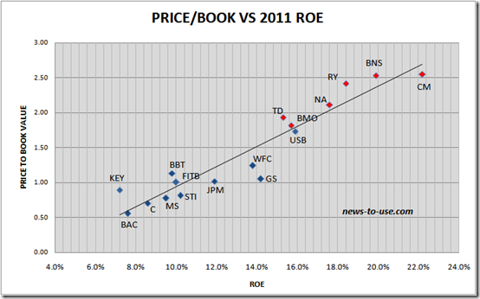 Disclosure: I am long TD, BMO, BNS.