Just when you thought solar earnings could not disappoint the market any further, LDK Solar Co Ltd (NYSE:LDK) and Yingli Green Energy Holdings Co (NYSE:YGE) both provided enough earnings disappointment to send their shares down 11.6% and 9.1% in one day, respectively.
LDK provided a pre-announcement that contained the news that the company canceled a debt offering because interest rates are higher than expected. This news demonstrates the bond market's potential waning confidence, and I am guessing this translated quickly to lower confidence for equity holders. Eric Rosenbaum provided a detailed look at LDK's financial health in "Solar Losers: LDK Solar." It included an extensive back-and-forth between dueling analysts (the two analysts were not interviewed together, Rosenbaum appears to be an intermediary). The bearish case is reminiscent of late 2009 when LDK raised market fears of bankruptcy. Since then, it seems they successfully navigated the balance sheet issues. However, the discussion in Rosenbaum's piece motivated me to take a look at debt-to-equity ratios across the solar industry.
The chart below shows debt-to-equity ratios versus the year-to-date price changes for select solar stocks where bubble size represents the cash/share as a percentage of price/share (as of Friday, May 20, 2011). I was hoping to find a direct relationship between health of the balance sheet and price performance. Instead, there are two "sore thumbs" – Energy Conversion Devices (NASDAQ:ENER) and LDK Solar, one surprise – GT Solar (SOLR), an exception – SunPower (SPWRA) by virtue of the recent premium paid by Total Group, and then a clustering of the rest of the pack.
Perhaps most promising as "value plays" are those companies which have low debt-to-equity ratios and relatively large amounts of cash which are down for the year: JA Solar (NASDAQ:JASO) and Trina Solar (NYSE:TSL). Although FSLR has little relative cash/share, it remains one of the healthiest companies in the solar industry. For perspective, debt-to-equity ratios under 1 are considered good while capital intensive industries (like solar) tend to have debt-to-equity ratios well above 1.
Currently, most solar companies are between 1 and 2. In the future, I hope to track this chart over time.
images
(Explanation of data: I used the balance sheets posted on Yahoo Finance to calculate debt/equity as total liabilities/total shareholder equity. I also used Yahoo Finance for cash/share. For companies not yet updated with the latest data, I computed the debt/quity and cash/share directly from earnings reports. Cash includes cash equivalents and restricted cash. I used diluted shares for the denominator. I made these calculations for CSIQ, DQ, JASO, JKS, TSL and YGE. CSUN, HSOL, LDK and STP are yet to report financial statements for the previous quarter. ESLR has negative shareholder equity and was excluded from the chart.)
With the growing anticipation of over-capacity in the second half of this year, a bunch of disappointing results, and the persistent selling in solar stocks that has accelerated recently as the stock market treads on precarious ground, shorts appear to be smelling blood in the water. Several solar companies have experienced significant increases in short interest, especially JKS and LDK.
I provide an update below of my on-going tracking of short interest in solar companies. I divided the data into two charts for clarity. Short interest is normalized to make it easier to see relative changes. For stocks not trading November 13, 2009, I used the first week of reported short interest data. I did not account for ESLR's 6:1 reverse stock split. All data are from NASDAQ.com.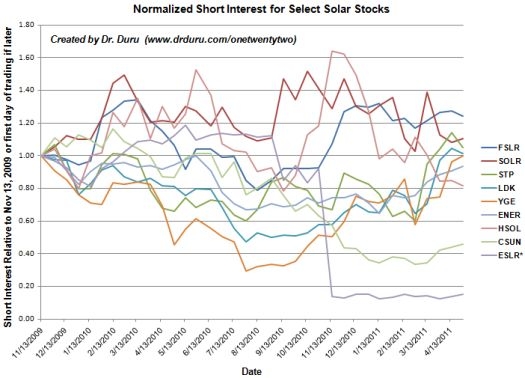 While LDK, STP, and YGE have not changed much in 18 months, they have all seen rapid increases in the past two months.
You can be excused if you find yourself vehemently disagreeing with the shorts and thinking nothing is fundamentally wrong in the solar industry . First quarter results showed tremendous growth year-over-year in revenues and MW of shipments. Just about every reporting company is sticking by full-year guidance even if first quarter results came in under expectations or second quarter results are expected to be on the low side. All companies remain essentially full-steam ahead on aggressive capacity expansions.
This combination of news is a bit troubling. The implications could be: 1) these companies will eventually engage in vicious price wars in order to meet shipment guidance and perhaps try to push more product to hit revenue targets (while killing margins), and/or 2) these companies will start revising guidance downward for the full-year in the next earnings cycle. The sell-offs in solar suggest the market is anticipating some combination of both.
I am holding onto my current solar holdings and looking to add later in the year assuming the cycle-related selling has finally exhausted itself, perhaps by late summer or early fall. I am also sticking by my pre-earnings claim that First Solar had to be bought on the other side of the disappointment that I expected at that time. The stock has so far held support for three weeks at the post-earnings lows. My valuation downside target remains $105 with an expected low of $120. (As a reminder, I stopped shorting solar stocks in early 2010 and decided to focus on upside opportunities and buying on sell-offs).
Below I post some highlights from the earnings announcements and conference calls of several solar companies. These notes are not meant to provide a comprehensive or representative view of all the information, just items that caught my attention as I looked for commentary on future outlooks and the health of the industry. In some cases, I also looked for balance sheet and margin information. The company names include a link to the earnings information. (Each company name begins with two stars).
** LDK Solar Co Ltd (LDK) – May 20, 2011
"LDK Solar Announces Postponement of Proposed Offering of Senior Notes"
[LDK]…today announced the postponement of its proposed offering of U.S. dollar-denominated senior notes due to recent market conditions. LDK Solar originally planned to use the funds to pay down its short-term debts, but the recent increase in interest rates exceeded its original expectations."
"LDK Solar Reiterates Guidance and Announces Date for Reporting First Quarter 2011 Results"
Outlook
FY2011 unchanged:
…revenue in the range of $3.5 to $3.7 billion, gross margins between 24% and 29%, wafer shipments to be between 2.7 and 2.9 GW, module shipments to be between 800 and 900 MW, polysilicon production to be between 10,000 and 11,000 MT, and in-house cell production to be between 500 and 600 MW.
** Yingli Green Energy Holdings (for earnings presentation, click here) – May 20, 2011
Outlook
FY2011 unchanged: 1,700-1,750 MW shipped (60.1-64.8% increase from FY 2010)
Key Notes
"In the first quarter of 2011, we experienced a sudden demand slowdown in Europe, primarily due to the uncertainties relating to the feed-in-tariff policy change in Italy and the severe winter season conditions in Germany. However, despite a lower than expected shipment in the past quarter, we remain confident to accomplish our full year shipment guidance of 1.7 to 1.75 GW through continuously optimized global sales strategies."
Small diversification in customer base: China growing from 7% in Q1 to 11-13%, "rest of world) from 0.5% to 7-8% while Germany still dominates at 45-50%.
YGE is clearly bracing itself for an imminent downturn: "Our existing customers in Europe have demonstrated their experiences to weather market downturn, proven capabilities to tackle challenges of low demand cycles, strong technical innovations at system level by offering competitive solar power solutions to end users."
YGE noted the Golden Sun Program announced by the Ministry of Finance: "Government is considering 10 GW and 50 GW of accumulated installation targets by 2015 and 2020, respectively."
Quarterly gross margin has fallen from 33% in 2010Q1 to 27% in the previous quarter. 2010Q2 expected to be in "low to mid-twenties".
Cash and restricted cash = $922M
Total debt (short and long) = $1395.6M
** Trina Solar (TSL) – May 17, 2011
Outlook
Second half of 2011:
To meet expected demand for its PV solar modules, the Company expects to raise its annualized in-house ingot and wafer production capacity and PV cell and module production capacity to approximately 1.2 GW and 1.9 GW, respectively, in the second half of 2011, based on actual manufacturing yield.
Key Notes
Gross margins have dipped a small bit: "Gross margin was 27.5% in the first quarter of 2011, compared to the Company's previous guidance of mid to high 20s in percentage terms. The first quarter gross margin compares to 31.4% in the fourth quarter of 2010 and 30.9% in the first quarter of 2010."
Cash and cash equivalents and restricted cash: $554.6M
Debt: Total bank borrowings stood at $448.9 million, of which $295.7 million were long-term borrowings.
** SunPower Corporation (SPWRA, SPWRB) – April 28, 2011
While announcing its acquisition deal with Total Group, SPWRA warned on revenues pushing out into later quarters. See previous post entitled "Total Group Picks SunPower: A Watershed Solar Deal With More Upside".
Earnings conference call – May 12, 2011
Outlook
FY 2011 Unchanged: 825-920 MW ("recognized" shipments)
** JA Solar (JASO) – May 10, 2011
Outlook
Due to changes in the market environment as result of the recent solar policy changes in Italy, solar cell and module shipments in the second quarter are expected to exceed 400MW. The Company's current estimate for total cell and module shipments for full year 2011 remains unchanged at 2.2GW.
Key Notes
Cash and cash equivalents of $422.2M
Total long term bank borrowings of $321.5M (face value of outstanding convertible bonds due 2013 of $228.2M)
** DAQO New Energy Corporation (NYSE:DQ) – May 9, 2011
Outlook
2Q only (appears guidance provided one quarter at a time):
For the second quarter of 2011, the Company expects its total revenue to be in the range of $92 million to $95 millions. The Company expects to ship between 950 MT to 1000 MT of polysilicon and generate revenues from the sales of polysilicon in an amount between US$64.5 million to US$67.5 million in the second quarter of 2011. The Company also expects to ship approximately 7 MW of wafer and generate about $4.5 million of revenue. The Company expects PV module sales to be approximately $23 million with the sales of approximately 14 MW PV modules under the Company's own brand and sales of approximately 2.5 MW PV modules outsourcing for its customers.
Key Notes
Gross margins at elevated levels: "Gross margin was 51.0% in the first quarter of 2011, compared to 55.9% in the fourth quarter of 2010 and 31.3% in the first quarter of 2010."
** First Solar (NASDAQ:FSLR) – May 3, 2011
Outlook
FY2011 unchanged: net consolidated sales $3.7-3.8B, operating income $900-970M ($9.25-9.75 EPS), return on net assets (RONA) 17-18%.
Key Notes
Channels adversely impacted by actual or contemplated FiT changes in Germany, France and Italy, resulting in project delays and uncertainties.
Factory in France remains on indefinite hold. It was removed from the capacity plan, pending further clarity on the tender process for projects in France. (See conference call transcript on Seeking Alpha).
China is committed to aggressive solar goals; may increase from 5 to 10GW for 2015, but there is a need for sustainable economics to drive growth.
Quarterly operating income percentage continues downtrend from 2009
Quarterly free cash flow went negative again (-$275.5M). Four positive quarters have generated tremendous cash, more than compensating for all the negative quarters.
** Jinko Solar (NYSE:JKS) – May 2, 2011
Outlook
FY2011 unchanged:
We maintain our guidance for 2011 in terms of shipments, revenues and capacity expansion.
Key Notes
During the quarter, we exceeded our guidance in terms of revenue and beat expectations for our solar module shipments while continuing to make timely deliveries despite the uncertainty surrounding Italy's solar policies.

[...]

Although we expect the average selling price for solar modules to continue to decline in the second quarter, we are confident that we can gain additional market share from our competitors due to our vertical integration, leading cost structure and strengthened brand recognition.

[..]

As various solar markets and foreign government solar policies continue to develop, we believe the industry might experience short-term volatility across certain segments of the solar value chain in 2011.
** ReneSola (NYSE:SOL) – April 28, 2011
Outlook
…cautious outlook on market demand as a result of uncertainties in government policies related to the solar industry. In Q2 2010, the Company expects total solar wafer and module shipments to be in the range of 330 MW to 350 MW, revenues to be in the range of US$280 million to US$300 million and gross profit margin to be in the range of 25% to 27%.
(According to briefing.com, this guidance was below the Thomson Reuters consensus of $339.89M).
No full year guidance provided.
Key Notes
We have witnessed a sharp decline in module ASPs but wafer pricing held strong during the quarter and our cost-reduction efforts allowed us to maintain a healthy gross margin of 30.7%.

Though we hold a cautious outlook for demand in Europe, particularly due to the uncertainty and policy changes in Italy, we will continue to build out our capacities and are confident in our ability to drive down costs and remain an industry leader in low-cost wafers.

[...]

The sequential decrease in revenues was driven by a decline in the average selling price ("ASP") of solar wafers and modules to US$0.87 and US$1.72, respectively, and a decline in module shipments.

The sequential decrease in gross margin was primarily due to the decline in solar module ASPs and increases in polysilicon prices.

Net cash and cash equivalents plus restricted cash: $435.9M

Total debt: $522.8M (excluding the US$200 million of convertible notes offered in the first and second quarters).
Be careful out there!