In this article, we will provide you with financial fundamental analysis of Chinese Internet companies on U.S. stock exchanges. For each company, we have provided price targets, buy/sell/hold ratings, buy/sell ranges and theses. Additionally, using a multitude of financial analytical ratios and comparisons, we have given each company a score on growth, profitability, financial health, value, and management indices to compare each company and see where companies excel and where they have weaknesses.
The breakdown of the story is our apparel manufacturing heat map and company profiles.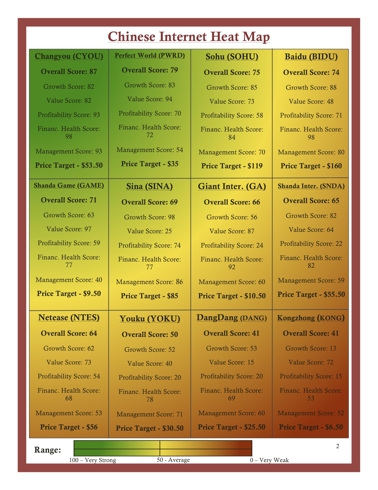 Company Profiles:
Changyou (NASDAQ:CYOU) - Rating: Buy, Price Target: $53.50
Radar:
Thesis: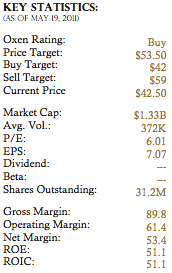 Changyou is our top pick in the Chinese Internet industry. The combination of value and growth for Changyou is the main reason why we believe Changyou is the best investment in the Chinese Internet space.
Changyou operates as an online video game company. Of all the Chinese online gaming companies, Changyou combines consistent returns with strong financial health, profitability, and a clean balance sheet. The company continues to operate top-notch margins with a 62% operating margin that has actually grown in the past five years rather than decline like its competitors.
The company operates the widely popular video game Tian Long Ba Bu among others and is set to release another large release this year in Legend of Ancient World. The company recently announced as well that they are acquiring Road7, make of web-based games.
The video game and Internet MMORPG industry is obviously one that continues to change and develop, but with strong FCF, growing subscriber base, and high scores in every category, Changyou is the most complete company in the sector. With over 400M Chinese expected to enter the Internet market in the next five years, gaming companies that are well established and well run will prosper.
Perferct World (NASDAQ:PWRD) - Rating: Buy, Price Target: $35
Radar:
Thesis: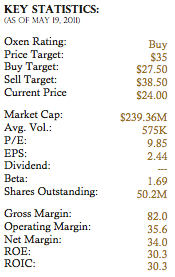 Perfect World (PWRD) is the company that may offer the most upside in the next twelve months in the Chinese Internet space. The company operates its Perfect World MMORPG game as well as several others. Perfect World is much like Changyou in that it is a well-established company that is expanding to new markets and bringing new games to the Internet with strong financials.
The company spent 2010 restructuring to offer fewer games with more long-term development, better graphics, and deeper storylines. It is a matter of quality over quantity that the company should start to see payoff in the next several years.
The video game industry is hit-or-miss. One hit can push a company into stardom like Changyou's TLBB or Netease's (NASDAQ:NTES) westward fantasy. The company has two blockbuster releases scheduled for this year that will either drive this price to our price target and probably further or could mean bust for Perfect World. We sit in the prior camp.
The Heaven Sword and Dragon Saber and Laughing in the Wind, the two releases from PWRD should be great cash cows with good testing results already. Further, the company is doing a $100M share buyback program that will reduce the already small amount of 50M stocks that the company currently has, which will further increase valuations.
Sohu (NASDAQ:SOHU) - Rating: Buy, Price Target: $118.50
Radar:
Thesis:
Sohu.com (SOHU), the parent company of Changyou, is our top pick for the non-Chinese Internet video game part of the industry. The reason we prefer Sohu to BIDU and SINA is that Sohu offers the most value and upside from its current price.
Sohu operates as a major Internet portal with search capabilities, news, video, entertainment, and communication services with a majority of their revenue coming from advertisements, Internet information, and wireless services.
With revenue growth over 350% in the past five years and the company having much less risk than video game companies or younger Internet companies, Sohu has an established user base and that base is growing. The difference, though, is that Sohu seems severely undervalued given its growth and future prospects compared to BIDU and SINA. With a P/E nearing on 20, the company is drastically undervalued compared to BIDU's 75.
With only 38M shares, growth and profits are going to be directly linked to share prices at a much more drastic rate than other companies.
Another great aspect of SOHU is that they have great financial health with extremely small amounts of debt and a great FCF margin at 27%.
The company's move to develop paid search, online videos, and diversify makes them low-risk and a great value.
Baidu (NASDAQ:BIDU) - Rating: Hold, Price Target: $160
Radar: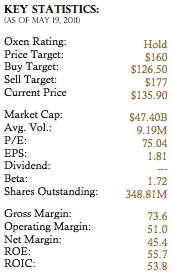 Thesis:
The Google of China. The leading search engine is very close to a Buy. We still think that the company needs a bit more pullback before we would want to be a buyer with upside somewhat limited right now. Baidu has a great future ahead of it as it continues to dominate the Internet market in China.
The problem for Baidu is that everyone knows and believes it's the top Internet company. The company's upside has been diminished as its valuation has become pretty fair. We estimate that the company will triple its operating income in the next five years, and it still is most likely fair valued.
With 350M shares now, the company could drastically raise valuations with a share buyback program. Additionally, we are not including in these figures the company's ability to expand what it does and within what markets it operates.
The company has talked about expansion projects, but it does not seem to be anything drastic as of yet. Additionally, we will see if they take the course of Google and dabble in other markets such as technology, entertainment, or gaming.
For now, Baidu is a safe investment with some upside. The chances they introduce something that drastically improves our valuation is more likely than less likely. Still at a 75 P/E, it's hard to Buy.
Netease (NTES) - Rating: Hold, Price Target: $56
Radar: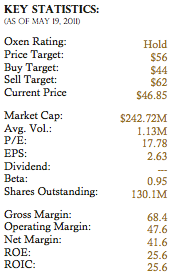 Thesis:
Netease, despite its lower overall score, is fairly decent in every category. The company, which is another online gaming firm, has developed a consistent line of very successful online games including Fantasy Westward Journey and the Chinese licensed version of World of Warcraft.
The company has had a lot of success from the WoW game, and they are looking to make another new release this year with Ghost. Yet, the company continues to underperform expectations.
The company is in the two best growth areas of Chinese Internet in gaming and advertising, but they are highly connected to the success of games. The company seems to be lagging a bit behind some of its competitors with new releases and with so many new games coming to the market having a new release is crucial. We believe 2011 may be a weaker year fro NTES, but their relationship with Activision Blizzard (NASDAQ:ATVI) is crucial.
Further, the company has a low P/E and good value. They seem to be a lower-risk gaming company given their tenured history and connection to ATVI. We would like to se some more significant growth potential for the year before we would be looking at moving to a Buy.
Youku.com (NYSE:YOKU) - Rating: Sell, Price Target: $30.50
Radar: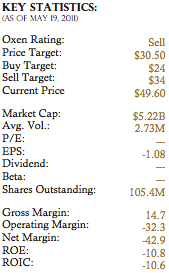 Thesis:
Youku (YOKU) is our best Sell candidate. The company is a pure spec play that has shown no ability to generate earnings and should not be profitable until perhaps even 2013.
The company, which is basically the YouTube of China, operates as an Internet video company. The main issue for Youku is that figuring out how to make money off of a large number of videos has been tough.
The company has shown no signs of being able to produce earnings. In fact, the company went backwards in earnings from its first quarterly earnings to its next.
We do not want to invest in a company that may or may not be able to make money. Further, the business has absolutely no economic moat. Videos, typically user-submitted, are dime a dozen and can easily be put on other sites.
The business model is not built to make money, and we see this company struggling mightily. The current price is drastically too high, and we see it cutting in half in the next twelve months.
A really bad sign is a company that needs 100M shares to finance a website that is losing money.
Stay away from YOKU.
E-Commerce China DangDang (NYSE:DANG) - Rating: Hold, Price Target: $25
Radar: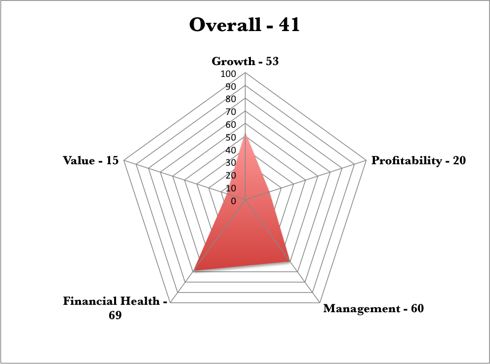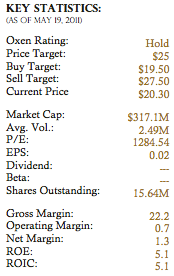 Thesis:
Dangdang (DANG) is actually one of the recent Chinese IPOs that we are most excited by due to its comparisons to Amazon. One thing that is true about China is that their consumer is becoming richer every day. They have a large population of shoppers, and E-Commerce China Dangdang could be the top online portal for shopping in the future.
The company is already a profitable spec play with razor thin margins. The company needs to continue to show growth in margins and earnings for us to be a Buyer, but the speculative investor…this is your stock.
Think of Amazon with triple the population. That could be Dangdang.
The company has a long way to go and will have trouble creating economic moats at first. Yet, if they can create a convenient shopping experience with customer service and brand name recognition, they can create that moat.
We believe the company has the potential to do this, but for now, it is just potential. This is not even a Value play yet, but for its youth, the company has decent financial health and management scores.
We will be keeping a watchful eye on them. We believe currently that the company's worst-case scenario is around 1000% increases in operating income in the next five years with revenue increase being between 350-450%.
Watch out for DANG!
Sina (NASDAQ:SINA) - Rating: Sell, Price Target: $85
Radar: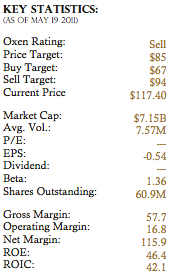 Thesis:
Sina (SINA) is by far the most overvalued company in the Chinese Internet industry. The Internet portal company that is quite similar to Sohu was one of the first on the Internet in China and has leveraged that opportunity into a tremendous valuation.
Yet, competition is increasing, and the company seems like that they are going to see a hit to their margins as well as growth rates. We still see SINA growing its operating income nearly 4x in the next five years, but this company has had problems with making consistent earnings from its core business.
Many reviews of SINA also claim that it is outdated and needs to be drastically updated to keep pace with similar sort of ties to the way AOL was popular at first but became less meaningful as its service become outdated.
The drastic number of new users to the Internet gives SINA room to grow, but with its nearly 60 forward P/E ratio, a major pullback is in order for this company. The company's PEG ratio also sits at 4.00 currently, which is nearly 4x what we like to see for our investments.
Sina is a solid Internet company with a good future, but that future is baked in the numbers and without drastic overhauls, this company seems like it could become the dinosaur of Chinese Internet.
Good Investing!
Disclosure: I am long BIDU, CYOU.