Oilfield supplier Tetra Technologies (NYSE:TTI) is an example of how top-level leadership can impact a company. The provider of completion fluids and other oilfield products and services experienced a dramatic 90% stock price decline beginning August 2008 (the oilfield supply segment as a whole saw average declines of less than 60%), culminating with the resignation of the company's long-term chief executive in March 2009.
Since that time, data from EnergyPoint Research's independent customer satisfaction surveys show that TTI has essentially begun a rise from the ashes, earning more positive reviews from its customer base while simultaneously gaining back more than half its market value.
[Click all to enlarge]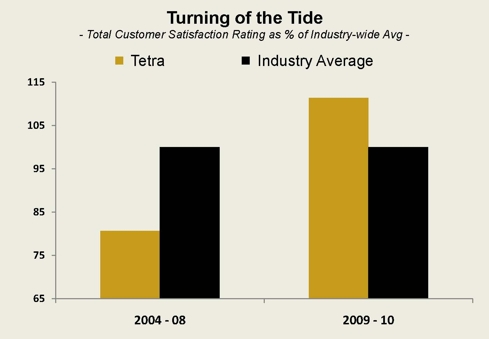 It's our opinion that the business and culture needed to change; the company's new management team appears to have believed likewise, revising key elements of its operations and strategy. Improved focus and execution have been key components.
Before current management, led by CEO Stu Brightman, took control of operations in May of 2009, TTI received what can only be characterized as low ratings in EnergyPoint's benchmark customer satisfaction surveys. Survey respondents' comments from the period generally reflect frustration on the part of TTI's customers.
For example, one respondent shared that "Equipment in [the] field [is] not reliable and personnel in [the] field lacking in experience, knowledge to see that operation of equipment was faulty." Others were even more blunt: "In my opinion, Tetra is the worst company in the [oil]patch." All tough medicine, to say the least.
We contrast these comments with those the company has received in more recent surveys: "Professional service at a good price for the most part, the company's people are focused and responsive" and "A smaller but well-run and no-nonsense kind of supplier that you can count on." To be sure, customers talk to each other in the oilfield. Fortunately, they appear to be saying much more constructive things about TTI these days.
Although a relatively small company (FY 2010 revenues were less than $1 billion), it's important to note that TTI competes in many of the same spaces as some of the industry's largest suppliers -- including Baker Hughes (BHI), Halliburton (NYSE:HAL) and Schlumberger (NYSE:SLB) -- each of which brings a lot to the table in terms of the range of its offerings and organizational capabilities. In other words, they are generally viewed as complete suppliers.
The good news is that the recent improvements at TTI have not been constrained to a single aspect of its organization or culture. In fact, virtually every metric we follow on the company appears to be up. The improvement is especially strong in the area of technology, reflecting the company's ability to better develop and/or apply technology in value-creating manners, followed by job quality, and services and professionalism.
Survey respondents' satisfaction with the company in the area of health, safety and environmental have also showed improvement. In short, for a company that was so far down, things certainly seem to be looking up.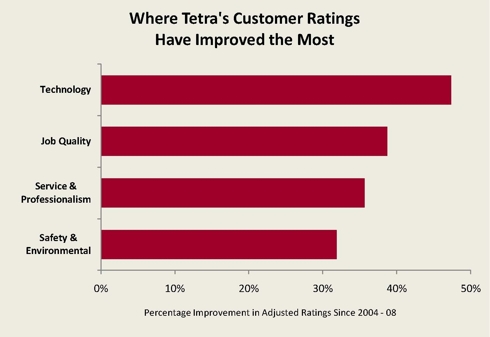 Disclosure: I have no positions in any stocks mentioned, and no plans to initiate any positions within the next 72 hours.