The Argentine equity market was one of the best performing markets last year. The Merval index performed better than Mexico, Brazil and other peers, but behind Chile and Peru. However, this year Argentine stocks are laggards among emerging markets.
While emerging markets in general are down this year due to inflation risks and other factors, stocks in Argentina are in a downward trend for entirely different reasons. Those reasons include the increasing number of investor-unfriendly actions taken by the Argentine government. For example, last month the government increased its influence in 42 private companies. From a Financial Times news report:
Argentina's government is poised to increase its influence in 42 private companies – including big banks, a steelmaker and the biggest media group – in which it inherited stakes when it nationalised private pension funds in 2008.

The move raised concerns among some investors about government interference, but analysts said it did not yet signal a creeping nationalisation.

An emergency decree on Wednesday scrapped a 5 per cent limit on voting rights which had applied to private pension funds' holdings in companies. The government can now seek more directorships and a greater say in decision-making.

Until now, "it didn't matter how big a stake Anses [the Argentine state pensions body] had in a company, it had to exercise its right as if it had only 5 per cent of the total," said Amado Boudou, the economy minister. Now, Anses would "have a presence in accordance with the share capital it possesses, without limitations, and will be on the board", he said.
The Argentine government holds major stakes in Banco Macro (NYSE:BMA) -- the largest bank by market value -- Telecom Argentina (NYSE:TEO), Pampa Energia (NYSE:PAM), etc. The graph below shows the YTD performance of all the exchange-listed Argentine stocks trading on the US markets:
Click to enlarge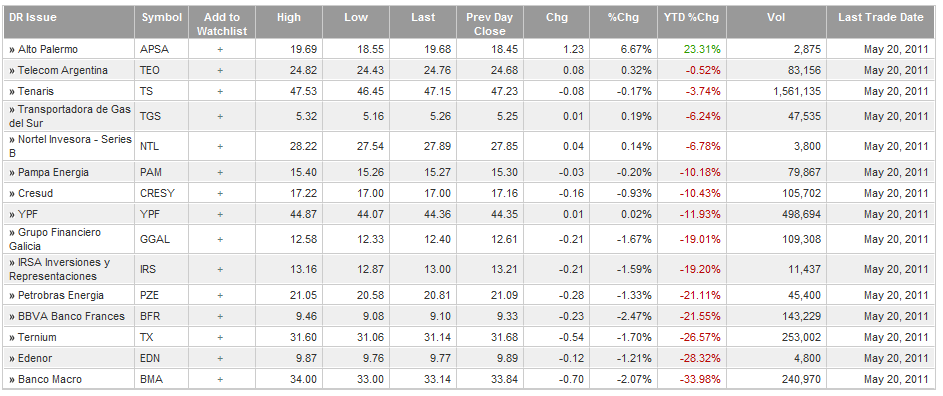 Source: adrbnymellon.com
Except for Alto Palmero (NASDAQ:APSA), all the stocks are in the red YTD, with Banco Macro down nearly 34%. The stock currently has a 6.30% dividend yield. Bbva French Bank (NYSE:BFR) has a dividend yield of over 12%. The integrated oil and gas company YPF SA (NYSE:YPF) is one of the largest companies by market capitalization. At the current price of $44.36, it pays a 7.74% dividend.
From an investment perspective, Argentine stocks are trading at a P/E of about 15 compared to a P/E of 21 for Chile, 17 for Colombia, 12 for Brazil and 13 for Mexico.The current dividend yield of Argentine stocks is 4.1%, which is higher than the peer countries mentioned. Investors' fears of nationalization of private companies are vastly unfounded. Argentina is a strong export-led economy and the domestic market is vibrant as well. The country is a large exporter of agricultural products such as soya beans, which are in high demand in other emerging countries, especially in Asia. Hence investors with a long-term horizon may want to add some of the large-cap Argentine ADRs at current levels.
Disclosure: Long BMA