A popular Nasdaq exchange traded fund fell harder than the overall market in Monday's sell-off but the ETF's top holding, Apple (NasdaqGS: AAPL), held up relatively well amid pressure in the tech sector.
PowerShares QQQ (NasdaqGM: QQQ) was down 1.6% in recent trading but Apple shares fell less than 1%.
The Nasdaq-100 ETF has corrected to channel support, said Tarquin Coe, technical analyst at Investors Intelligence, in a note Monday.
"That rising channel, with resistance from a trendline drawn between the highs of November and February, and lower support being a carbon copy extraction of that line, has been underway since last summer's bottom," the analyst wrote.
"Only a strong close beneath that channel would jeopardize the bullish case," Coe said. "In the meantime, we view weakness as a buying opportunity as risk can be limited to just beneath current levels."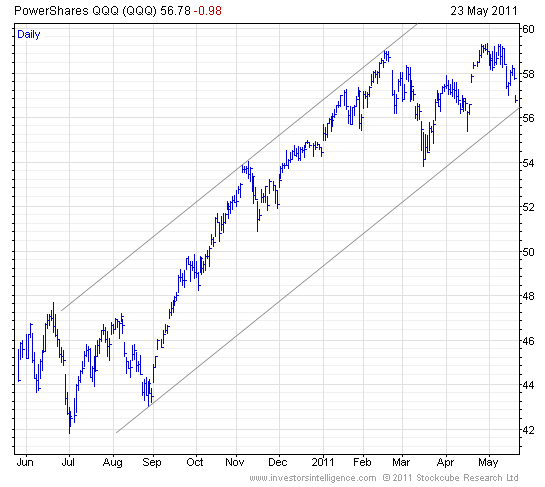 (Click chart to enlarge)
Apple represents nearly 12% of the Nasdaq-100 ETF.
"In any market downturn, investors turn to the leaders for clues of when the selling might end, as such, Apple will likely be in focus with traders looking at the low prices as an opportunity to buy," TradersHuddle.com said in a report Monday. "Apple has been trading erratically this quarter, as the stock failed to reach a new higher high after it reported a blockbuster earnings report; frustrated investors had to endure a significant technical blow as well, with the price action breaking below the 50-day moving average."