Market Opinion: The Dow Jones index has closed negative for three consecutive weeks. The volatility may have shaken investors. However, the probability of the Dow closing positive for the coming week is the highest it has been since mid March. Since the bull market commenced last July the Dow has never closed negative for more than three consecutive weeks. (Note: We do not count four negative weeks in March as the second candlestick in the series is approximately neutral). The selling is always larger to the downside, yet buyers always step in and push the indices to newer highs. We will be watching for that jump, but it will definitely still be a volatile week.

Click to enlarge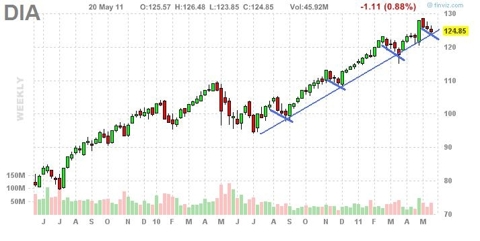 Buy Pick Portfolio
Humana (NYSE:HUM)

So the market has been dropping for three weeks, but Humana does not know it. The stock has increased from $76 to just under $80 per share. The company has continued to show strength over the past three weeks with good volume to the upside coming in and down days showing weak volume. If the market can rebound this week, Humana could be spring loaded to move even higher. The company has seen a couple of bullish notes coming in from Barron's and Wells Fargo recently, and that has helped move it higher. Healthcare has been a safe haven during this volatility, and we like Humana as a stock that can break out even higher this week. Technically, the stock is right at the upper side of a price channel and looks ready to move into a new one.
Click to enlarge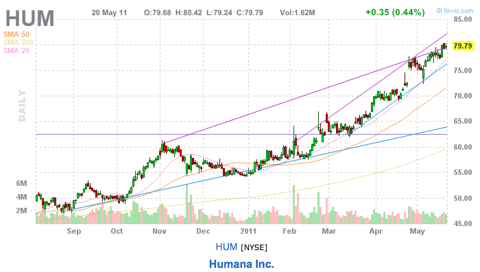 OmniVision Tech (NASDAQ:OVTI)
With a good round of earnings expected at the end of this week, we are looking closely at OVTI. The stock showed some great strength last week despite another drop in the market as it jumped up the past three days to move back into an upward moving price channel and bounced off its 50-day MA. The company is slated to report earnings this Thursday. The company is expecting to report EPS at 0.65 vs 0.18 from one year ago along with a revenue increase of 62%. They have shown some very solid strength moving up on some solid volume. We look for this rally to continue, and if the market can get moving, OVTI looks very good.
Click to enlarge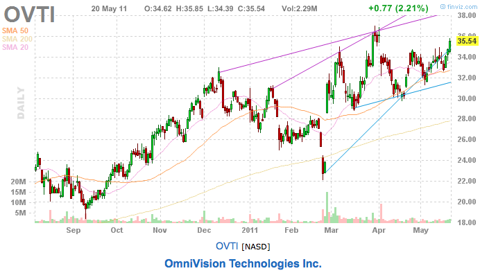 Two other stocks we like for some good technicals is EMC Corp. (EMC) and Fossil Inc. (NASDAQ:FOSL). EMC is following its 50-day MA moving higher tick for tick. FOSL moved tremendously after its last earnings report and the stock has dropped back to where it popped to after its earnings report. The stock is right on a large support line, and as long as it does not break that support, FOSL could be a great place to trade.
Short Sale Portfolio
Oil - We like Ultrashort Proshares DJ-UBS Oil ETF (NYSEARCA:SCO) as a great place to continue to make some money on the downside. Oil has shown significant resistance at the 100 line, and it has moved down from that point. The dollar continues to show strength, and we would be cautious of energy/oil any time it moves back to $100. We think trading the SCO and UCO ETFs is a great way to play this volatility in oil. We like SCO as oil nears $100 and UCO as it moves back to $96.
Giorgio's Corner Portfolio
Buy Pick: Intuit (NASDAQ:INTU)
This technology company just reported EPS numbers of 2.33 vs 2.28 on May 19th. Although Intuit reported guidance in line with expectations, which led to a downgrade to a hold by Canaccord, the stock also received a price target upgrade to $57 from $53 at UBS. Technically, with the stock holding $54 very well combined with the probability that the market will rise next week, I think INTU could reach $58 soon as investors will place more weight on its short-term EPS surprise.
Click to enlarge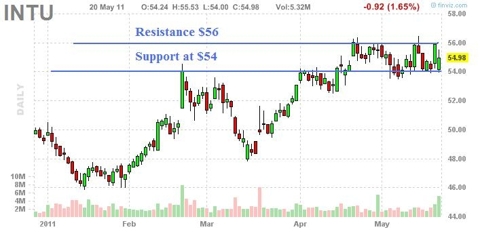 Price Target: $58.00
Support: $54.00
Buy Pick: Dentsply International Inc. (NASDAQ:XRAY)
This medical equipment supplier just reported EPS numbers of 0.49 vs 0.475 on April 28th. Goldman Sachs initiated a neutral rating on the stock with a price target of $39 on April 13th. However, the stock has more room to go. Technically, XRAY looks interesting. While the Diamonds (NYSEARCA:DIA) was sliding lower XRAY kept on climbing until Friday when it sold off only 2.02%. XRAY is in a very strong upward channel, and it should not break support.

Click to enlarge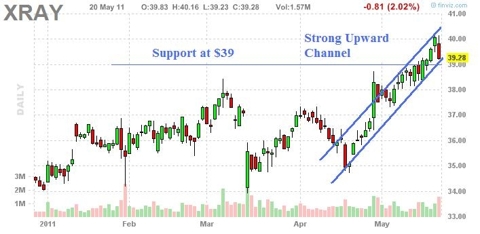 Price Target: $40.50
Support: $39.00
Buy Pick: Medtronic (NYSE:MDT)
This medical appliance and equipment maker is about to report earnings on on Tuesday, May 24th. The stock sold off last Thursday and Friday, and I think either MDT rises into earnings, or resumes its uptrend after reporting. Medtronic has been upgraded twice in the month of May. First by Oppenheimer, which raised its price target to $48 from $42 and then by Wells Fargo, which upgraded the stock to overweight from underweight.
Click to enlarge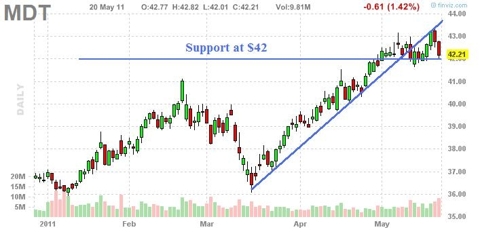 Price Target: $43.60
Support: $42.00
Buy Pick: Southern Union Co. (NYSE:SUG)
South Union is a natural gas utility company which recently closed near its breakout level last Friday. The news is that Carl Icahn has taken a stake in company. Additionally, Southern Union beat both EPS and revenue estimates on May 9th. With the stock climbing 4.30% last Friday (a day the Dow closed -0.74%) we see technical strength in this name, the stock is probably going to $31.
Click to enlarge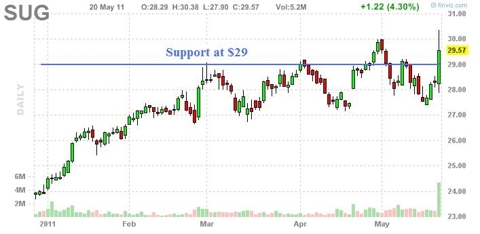 Price Target: $31.00
Support: $29.00
Please note: Some information presented in this article can be sourced to theflyonthwall.com. Charts presented are courtesy of stockcharts.com.
Disclosure: I have no positions in any stocks mentioned, but may initiate a long position in SUG, MDT, XRAY, INTU, SCO, UCO, EMC, FOSL, OVTI over the next 72 hours.