By Fariba Ronnasi, CEO, Elite Wealth Management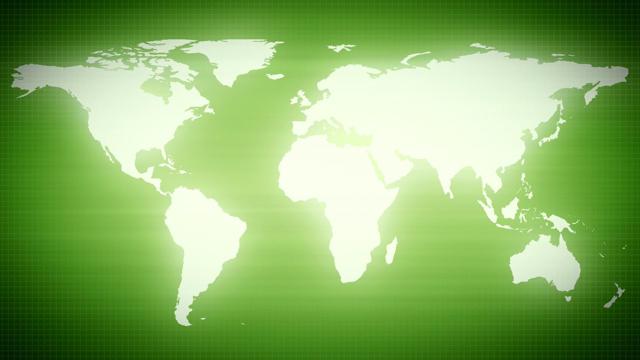 The global economy has changed the way we approach investments. Just a few decades ago, creating an investment portfolio was a relatively simple affair. Mutual funds were the captains of the financial services industry and any stocks owned by individuals were most likely large cap, blue chip, American names. The idea of owning assets outside of the U.S. was considered risky and unnecessary.
Nowadays, modern diversification includes international markets. Keeping an entire portfolio in domestic stocks without exposure to other economies is now the risky play. Most of the world operates together as one large dynamic organism that rises and falls with each other. News travels fast and impacts worldwide markets in a way that has never been seen before. Things like central banking activity in Japan or the increased cost of imported food from China to Southeast Asia can affect U.S. markets in unforeseen ways that make global diversification more important than ever.
Chasing growth is a way of life for an investor and going overseas to find it is often just as easy as buying domestically. From emerging markets to well-established ones, investment opportunities exist everywhere.
The big question is, what's the best market to invest in today?
The Global Marketplace Today
The U.S. economy has mostly recovered from the global financial crisis of 2008. Stocks are near all-time highs, inflation is low, and unemployment is on its way down. China has been the golden economy for investors for a number of years but is finally showing signs of slowing down while Japan's decades long deflationary spiral may be over thanks to massive central banking activity known as "Abenomics." Europe, meanwhile, has struggled to regain strength following its debt crisis in countries like Greece.
Let's take a look at how different markets have performed so far this year.
For the U.S., we can track how well domestic stocks have performed with the SPDR S&P 500 ETF (NYSEARCA:SPY) - up about 13.79%% year-to-date including dividends.
If we want to exclude the U.S. and just focus on international developed markets like Europe and Japan, we can check out the Vanguard FTSE Developed Markets ETF (NYSEARCA:VEA). This ETF splits its geographic holdings with 47% in Europe, 21% in Japan, 9% in Asian developed markets, and 8% in Australia. It looks like these markets fared worse than the U.S. posting a loss of -2.12% year-to-date.
Finally, let's look at emerging markets with the Vanguard FSTE Emerging Markets Fund (NYSEARCA:VWO). It primarily invests in emerging Asian markets with 42% of its holdings there while 20% is in Latin America, 15% in developed Asian markets, 9% in Africa, and 8% in Europe. Emerging economies look to have lagged the U.S.'s performance somewhat with year-to-date returns of 6.39%.
If we want to find the best individual market though, we'll need more information. We'll need to look for several key figures: stock performance, interest rates, unemployment rates, inflation, and outlook for the future. The interaction between these figures greatly affects an economy while other factors like the current political climate can spell either blessing or disaster for investors.
Let's take a look at the best developed market, best emerging market and the best stealth market:
Best Developed Market - The United States of America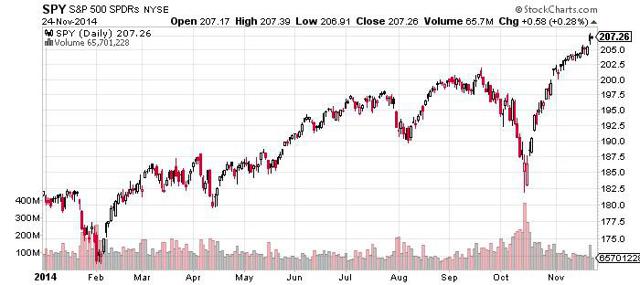 Interest Rate: 0.25%
Inflation: 1.7%
Unemployment Rate: 5.8%
S&P 500 Performance YTD: 13.79%
As one of the largest economies in the world whose currency is used as the global standard, The U.S. is an economic powerhouse. Its political system has oversight committees and regulations to protect investments and prevent financial abuses making it one of the safest places in the world for your money.
Total GDP as of 2013 is $16.8 trillion making the U.S. the world's biggest economy overshadowing the second largest, China, by almost double. The stock market has bounced back from the global financial crisis with the S&P 500 posting gains of 13.79% YTD while unemployment has come down from around 10% in late 2009 to 5.8% today putting it on track with historic averages. From 1948 to 2014, unemployment has averaged 5.83%.
Despite worries of runaway inflation triggered by the Fed's bond buying program known as QE, inflation is a mild 1.7% although it could increase over the next few years as interest rates begin to climb. The Fed has a targeted interest rate of just 0.25% to encourage spending and investment activity with no plan to raise it until the summer of next year at the earliest.
Some concerns have been raised regarding the strength of the long bull market while GDP growth estimates were lowered earlier this year from 2.8% to 2% for 2014. Despite the cut though, the U.S. remains the best economy for investing. Thanks to geopolitical concerns in Europe and Russia and slowing growth in China, many investors are turning to the U.S., propping up the value of the dollar and keeping domestic companies in demand.
Best Emerging Market - India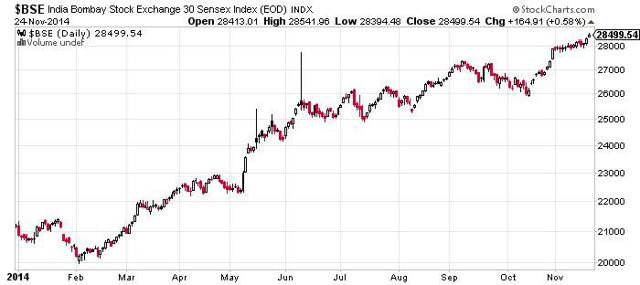 Interest Rate: 8%
Inflation: 5.52%
Unemployment Rate: 4.7% (2013 est. Indian Union Ministry of Labour and Employment)
BSE Sensex Performance YTD: 33.81%
India is part of the BRIC's group of emerging markets to invest in along with Brazil, Russia, and China. Unlike the U.S., India's economy is strongly driven by political activity hinging heavily on the Prime Minister, Narendra Modi.
Last year, foreign investors pulled out around $7.8 billion in Indian equities on fears of a global economic slowdown causing the Rupee to go into free-fall exacerbating the sell-off. With political reform on the horizon, interest in India has been drawing investors back leading to a 33.81% year-to-date performance of the BSE Sensex, the Indian stock market index.
GDP growth for 2014 is expected to be around 5.5%, but could rise to 6.5% by 2016 if reforms are put in place. That would place India at a higher growth rate than China, which is expected to be around 5.5% by then, potentially taking its place as the next biggest growth economy. Investments in Indian infrastructure along with a rising middle class could be the beginning of a new bull market in India. The Indian stock market trades below its historic P/B ratio of 3.44 at 2.88 times book value and could be undervalued despite the gains already made this year.
The Reserve Bank of India raised interest rates from 7.75% to 8% in an effort to curb inflation which has dropped significantly over the past few months to 5.52% while unemployment remains under the U.S. If Modi is allowed to have his way, then investments in the transportation and infrastructure sector could resolve corporate inefficiencies and create new jobs to help the economy grow.
Best Stealth Market - South Korea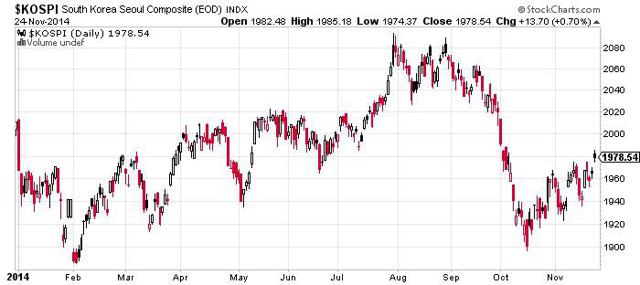 Interest Rate: 2.25%
Inflation: 1.20%
Unemployment Rate: 3.5%
Kospi Performance YTD: -2.31%
South Korea's economy has been growing at an average rate of 7.1% for the last 40 years yet remains one of the global market's best kept secrets. This year, GDP growth is expected to be 3.5% and doesn't show any real signs of slowing down. While the classification of South Korea's economy is debatable as an emerging market or developed market, it's already the 13th largest in the world and expected to become even bigger in the next decade.
As a precaution to avoid a deflationary environment and use some of the budget surplus that's currently being generated, South Korea recently announced an $11.5 billion stimulus package to help lift stocks and attract foreign investment. The country's stock index, the KOSPI, could be undervalued by about 50% judging by its average price-to-book ratio of just 1.07.
The interest rate was lowered recently from 2.25% to 2% in order to encourage spending and could be cut further if needed. A possible government tax on corporate profits not used for dividends, wages, or investments is aimed at releasing $800 billion in retained earnings held by Korean companies. If that value can be unlocked, South Korea may see a stock market revival.
Possible Storm On The Horizon
The International Monetary Fund cut global growth expectations last month from 3.4% to 3.3% for 2014 and down to 3.8% from 4% for 2015. Weakness in the European markets has grown stronger and investors are beginning to become wary of equity markets as evidenced by the volatility in stock indices seen around the world in the past two months.
Continued stagnation in Europe could lead to a deflationary event that would drag down global indices even further. The one silver lining to this scenario is that the weakness in the Euro could help boost exports and drive investment activity.
Volatility in global markets and pressure from ISIS is further destabilizing economic confidence and could lead to a global tipping point that will signal a worldwide correction or even recession.
Exports only make up 14% of the U.S economy giving domestic markets some protection against global instability. The U.S. should continue to be seen as a safe haven for investors who are fleeing economic slowdowns and currency devaluation.
Meanwhile, both India's and South Korea's economic future rests on the middle class and internal growth. If European manufacturing becomes cheap enough, these countries should benefit from the price disparity.
The best market may be the most defensible against global chaos right now and all three, the U.S., India, and South Korea, fit the bill. Investors should also keep a close eye on inflation rates as deflation threatens Europe and could bleed over into other economies
Disclaimer: This article is not intended as investment advice. Elite Wealth Management or its subsidiaries may hold long or short positions in the companies mentioned through stocks, options or other securities. Read our full disclosure here.

Disclosure: The author has no positions in any stocks mentioned, and no plans to initiate any positions within the next 72 hours.
The author wrote this article themselves, and it expresses their own opinions. The author is not receiving compensation for it (other than from Seeking Alpha). The author has no business relationship with any company whose stock is mentioned in this article.