As you probably heard, the Brazilian market has been showing violent ups and downs lately. But despite the strong moves, many Brazil indexes and ETFs' year-to-date yields are negative. For example, take ProShares Ultra MSCI Brazil Capped ETF (NYSEMKT: UBR), which is barely recovering from its all-time lows.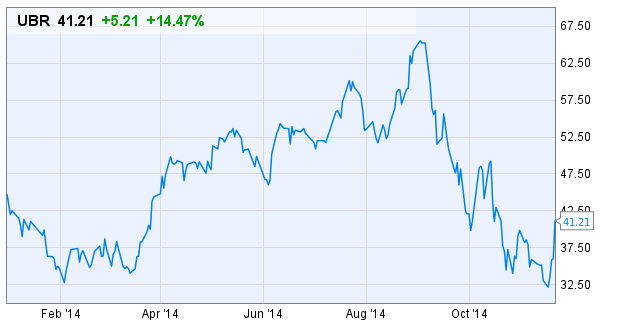 Much of the volatility this year had to do with the elections that took place about a month ago and saw Dilma Rousseff winning her re-election by a small fraction of votes. The market was clearly pushing for a different, market-friendlier scenario.
Rousseff herself, however, has expressed her willingness to change the direction of where the Brazilian economy is going. After all, current numbers are not the best. Brazil will only grow about 0.3% this year after growing 2.5% in 2013.
Cabinet shuffle
Under the slogan, "New government, new team", Rousseff is proposing a new cabinet composed of 39 ministers. But essentially, what is moving expectations within the investor community is the fact that Rousseff is planning on changing the current finance minister, Guido Mantega, in power since 2006.
According to the leading local newspaper Folha de Sao Paulo, Joaquim Levy, head of Bradesco Asset Management is the President's pick. Although there are still fractions of Rousseff's party against this decision, it seems the President has made her mind and Levy should be announced this week.
But regardless of who will be behind the Ministry of Finance, policy-wise, the new management will have to act on the fiscal front and reduce the country's fiscal deficit, which is at 4.9% of GDP. This by itself should help contain the current 6.75% annual inflation. Then, it will be mandatory to regain GDP growth by attracting investments.
The real
On the monetary front, there are a couple of things to do. The real is now at its nine-year lows after having dropped nearly 40% since Rousseff came into power in 2011. We do not know the future exchange rate policy, but a further drop is expected. After all, it will be necessary if inflation pressures persist.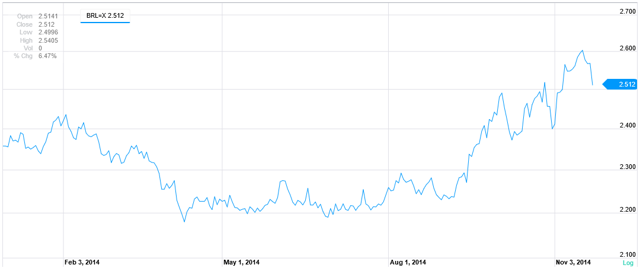 Thinking Brazilian ADRs
As explained, the short and mid-term scenarios for Brazil are not the best, which does not make it easy to identify assets with growth prospects.
Plus, Brazilian ADRs as a whole have been showing a clear downward historical trend.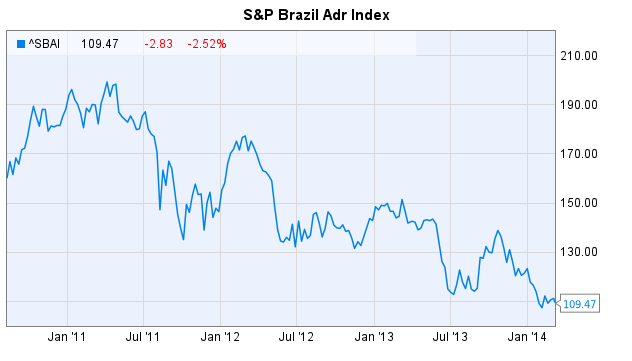 Some recent external factors, such as the end of the commodity boom, add to the problem, as they affect the country's terms of trade.
Hence, maybe the strategy would involve identifying companies whose prices have decreased the most and remain low. When confidence in Brazil's economy picks up again these will be the assets to be long on.
Low prices
Following this line of thought, one interesting company to look at is Gafisa (NYSE: GFA), the fourth biggest residential construction and real estate firm in the country. Unfortunately, Gafisa's price has dropped tremendously since its $17 peak back in late 2010. Now it trades a bit over $2.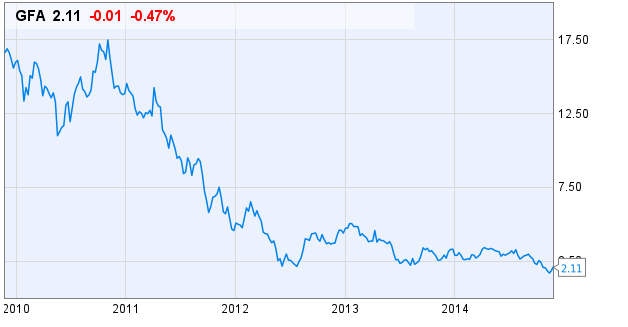 The company posted a worse-than-expected third-quarter $3.9 million net loss due to poor performance of its low-income unit, Tenda. This unit, acquired in 2008, has been affecting the company's bottom line due to continuous costly budget overruns and canceled contracts. Gafisa is evaluating an eventual spinoff of Tenda to be concluded next year. This move would certainly improve the company's financials.
The case for Gerdau (NYSE: GGB), the largest long steel producer in the Americas, is similar. Third-quarter profits fell 59% year over year to $105 million. The chart is sad.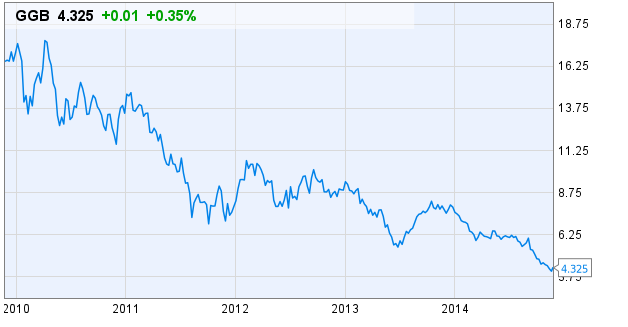 Essentially, Gerdau is experiencing the Brazilian slowdown at its fullest. The recession this year depressed demand for steel, while the auto industry production is at its lowest in a decade.
Gerdau is planning on cutting costs and exploiting its U.S. operations, but these cannot make up for the overall situation back home.
In order to see improvements in this company, the real should continue its depreciation and international steel prices would need to rise. For the latter, China's production and demand are key.
Final thoughts
Most Brazilian ADRs will probably continue to correct until there are better signs that indicate where the economy is going. Until then, the reigning uncertainty will continue pushing investor confidence out.
The new policies that Brazil is considering seem to focus on the fiscal front. But a substantial reduction in fiscal deficit would need large spending cuts and major subsidy removals. These measures might not be politically feasible in today's Brazil. They require strong political support and could bring social instability back into the scene.
Disclosure: The author has no positions in any stocks mentioned, and no plans to initiate any positions within the next 72 hours.
The author wrote this article themselves, and it expresses their own opinions. The author is not receiving compensation for it (other than from Seeking Alpha). The author has no business relationship with any company whose stock is mentioned in this article.