If you have been a Cisco Systems (CSCO) shareholder over the past several years, you have had very few reasons to be excited about the stock. In my most recent article I talked about how I thought being patient with Cisco was "virtuous". Say what you want, but it helps me sleep at night. The fact is that I'm now beginning to second guess myself and starting to realize that my reward for being long Cisco over the years may not be realized for quite some time.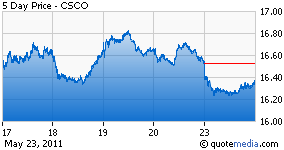 It's funny how suddenly one can change his outlook within only a couple of days. Don't get me wrong, I'm still not ready to give up on the stock just yet, but I'm starting to realize that I have committed one of the cardinal sins in investing, I've gotten emotionally attached to the stock rather than looking critically at the company. Where I once thought that the stock had been beaten to the degree where I feel it was grossly undervalued, I am now of the opinion that "perhaps it deserved the beating".
The obvious concern for shareholders has been with Cisco's management; more specifically John Chambers. I would be interested in learning how many "common" shareholders feel he deserves to remain at the helm. I suspect that I would be hard pressed to discover 10 who is willing to state publicly that he should remain as CEO and/or provide support for their opinion; at least one that is convincing enough to alter my views. The common theme is that John Chambers has lost the confidence that he earned in the mid to late 90's when Cisco could do no wrong and in the process he has earned to skeptics. The question is what is wrong with Cisco? What is wrong with its products? How can it be fixed?
There are many theories. But removing John Chambers as CEO always appears on everyone's list of top 5 solutions. Not to suggest that it is an option, but it begs the questions, is now the right time?
Clearly there are many more questions regarding Cisco and its business model than there are available answers; and that in of itself is the problem.
An example of some of the misdirection which affirms the doubt that I am now starting to have in terms of the company's ability to turn things around, in the most recent conference call, John Chambers stated:
In short, Cisco is a very strong company in a healthy market with a few problematic areas. And that, we are taking comprehensive action to address.
I wasn't sure what Mr. Chambers meant in that statement but it seemed to be something along the lines of, "it was the best of times and it was the worst of times". Cynics would say "the best" was over 15 years ago. But in its Q3 earnings call, "the best of times" might have been that the numbers weren't worse than they could have been.
The company reported revenues of $10.87 billion or 5% year over year. Within the top line figure, product revenue rose almost 3%, with switching down almost 10% year-over-year, routing rising more than 7%, and new product revenue growing about 15%. Switching was up a bit less than 5%, routing was up better than 11%, and new products were up a bit below 2%. The concern has been and remains profitability as gross margin fell. To add insult to injury, guidance for Q4 was weak by most analysts' standards which resulted in a less than stellar stock performance.
Moving forward
It continues to be a major challenge to value Cisco, by any measure. Its equipment still powers more than half the Internet. But due to some poor decisions in its failed attempt to enter the home consumer market, the company had to deal with poor performance results, many of which allowed the likes of F5 Networks (FFIV) and Juniper (JNPR) to catch up in the routing and switching space.
But call me foolish I still don't think it is time to abandon ship and follow all of the sellers to the exit doors. One has to wonder, how long can enterprises postpone the capital expenditures it will require to update their networks?
As the future of "the cloud" continues to emerge, companies will develop a need for their networks to sustain high speed data, multimedia, various e-commerce as well as its tele-presence conferencing products. I remain optimistic that there is no company better positioned to service these needs than Cisco. But as we touched on a little bit above, does it have the right management to execute when called upon?
While there are so many bears ready to dump on the stock, the company still has some bulls on its side. In a research report, Shaw Wu at Sterne Agee said he had separately analyzed the value of Cisco's major segments: Routers, switches and a variety of "new products" and services. Adding them back together he arrived at a value of $27 to $28 per share, even when discounting the price-to-earnings ratio compared to its competitors. According to Wu:
We believe the (Cisco) story is getting better and we'd rather be a buyer at these depressed levels than wait for obvious evidence of improvement. By then it may be too late.
Bottom Line
I poked a little bit at the quote above where John Chambers issued his "tale of two cities" line. But I feel it is only fair to end with another quote by Mr. Chambers:
I've always believed that our strategy and direction starts and stops with our customers and the partners that serve them. Having spent a lot of time with customers and partners, I am confident that we are well positioned in their minds in terms of our leadership. We are taking the network where our customers need it to be. No one has the breadth and scale of Cisco and Networking. No one has Cisco's breadth of innovation, the scale and reach of our customer delivery model or our talent and experience of our employees. Cisco's value to our customers is differentiated, and it is very simple. We are globally delivering to them a network-centric platforms that make them more competitive and allow them to achieve their business goals.
After reading that, I had to hang on to my shares. The guy can still sell a vision and until it is fully realized, I feel I would be wrong for me to sell the stock, emotionally attached or not.


Disclosure: I am long CSCO.