With equity markets consolidating in recent days and frothy over-subscribed / underpriced IPOs and secondary offerings, such volatility should be an indelible reminder that diversification is critical to one's preservation of capital and wealth.
Capitalism and free market economies are far from perfect but they remain the best game in town. The only flaws are the actions of human nature and a lack of political will to make hard decisions.
The average investor can't expect to out maneuver the average trading desk. Yet, the nimble retail investor who pays attention to the signals given by the equity and bond markets can side-step the most damaging market moves and still come out of it with the shirt on their back.
Net of the euro issues and Greek debt problems, we think the equity markets may be waking up to the fact that economic growth possibly is not as robust as current valuations would imply, regardless of correlations between Treasury yields and, say, the P/E of the S&P 500.
The hubris in today's market bears no resemblance to the hubris of previous market cycles except that the jury is still out regarding what the landscape will look like post QE2.
We have been trimming some equity positions recently. Intel (NASDAQ:INTC) for example, is a marvelously well-managed company but based on our cash flow analysis, was a bit extended. Fortunately, we sold prior to the Goldman Sachs downgrade. But, we would love to buy it back and the dividend is tempting.
We also lightened up on Con Agra (NYSE:CAG). Great company and well managed, but at $25 we locked in profits. Another reason we sold CAG was that in the event of a potential acquisition, whether it be a Ralcorp (RAH) or a similar priced deal, it would likely involve debt. Any downgrade of CAG's credit rating (not that it would be deserved) or a potential cut in the dividend would impact the stock well beyond any other near-term catalyst (such as in rising input costs).
Frankly, RAH would have made an interesting fit to CAG, but it would be a big bite to swallow and bidding wars can be costly to shareholders of the acquirer.
With both INTC and CAG, we will wait for valuations to pull-back some more before revisiting their respective stories.
Meanwhile, we have given up some substantial income stream. And how do we replace the yields as we plow onward in a seemingly indefinite (so far) low rate environment?
As we have mentioned before, market sell-offs don't have to mean running to the sidelines with a wad of cash in your hands. Cash is always wonderful, but you won't get any wealthier sitting on it and inflation will try hard to guarantee you don't.
Closed-end funds have long been a favorite tool to diversify our yield options, and we have identified several portfolio baskets that may appeal to investors seeking diversification of income or to park some capital gains.
Strategic Global Income (NYSE:SGL) is a current holding in our portfolio and we continue to find it attractive. What's to like? The fund has been around for more than 19 years. It's non-leveraged, priced currently at a -5.3% discount to net-asset-value which covers the 1.16% expense ratio and then some. The point here is you can essentially buy these assets at approx. 94.7 cents on the dollar.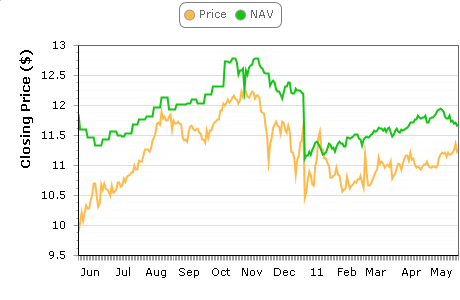 Current monthly distribution is north of 7% and Manager Uwe Schillhorn has been at the helm since 2005. Run by UBS Global Asset Management, the portfolio contains about 3% in cash and holdings include U.S. Treasuries, German Sovereign paper as well as holdings from Argentina, Russia and Egypt, along with asset backed bonds and corporate notes.
Credit quality averages about "A" which given this market, getting these assets at a 5% discount helps comfort the risk to some extent. But, as we have seen in global markets, no country is immune to credit issues. However, we like that distributions have been increasing in recent months and undistributed net investment income (UNII) is a solid $0.23.
One drawback to SGL is that ROC has been the primary source of distributions in recent months although thus far only about 4% of previous year distributions. We also note that the more dubious paper such as Egypt and Argentina will mature within the next two years. Perhaps a blessing in disguise, but we will be watching the return of capital trends closely.
For investors pulling equities off the table, we think an allocation of 5-7% of proceeds into a vehicle such as SGL or similar provides a decent risk / reward opportunity at least for the near-term. It's a taxable fund so consult with your tax professional for suitability.
We are also looking at Western Asset IG Defined Opp. (NYSE:IGI). This fund is structured something like a trust in that duration is limited to a tentative liquidation in Dec. of 2024.
IGI focuses on investment grade bonds and carries no leverage. Expense ratio is a reasonable 0.76% and well covered by the current -5.52% discount to net-asset-value. Again, the opportunity to buy assets at 94.5 cents on the dollar helps to mollify our risk/reward concerns, at least for now.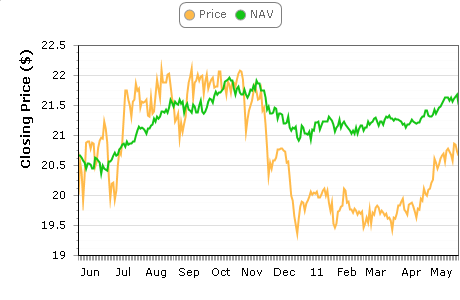 Average coupon in the portfolio is 7% and average maturity is approximately 10 years. Credit quality is concentrated in the lower end of investment grade (A to BBB).
Although a newer fund (inception was June 2009), distributions have held steady, UNII is positive and so far no ROC components in the distribution. Monthly distributions are currently 6.16% annual. Legg Mason (NYSE:LM) sponsors the fund, but Western Asset manages. WA runs a tight ship and we have great respect for their investment selection process.
One drawback is the weighting to banks and communications, but overall diversification is broad. Wachovia Corp. (Wachovia's 5.7500% Mat 02/01/2018) is the largest holding (by % of assets), followed by Goldman Sachs (NYSE:GS), American Express (NYSE:AXP) and Citigroup (NYSE:C).
Investment banks don't exactly inspire us these days, but at some point (excluding Wachovia), we expect the likes of Citi, Bank of America (NYSE:BAC) and even Goldman to get their financial compasses in working order eventually.
We haven't decided to dip out toes in IGI quite yet, but it does offer an interesting parking spot for allocating 2-4% of one's equity profits, assuming that your realized gains (proceeds) are well in excess of IGI's current yield. Again, IGI is a taxable Income fund, so investors would be encouraged to discuss suitability of such an investment with their tax professional.
As with any closed-end investment, risk is always present. However, an investor who does their homework will find lots of potential opportunity in fixed-share fund portfolios. Buying anything at a discount is appealing but that does not guarantee it won't be an even greater discount in the future.
If you are a retired person, living off 5% is tough, but eking by on 1% or less doesn't exactly pencil in either. And that whacking sound you hear in the distance is not a lumberjack. It is inflation chipping away at your purchasing power.
Think of closed-end funds as a tactical weapon in your investment arsenal. In an environment where the structural value of the dollar has been, for a lack of a better term, "engineered" to keep interest rates very low for a very long time ...
... closed-end baskets can be a welcome addition to most investor portfolios.
Disclosure: I am long SGL.
Additional disclosure: Affiliates of the author are long SGL.