By Sumit Roy
While neither side can claim victory yet, the battle between bulls and bears raging in the precious metals market has shifted notably in favor of the former. Key support levels continued to hold last week, while renewed sovereign debt worries acted as a fear-based catalyst to support the sector.
Importantly, gold and silver were able to rally, despite a surge in the U.S. dollar and declines in other commodity markets. But their performance hasn't been even. Gold continues to outperform silver, as investors liquidated proportionally more of their positions in the white metal last week.
Meanwhile, worries over global growth led to subdued performance by platinum and palladium.
The latest investment figures from the World Gold Council offered more positive news for gold. The WGC said that China's investment demand (as in gold coins and bars) rose to 90.9 metric tons in the first quarter of this year — surpassing India's 85.6 metric tons and doubling the country's own demand seen last year. Incidentally, India still remains the largest consumer of gold for other forms of demand, like jewelry.
Nevertheless, these figures indicate that gold is, in many ways, quickly becoming a global growth/emerging markets play. As per capita income increases in developing countries, demand for precious metals will likely follow suit — whether it be on the investment or jewelry side.
Gold Daily Chart YTD: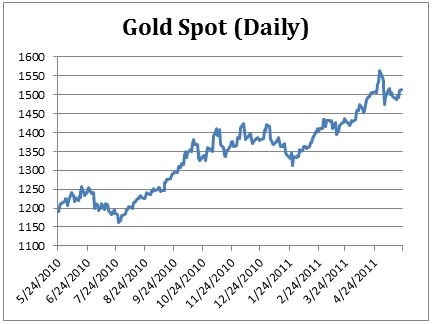 Silver Daily Chart YTD: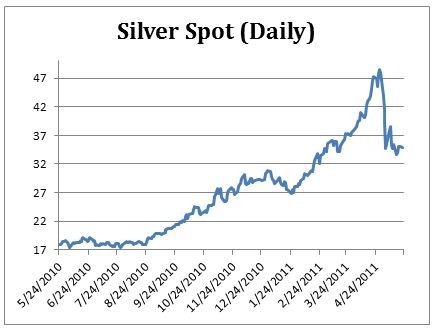 Platinum Daily Chart 1-Year: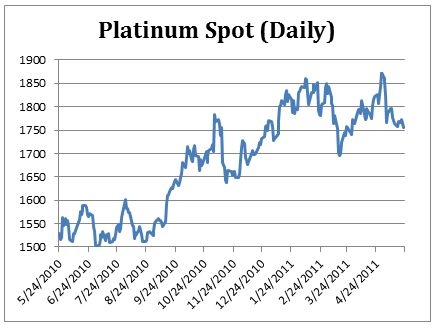 Palladium Daily Chart 1-Year: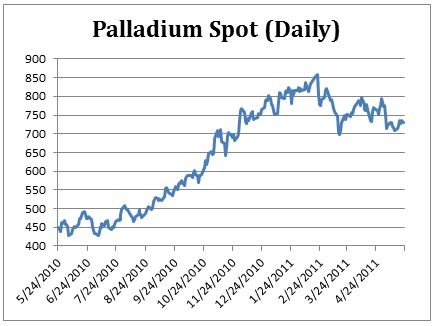 ETF Holdings
Gold's outperformance was further evident in last week's ETF holdings data. Holdings of the metal edged slightly higher by 154,000 troy ounces, or 0.23 percent. This contrasts with silver, platinum and palladium holdings, which fell 10 million troy ounces, 26,000 troy ounces and 49,000 troy ounces, or 2.2 percent, 1.92 percent and 2.24 percent, respectively.
Interestingly, silver ETF holdings are now at their lowest level since October 2010, when prices dipped into the low $20/oz range.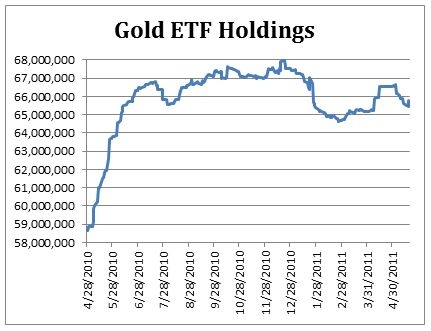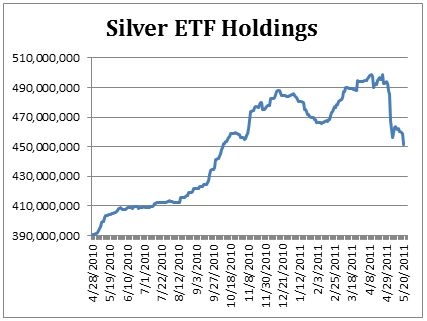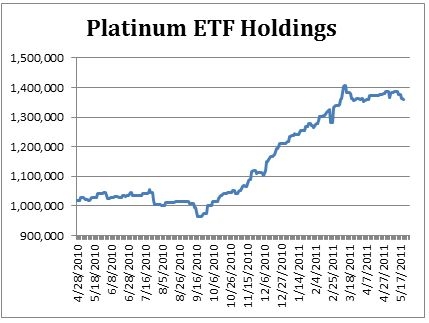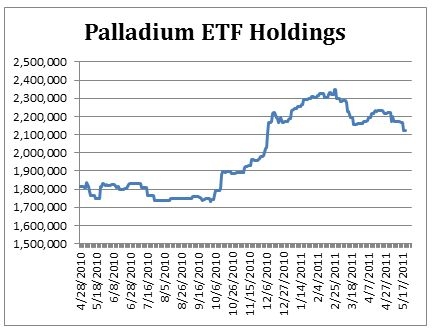 Key Ratios
The gold/silver ratio reflected gold's higher relative performance this week, moving ever so slightly from 43.35 to 43.27.
Meanwhile, the gold/platinum ratio hit yet another two-year high at 0.864 from 0.85 last week; the gold/palladium ratio edged up to 2.073 from 2.07, while the platinum/palladium ratio declined to 2.4 from 2.45.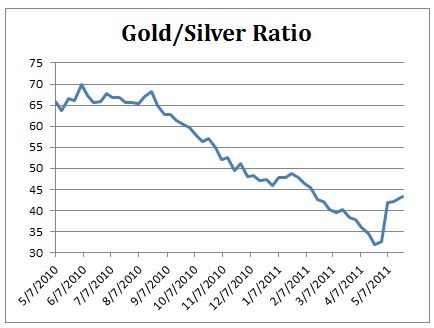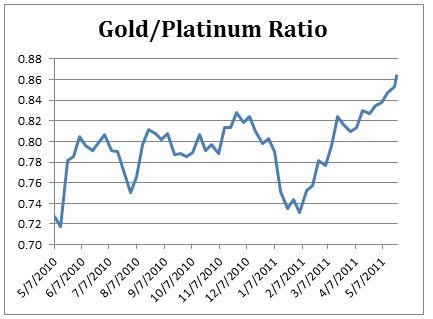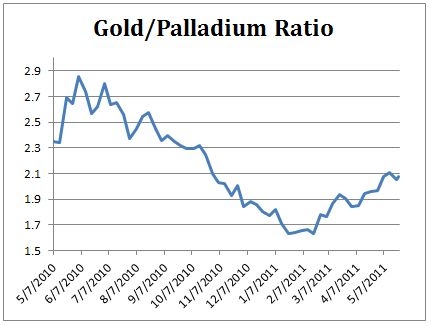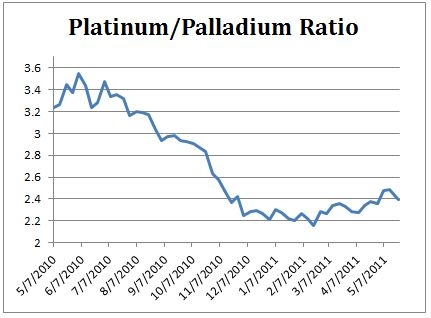 Currencies
One decidedly negative factor for precious metals this week was the surge in the U.S. dollar. The trade-weighted dollar index advanced to 76.21, its highest level since March, as sovereign debt concerns (discussed below) and global growth worries supported the greenback. Week-on-week, the buck rose 0.98 percent.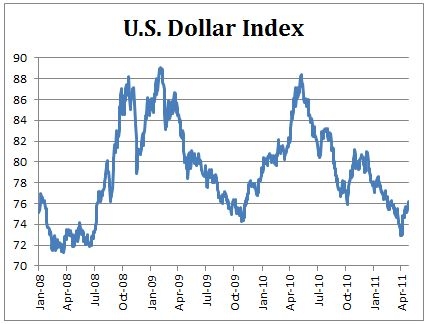 Sovereign Debt
There's no doubt that the primary catalyst for the U.S. dollar's continued strength was the situation in Europe. But those same sovereign debt fears allowed precious metals to actually shrug off the strength in the buck to rally.

While we did see Fitch cut Greece's credit rating further into junk territory — nothing too surprising — the big news was S&P's downgrade of Italy's credit outlook, down to negative.
You may recall that S&P made a similar downgrade to the United States' outlook not too long ago. But while no one expects an actual downgrade to the U.S.' credit rating any time soon, Italy has often been lumped together with the other troubled PIIGS countries (Portugal, Ireland, Italy, Greece and Spain), and thus this move worries those who see default as a widespread contagion that could infect the eurozone. Still, Italy's yield spreads versus benchmark German bonds rallied from 1.47 percent a week ago to 1.79 percent, the highest level since January.
Yields on benchmark German 10-year bonds declined to 3.01 percent, the lowest since January, on safe haven flows.
Meanwhile, yield spreads for Portugal, Ireland and Spain rose to 6.64 percent, 7.84 percent and 2.5 percent from 5.86 percent, 7.29 percent and 2.13 percent a week ago.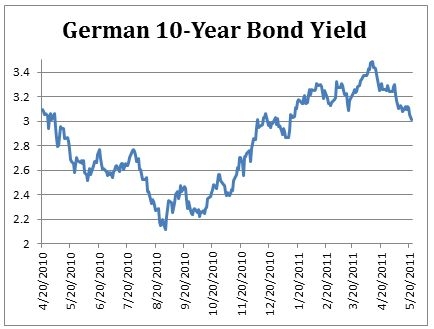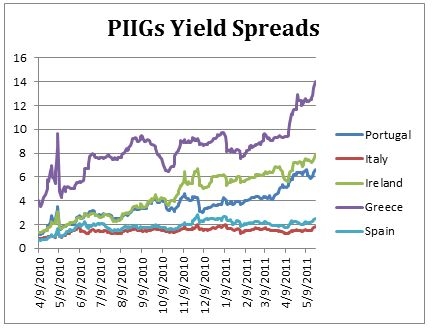 Inflation
Inflation worries currently seem to be taking a back seat to sovereign debt worries, but we did see metrics continue to rise. The U.K. CPI rose by 4.5 percent year-over-year in April, up from 4 percent in March, and the highest level since August of 2008. Even core CPI rose by 3.7 percent, up from 3.2 percent in March, and the highest level in at least the last 13 years.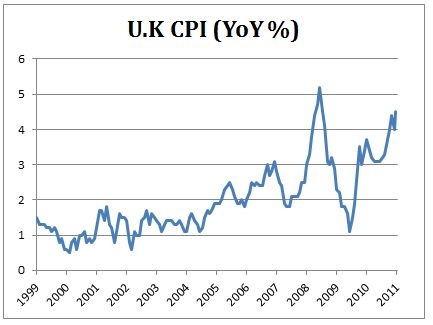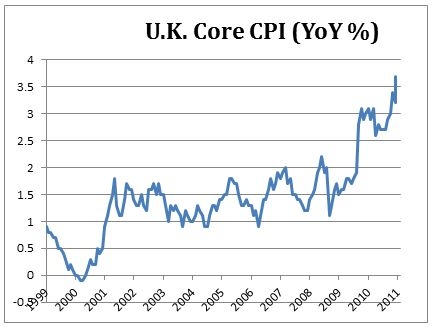 Meanwhile, CPI in Canada grew by 3.3 percent in April — the same as March — which itself was the highest level since September 2008.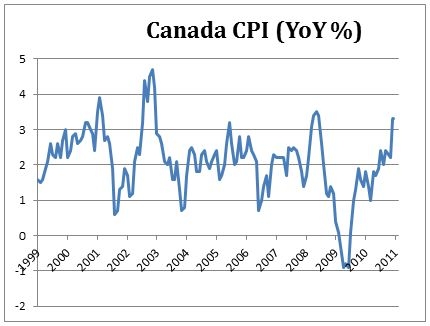 Geopolitics
As we wrote last week, geopolitical concerns have mostly remained off traders' radar screens for the past few weeks, as the Middle East democracy movement stalls. We did, however, see the U.S. and EU slap sanctions on Syrian President Bashar al-Assad. The death count in that country continues to mount, but a harsh crackdown by the regime has held back the opposition thus far.