My initial reaction when I heard about 'the cloud' was that it was going to be the next big thing. Sadly, it already was. The cloud has reshaped the tech world unlike anything we've seen since the Internet. The concept is simple, brilliant and limitless. Consequently cloud-computing stocks have soared to massive valuations barely even paralleled by the sky-high expectations of the industry as a whole.
Yet, luckily for the wary investors willing to look deeper into the mirage of stocks that could benefit from the cloud, we find some truly enticing businesses.

After trudging through almost all stocks involving the cloud I've found the most intriguing way to profit seems to be a little company called Websense Inc (NASDAQ:WBSN).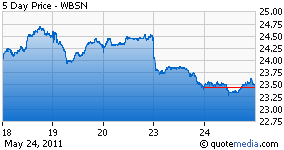 WBSN is the business behind the business if you will. Until this point it seems the company has been overlooked because there hasn't been a thorough enough analysis of the nuances and niche markets within the cloud. 
WBSN protects data in the cloud. Their most exciting product, Triton, essentially keeps the good stuff in and the bad stuff out. Besides being the most advanced product of its kind, Triton has been a smashing success financially as well. Triton brought in $34.4 million in revenue in the first quarter of 2011, a 42% increase year over year, and we can expect to see those numbers increase as we progress further into 2011. Oh, and Triton also won Best Content Security at 2011 SC Magazine Awards Europe.
A Sand Hill Group survey predicts cloud computing industry growth at more than 20% in 2011 alone. At the end of 2010 the cloud computing industry was just $37.8 billion. By 2015 it's projected to be over a $121 billion market, growing at an average annual rate of 26.2%. Could computing has boundless possibilities for growth in the next decade, and cloud security will be leading the pack.
With recent hacks into the cloud such as the Sony (NYSE:SNE) Playstation Network breach and Wikileaks, it is clear not whether enough attention has been put on security within the cloud. The major cloud computing companies like Salesforce (NYSE:CRM) have already been stepping up recent security as they see a growing problem on the horizon. WBSN's Triton has proven to be one of the leaders in terms of cloud security and will immediately benefit from any other major hacking fears.
What really makes WBSN so enticing from an investor standpoint is its incredibly cheap valuation. WBSN is currently trading at 15x projected 2011 earnings. Remember, this is the cloud computing sector, where companies like CRM, Priceline (PCLN), Amazon (NASDAQ:AMZN), Citrix (NASDAQ:CTXS) and Rackspace (NYSE:RAX) are all trading at 144x, 25x, 79x, 34x and 83x projected 2011 earnings. Because of the amazing possibilities within the industry, growth valuations are off the charts, yet WBSN has flown under the radar due to the lack of foresight in the sector.
A lot of information about the cloud is unknown, not even experts are sure how it will end up functioning in 10 years, or even 5 for that matter. But what we do know is that security will become a major issue and WBSN is the leader in that field.
 Besides having a 15x P/E ratio, WBSN has outstanding growth potential. WBSN's earnings are projected to go from $1.55 to $1.68 per share from 2011 to 2012. That's an 8.4% increase. These growth numbers are far too low. The cloud computing will grow more than 25% from 2011 to 2012, and the security niche within that market already has some catching up to do. 


Now here's where things start to get really exciting. WBSN is supposed to pull in about $364.13 million in revenue in 2011, then in 2012 increase that number to $381.23 million. That's a 4.7% increase in a year where the cloud computing industry will grow 25%. I was more than skeptical when I read those numbers and that is why I've developed a method for calculating WBSN's potential revenue that not only seems more substantial but more logical as well. 

First off, if the cloud computing industry is growing at 26.2% per year, WBSN will see a 26.2% increase in revenue assuming its customers allot the same amount to security. That's logical enough, but in 2011 WBSN's customers will be proportioning far greater amounts of their budgets into security than in 2010. So far the business strategy for almost all cloud stocks is somewhat reckless expansion and innovation. Due to this unbridled approach they've left themselves exposed to a new breed of cloud hackers that are already beginning to strike, as we've seen with SNE. The quicker the cloud grows the more it will leave itself exposed to problems, that's where WBSN comes in. The more companies that get hacked the more that will want to hire protection from hackers, that is why we can expect to see cloud companies proportionally increase their security budgets in the coming years.
The cloud stock leaders like PCLN and RAX are projected to increase revenue from 2010 to 2011 by 37% and 28% respectively. Another cloud behemoth, AMZN is projected to increase revenue by 37% as well. As these companies go through these exponential growth hikes it's only fitting that they will either have exponentially higher amounts to cloud security. If not more than that, because they will realize how much more of a problem hackers are than previously anticipated. Assuming that they increase their protection budgets 50% more than their growth rates (because of cases like SNE's), we'll be looking at a 45% increase in security spending in 2011 alone by the cloud leaders. So that's the 45% increase from current clients, plus at least another 15% (WBSN's new subscriber rate from Q1 2011) to account for new companies jumping on board the cloud security game. That puts us at 60% revenue growth just in 2011. A 60% revenue growth means potential 2011 revenue of $500+ million, about 40% above current analyst estimates. What makes it even better is that WBSN can expect to see this type of growth every year for the next 5 years as the cloud industry continues compound at its exponential annual rate.
With a potential 60% annual growth rate for the next 5 years WBSN's theoretical return seems almost ridiculous. Even assuming WBSN grows at 30% per year, half of the rate calculated above, 2014 earnings would be over $4.42 per share. With future growth built into price and a 30x P/E ratio (not unreasonable considering the average P/E for the cloud computing stocks mentioned in this article is 73) we are looking at a $130 stock in 3-4 years. But again, that's only assuming half the growth rate we could potentially see with WBSN.
I wish I could stop there, but WBSN's story is even a little bit sweeter. Through 2011 the board of directors has approved a buyback of $100,000,00 worth of stock, that's over 10% of the company at todays prices. This is in contrast to CRM, PCLN, AMZN, CTXS and RAX who all have had massive amounts of insider selling over the past 6 months, and no share buybacks.
WBSN's stock at $23.45 per share is cheap, the company knows it, I know it and now so do you.


Disclosure: I have no positions in any stocks mentioned, but may initiate a long position in WBSN over the next 72 hours.