On October 16, 1923, Walt and Roy Disney founded Disney Brothers Cartoon Studio. This small studio is what would become The Walt Disney Company. Disney Brothers went public in 1938 as Walt Disney Productions (NYSE:DIS). The company has been completely transformed since its humble beginnings. Today, Disney is a media powerhouse, focusing in cable networks, movie production, theme parks, and travel. Disney owns such recognizable brands as ESPN, ABC, ABC Family, as well as numerous radio stations, character licenses, and of course - its branded theme parks and cruise line.

Disney, a member of the Dow Jones Industrial Average, reported Q2 earnings on May 10th. Disney reported a rare bad quarter. Ugly is a decent description of the earnings report. Disney missed analyst's estimates by 7 cents, reporting $0.49 versus the estimate of $0.56. Income fell 3% at the parks and resorts division and 65% at the studio division. Much of the decline at the parks and resorts division was due to a later Easter holiday. Japan also had a negative impact on the division, as the Tokyo theme park was temporarily closed due to the recent earthquake and tsunami. The studio division was hurt by a terrible box office showing for Mars Needs Moms.

The quarter wasn't a total loss. Disney's largest division, media networks, posted strong operating results. Operating income was up 17% in the division. ESPN reported an increase in ad revenue of 43%. Adjusted for the airing of 3 extra BCS football games as well as the national championship game, income was still up 23%

The rest of the year looks bright for Disney. The studio just launched the fourth installment of Pirates of the Caribbean, which seems to be a success in its first weekend. Cars 2 will be released this summer and is expected to be a large hit. Both of these releases should drive additional revenue from licenses on toys and memorabilia. Disney just launched the newest cruise ship in its fleet. This ship is much larger and should provide a boost to revenue this year.

Disney is a growth company and is reinvesting in its business as such. For a growth company, the valuations don't look unreasonable, especially after the recent sell-off in shares.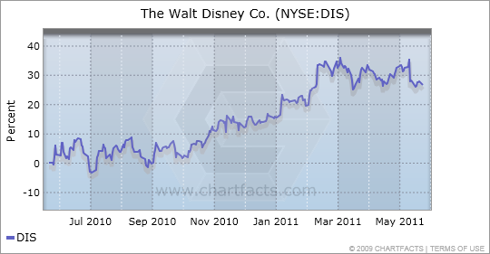 Shares of Disney are up 26% in the last year and 8% year-to-date. Disney has done well weathering the financial crisis and global recession. Revenues have grown at an annualized rate of 4% and earnings have grown at an annualized 11% over the last five years. Disney trades at 2 times sales and 14 times cash flow. The forward P/E is 16.

Value Analysis

| | |
| --- | --- |
| Metric | DIS |
| Market Cap | $77.7 B |
| Recent Price | $41.09 |
| Forward PE | 16.05 |
| Dividend Yield | 0.97% |
| 5 Year Div. Growth Rate | 8.20% |
| Payout Ratio | 17.00% |
| Price/Book | 9.36 |
| Price/Cash Flow | 14.14 |
| Price/Sales | 2.04 |
| Price/Earnings Growth | 1.21 |
| Price/Owner Earnings | 23.89 |
| Return on Equity | 51.36% |
| Debt/Equity | 1.05 |
| Revenue TTM | $39.54 |
| Operating Cash Flow FYE | $6.58 B |
| Capex FYE | $2.11 B |
| Capex/Cash Flow FYE | 0.32 |
| 5 Year Rev. Growth Rate | 3.90% |
| 5 Year Cash Flow Growth Rate | 8.70% |
| 5 Year Earnings Growth Rate | 11.40% |
| Net Profit Margin | 10.41% |
| Current Assets | $13.22 B |
| Return on Assets | 5.73% |
| Long-term Debt | $8.70 B |

Disney shares yield close to 1%. With a payout ratio of only 17%, there is certainly room to grow the dividend. Disney has grown its dividend at an annualized rate of 8% over the last five years. Disney's debt load is very manageable with long term debt of $8.7 billion.

At a recent price of $41.09, Disney trades at a reasonable price. I expect this bad quarter is not a trend. With two potential hit movies coming out this summer, Disney will likely correct course. In addition, the increases in ad revenue are exciting. ESPN is really firing on all cylinders. The entire ESPN brand is tremendously valuable. I expect that Disney will once again raise the dividend as cash flow continues to grow. A real turn in unemployment could really turbocharge results.

The current price looks like a good entry point. I would consider taking a partial position at this level before going all-in. I am still concerned about oil prices. Another sharp rise in oil could hurt Disney's results in the travel segment. However, Disney is a solid growth story for the long-term.

Disclosure: I have no positions in any stocks mentioned, but may initiate a long position in DIS over the next 72 hours.