Last week I introduced here a diversified portfolio of 10 stocks that currently possesses a 4% dividend yield and suggested that if we took the last five years of Dividend Growth Rates as a proxy for future growth, then the average Future Dividend Growth Rate of this portfolio would be 10% per year.
There were many comments that suggested I reassess the assumptions of extrapolations based on the last 5 years of Dividend Growth Rates because, as one commenter stated: "Trees don't grow up to the sky" (Alexander Alekhine).
Another claim that was highlighted through the comments was that due to the fact that companies have different growth rates, using an average of percentages will not work in the long term because the proportions would change over time. One proposal was to extrapolate the strategy based on expected dividends versus percentages of growth.
First of all, I would like to thank everyone for all of the good comments, and as a follow up, I decided to do a deep dive into the Future Dividend Growth Rates and estimate the expected dividends.
The starting point was a $100,000 portfolio spread evenly across 10 stocks.
Here is the original portfolio:

I added these columns to the original table:
A: Future Dividend Growth Rate assumptions used in this model.
B: Dividends per Share after 3 years.
C: Dividends per Share after 5 years.
D: Dividends per Share after 10 years.
E: The ratio between Dividends per Share expected 10 years from now, as a percentage of 2014 expected EPS.
F: Quarterly Dividend after extrapolating it for 3 years. It is based on number of shares (no reinvestment assumed)
G: Quarterly Dividend after extrapolating it for 5 years.
H: Quarterly Dividend after extrapolating it for 10 years.
When examining the results in column "E," there are a couple of disturbing issues. Companies that had a significantly high 5-year DGR reached a tremendously high ratio between the expected dividends and current EPS. As the dividends are being paid out of the company's profits, it has to demonstrate significant earnings growth in the coming years.
The three most abnormal results that jumped out on this issue were CBRL, ETN and WEC. Cracker Barrel Old Country Store, Inc. (NASDAQ: CBRL) is a restaurant chain that I don't anticipate will grow on an order of magnitude in the next 10 years. Eaton (NYSE:ETN) might demonstrate some growth, but it feels too aggressive to assume that it will double in size. For these two companies, I have revised the Future Dividend Growth Rate downwards to 5%.
Wisconsin Energy (NYSE:WEC) just recently announced that its EPS is expected to grow by 4%-6% yearly, and that its Future Dividend Growth rate is anticipated to be 7%-8% going forward.
Here is the summary of the growth factors that WEC management presented earlier this month: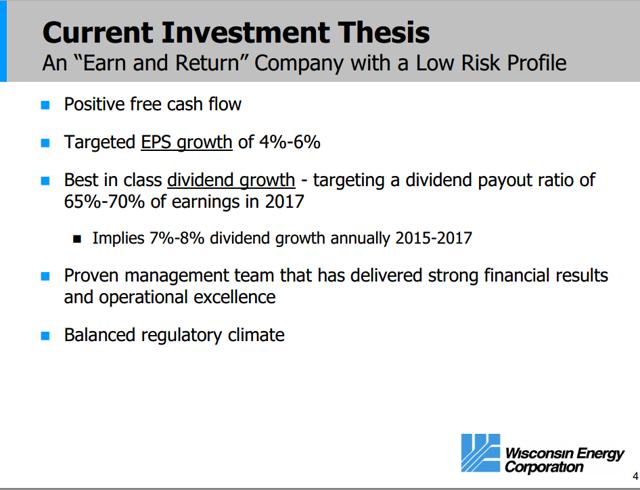 Following this, I have adjusted WEC's future dividend growth rate from 18.8% to 7%.
Moving on to another component in the portfolio, Avista Corp (NYSE:AVA) has its forward earning growth rate at the range of 4%-5%. This was presented here last month and therefore, I adjusted the Future Dividend Growth Rate downwards from 12% to 5%.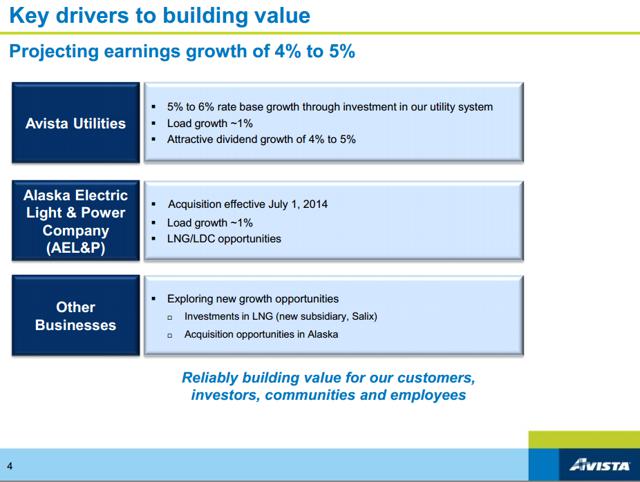 The next components are HCP (NYSE:HCP) and Ventas Inc. (NYSE:VTR). There were some concerns raised regarding holding two health care REITs in a portfolio of 10 stocks. I am a big believer in the long-term aging trend of the world's population in the coming years, hence I do see a bright future for the health care sector. It is a personal decision in term sof risk allocation.
For these two companies, I have left the 3% and 7% Future Dividend Growth Rates respectively. I see these as conservative rates compared to the expected earnings growth potential.
As you can see in the next graph, VTR actually grew its Dividend per Share by 9% on average in the last 14 years.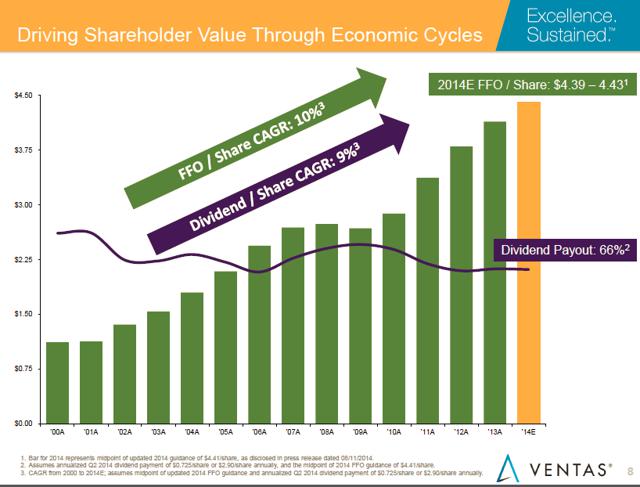 The last company I have adjusted the Future Dividend Growth Rate down for is BHP Billiton (NYSE:BBL). Due to the high volatility and high dependency of its earnings on commodities prices, I adjusted the Future Dividend Growth Rate to 5%.
Here is an updated version of the table with the adjusted FDGR:
Conclusions: As the future dividend growth rates have been revised downwards, the yearly dividend growth rate is now at around 5% in average versus the former >10%. It means that the Yield on Cost will reach approximately 6.7% when looking forward 10 years from now (excluding dividends reinvesting).
I find this to be a more modest, though realistic forward extrapolation that might even be underestimating the potential growth of these companies.
I would highly appreciate any feedback.
Disclosure: The author is long WEC, AVA, CBRL, VTR, HCP, ETN, BBL.
The author wrote this article themselves, and it expresses their own opinions. The author is not receiving compensation for it (other than from Seeking Alpha). The author has no business relationship with any company whose stock is mentioned in this article.
Additional disclosure: The opinions of the author are not recommendations to either buy or sell any security. Please do your own research prior to making any investment decision.