JA Solar (JASO) recently reported first quarter 2011 earnings, which at the surface beat Wall Street expectations by a considerable margin. JASO earned $71.8m, or .41 in earnings per share ("EPS") which was ahead of average consensus of .32 EPS projected by analysts. The company also beat my Q1 2011 estimate of .39 in EPS. However, within JA Solar's earnings report, its earnings metrics were a mixed bag.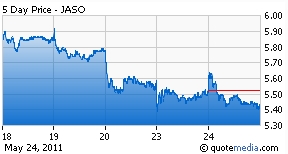 While JASO's first quarter shipments remained relatively strong at 451mw, or only down 2.6% sequentially, the company did miss its prior forecast of 465-475mw given in the prior quarter's conference call. Perhaps this wasn't much of a surprise in light of industry leaders Trina Solar (TSL) and Yingli Green Energy (YGE) both warning first quarter shipments would fall approximately 10% on a sequential basis due to Italian policy delays which froze a key market for several weeks.
Relatively speaking, JA Solar's shipments were quite strong considering the company operates primarily in a vertical that's considered heavily oversupplied. In contrast, Taiwan based Motech, which operates most structurally similar to JA Solar, reported Q1 2011 revenues declined by 20%.
Based on JA Solar's prior guidance of a 25% cell tolling product mix, JASO's shipment shortfall was primarily due to unexpected delays or cancellations in this business segment. For the first quarter, the company's cell tolling shipments were stated at roughly 12% of total shipments, or around 54mw. This was under half the prior implied guidance of over 115mw. From a business standpoint, the unexpected drop seemed logical. In an oversupplied market environment where excess inventory was driving down average selling prices ("ASP"), certain customers may have opted to buy at spot market prices rather than contract processing agreements with JASO. However, given JA Solar's shipments were still fairly strong, the company may have shifted capacity from cell tolling to cell production. Otherwise, a larger sequential shipment decline might have resulted.
Another aspect JA Solar missed prior to guidance was in terms of cell ASP. In its Q4 2010 conference call, the company guided for "slight or mid-single digit" Q1 cell ASP declines. Actual ASP declined by almost double digit percentages. Since JASO reveals very little information, most metrics have to be derived based on various comments made by the company. Again, given the severe oversupplied situation in the cell vertical, higher than expected pricing degradation wasn't a huge surprise, although it does suggest JA Solar's product differential wasn't as strong as the company suggested.
The combined effects of lower than expected shipments as well as average selling prices caused JA Solar to report a gross profit of $96.3m, which was down almost 15% on a sequential basis. JASO was able to curtail operating expenses by leveraging their mid-market operating structure which the company described as 70% fixed costs. A non-operating income of $8.3m from foreign exchange and derivative adjustments also buffered the company's net income. As a result, and excluding an one time gain from Lehman assets recovered in fourth quarter of last year, JASO was still able to grow EPS on a sequential basis from .40 in Q4 2010 to .41 in Q1 2011.
Despite a relatively much better first quarter when compared to direct cell centric peers, JA Solar may experience a much harsher operating environment in the second quarter. Pricing at the spot market level as quoted by PVInsights has fallen dramatically in the past month across all verticals. Pricing in JASO's main vertical, solar cells, has dropped from the 1.20/watt average in the first quarter to around 1.00/watt at the time of the company's earnings conference call. More recently, cell ASPs have continued to decline to levels below .90/watt.
Based on the current spot market pricing spreads between key verticals, many single vertical producers operating at the spot market cannot produce gross profits. In the case of less efficient producers, recent pricing spreads would yield negative gross margin. Rather than producing for greater losses, many cell manufacturers have started to idle capacity and reduce payroll.
In recent earnings conference calls of higher tier US listed Chinese solar companies, top executives have indicated that much of the recent spot market activity has been primarily driven by inventory liquidation by second and third tier providers. In their view, the oversupplied environment has given end market module consumers more choices where many customers are choosing more bankable top tier brands over lower value added second and third tier providers. With only pricing as a weapon, many lower tier solar companies unable to place their products have resorted to inventory dumping.
While JA Solar does not operate at the spot market level, it will most likely be affected by spot market trends as a mid-market provider. Unlike tier one module producing peers such as Trina Solar, Yingli Green Energy, and Suntech Power (STP), that can differentiate their panels through brand, bankability, and other value added services, JASO namely provides solar cells which are more vulnerable to spot market pricing trends as a component within the value chain. JA Solar still holds many advantages over direct peers as evidenced by the recent operational downturn from Taiwanese counterparts, but the company is still more vulnerable since it relies on the ability of their customers place products whereas branded module manufacturers can control their own fortunes. If the severe pricing environment persists for an extended period, many fragmented providers within the value chain may be forced out of business.
As a result, solar cell purchasers may become much more selective in choosing their suppliers. Less competitive cell manufacturers can become unbankable overnight if current pricing trends cause operational losses, which may place a company's survivability into question. When given choices in an oversupplied market, customers are more likely to do business with suppliers more able to provide longer term product support such as warranties. Quite simply, the market can become polarized rather quickly where industry leaders gain additional leverage over less likely to succeed rivals. As the largest solar cell provider in the industry, JA Solar would thus be more likely to secure volume and market share from lower tier counterparts.
However, pricing and thus profitability is another issue. As witnessed in the first quarter, JASO may not be able to generate much of a pricing premium over the spot market rates. Because of the lag time in blending inventory costs lower, JA Solar's gross margin may take a hit in the second quarter of 2011. While on a percentage basis sequential gross margin declines may not seem severe, the actual absolute per watt gross margin contraction may be extremely severe as a result of lower percentage gross margin and lower ASPs.
Given the increased uncertainty, especially for JA Solar's operating structure, the company gave very sparse guidance for the second quarter. While management reiterated their full year 2011 shipment guidance of 2.2gw, guidance for Q2 2011 was simply expected to be at least 400mw in total shipments. This open ended shipment guidance can be narrowed when product mix percentages stated in its earnings conference call are applied. For many of the reasons outlined above, JASO's second quarter estimates have an extremely high degree of error. The estimates below should only be used as a rough outline of results the company could achieve based on statements already made in combination of recent industry trends as indicated by third party sources.
JA Solar Q2 2011 Earnings Estimate:
Revenues: $440m
Shipments: 260mw cell, 50mw tolling, 105mw module
Asps: 1.00/watt cell, 0.35/watt tolling, 1.55/watt module
Unit Costs: 0.92/watt cell, 0.22/watt tolling, 1.27/watt module
Gross Profit: 260 x 0.08 = $21m + 50 x 0.13 = $6.5m + 105 x 0.28 = $29m, $56.5m total
Incremental Gross Profit: 75 x 0.11 = $8m wafer
Gross Margin: $64.5m / $440m = 14.7%
Operating Expenses: $17m
Net Interest Expense: $10m
Tax: $5.5m
Net Income: $32m
Share Count: 172m
EPS: 0.19
The estimates above represent only operational earnings and exclude non-operating items such as foreign exchange translations and other one time gains or charges such as mark to market derivative impact linked to the company's convertible bonds. Other items, such as a recent class action settlement may also impact US GAAP net income. While JA Solar has announced this charge, it is uncertain whether it has already been applied to prior quarterly reports.
With only half of the second quarter underway, foreign exchange gains or losses cannot be estimated and have been excluded from the above estimates. As of today's date, the main currencies in question would result in a minor net foreign exchange loss for JASO due to a less than 1% usd gain over the euro. This preliminary estimate also assumes JA Solar kept its currency exposure and hedging practices constant to levels seen in the first quarter. In reality, all foreign exchange impact should only be viewed as directional estimations and not in absolute dollar terms.
In addition, as seen in all of JA Solar's earnings reports, derivative translations linked to the company's convertible bonds should appear. A more detailed explanation can be viewed from my prior articles on the company. Specifically for Q2, and as of today's date, JASO would likely post a derivative gain mainly linked to the decline in the company's stock price since the start of the second quarter. A gain of $5.5m was recorded in Q1 2011, which may give a good approximation of the gain potential in the current quarter.
Lastly, it is more important to analyze JA Solar as a company and its normalized earnings potential. As an industry leader in the segment it serves, JASO would likely gain market share as winners and losers become more apparent under industry consolidation. This is one of the key reasons top tier Chinese solar companies have been able to secure and grow market share even under challenging pricing or supply dynamics. For this reason, many large Chinese solar companies have recently reiterated 2011 shipment views despite the negative news flow from other industry peers.
In terms of pricing and profitability, many competitively positioned low cost providers have signaled Q2 may be a trough in business metrics such as gross margin for 2011. For branded integrated module manufacturers, the margin impact is less likely to be as severe as JASO is likely to experience in the second quarter. However, as already seen in the first quarter, JA Solar has already differentiated its operations from more structurally aligned competitors. Many solar cell centric peers have started to ramp down production while others have already started to post red ink through inventory liquidations.
In contrast, JASO should still be able to maintain a high level of shipments and generate net income. After pricing normalizes as inventory liquidation by lower tier peers abates, gross margin should expand slightly. If JA Solar can achieve its shipment guidance for 2011, second half shipments could be 50% higher than first half levels. While this second half view may sound optimistic, it is in fact the historical norm in terms of annual shipment distribution. In turn, net income should return to levels witnessed in the first quarter if not higher. If realized, JA Solar is currently priced at roughly 4x 2011 earnings. As a result, much of the uncertainty over the industry may already be priced into the company's current share price.
Disclosure: I am long JASO, TSL, YGE.
Additional disclosure: No position in STP.