By Todd Shriber & Tom Lydon
The utilities sector is the second best performer in the S&P 500 this year behind healthcare and the stodgy, high-yielding sector's rise has been a boon for an array of utilities-heavy dividend exchange traded funds.
However, investors should exercise some caution if they are expecting this year's surges by defensive sectors to repeat in 2015, particularly if interest rates rise. Noting that investors' appetite for income and yield has not been limited to real estate investment trusts (REITs), also a rate sensitive asset class, BlackRock Chief Investment Strategist says in a note posted by Barron's, "We see a similar appetite for defensive sectors of the stock market, notably utilities and consumer staples. While the thirst for yield is understandable, it may be leading investors to overpay and take on hidden risks."
On Monday, 160 ETFs hit all-time highs and of that group, 20 were dividend ETFs. Of that group of 20, several were utilities heavy ETFs. That confirms the notion these ETFs, several of which also feature large allocations to the consumer staples sector, have enjoyed this year's almost 24% decline by 10-year Treasury yields.
Familiar dividend ETFs on Monday's all-time high list include the iShares Select Dividend ETF (NYSEARCA:DVY), iShares Core High Dividend ETF (NYSEARCA:HDV) and the WisdomTree Dividend ex-Financials ETF (DTN).
DVY, one of the largest U.S. dividend ETFs, allocates 35% of its weight to utilities stocks while HDV devotes 35% of its combined weight to staples and utilities. DTN, which holds no financial services stocks, also allocates nearly 35% of its combined weight to consumer staples and utilities names.
Led by DTN's 11% year-to-date gain, all three are up at least 10% this year, but that does not mean these are risk-free bets if interest rates rise next year. Not only that, but defensive staples and utilities are not synonymous with value.
"The defensive sectors all sport aggressive valuations and carry hidden duration, or interest rate sensitivity. If interest rates rise even modestly in 2015 - as we expect they will - these sectors are likely to perform poorly, as their valuations are particularly sensitive to rate rises," said Koesterich.
A growing number of dividend ETFs offer income investors cyclical sectors that historically perform well when interest rates are rising, while featuring reduced exposure to utilities names. Some of those ETFs, including the iShares Core Dividend Growth ETF (NYSEARCA:DGRO) and the WisdomTree U.S. Dividend Growth ETF (NASDAQ:DGRW), also hit new highs on Monday.
DGRO, which is nearing $100 million in assets under management, making it one of this year's most successful new ETFs, is staples-heavy but devotes less than 5.7% of its weight to utilities stocks.
The ETF is heavy on cyclical sectors that historically perform well in rising rate environments, including a combined 31% weight to industrial and technology stocks.
For its part, the $204.3 million DGRW, which pays a monthly dividend, has a 20% staples weight, but no utilities exposure at all. Equally as important, DGRW sports 22.1% weight to the tech sector. DGRW's almost 5% weight to Apple (NASDAQ:AAPL) is one of the largest weights to the iPhone maker among all U.S. dividend ETFs.
Not holding any utilities stocks has not slowed DGRW down this year. The ETF is up almost 12%, a performance that tops some utilities heavy payout funds.
WisdomTree U.S. Dividend Growth Fund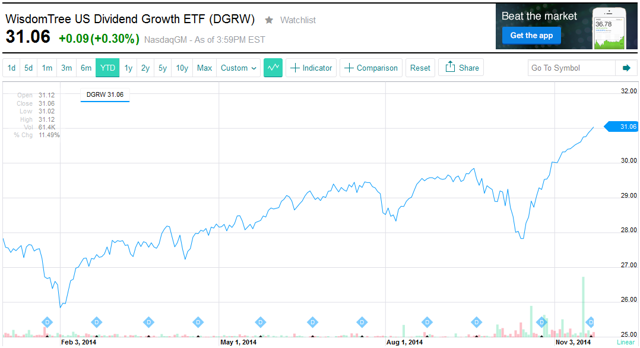 Source: Yahoo Finance
Tom Lydon's clients own shares of Apple and DVY. Todd Shriber owns shares of DGRW.
Disclosure: The author is long AAPL, DVY.
The author wrote this article themselves, and it expresses their own opinions. The author is not receiving compensation for it. The author has no business relationship with any company whose stock is mentioned in this article.