As I feared would eventually happen, Lender Processing Services (NYSE:LPS) sliced right through support and made fresh two-year lows. LPS closed down 3.6% on a third straight day of heavy selling volume.
[Click all to enlarge]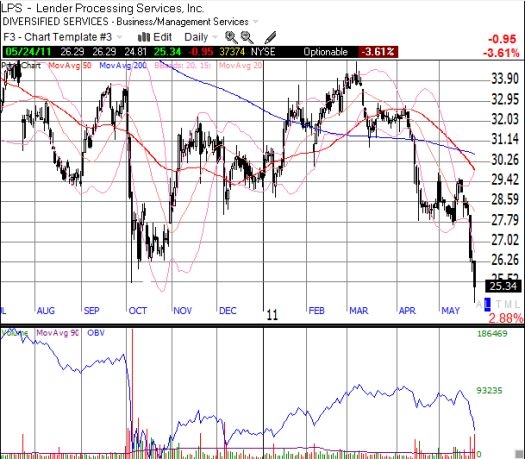 LPS continues to plunge. Chart created using TeleChart.
Put activity remains strong on LPS. On Friday, I wrote:
In April, I noted the last wave of heavy put activity in LPS. Like the previous round where buyers chose to buy many months out, these buyers chose the September strike. Volume specifically surged where there open interest is already incredibly high: 9,075 puts traded at the Sept. 30 strike where open interest is 10,555 puts, and 17,987 puts traded at the Sept. 25 strike where open interest is 4,559 puts. I noted almost no call volume across any month.

While we have to wait until Monday for the new open interest numbers, previous history suggests that open interest in the Sept. 25 puts should surge to over 21,000. It is certainly possible that some put holders at the Sept. 30 strike took profits and applied them to the lower strike, allowing them to now play with "the house's money." Under any circumstance, such activity is a huge red flag that the market anticipates much steeper declines. The choice of expiration dates for these waves of put-buying suggests efforts to allow enough time for resolution of the legal troubles besetting LPS.
Sure enough, the open interest on Monday expanded to match Friday's volume on the Sept. 25 puts. As of Tuesday's trading, open interest on the Sept. 25 stood at 22,401 and 10,585 at the Sept. 30 strike. Tuesday's selling attracted more speculators, as seen by the increase in put activity in the front-month (June) puts. 4474 puts traded across the June 20, 22.5, 24, and 25 strikes versus open interest of only 2208. Combined with the technical breakdown, this activity finally motivated me to hop aboard and go net short LPS. LPS should experience a sharp relief rally anytime soon; if so, I will unload my shares and go 100% short.
In previous posts, I forgot to update the chart of short interest in LPS. While total short interest has yet to reach the peak from October's surge, shorts have steadily increased over the last three weeks of available data. Shorts are also 6.9% of LPS's total float.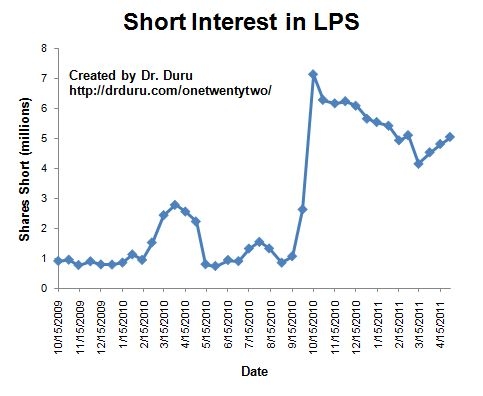 After a steady decline, shorts begin to close in on LPS again. Source: Nasdaq.com.
Cody Willard is emphatic in his explanation of the short perspective on LPS by calling LPS one of his top short ideas of the year; he even added to his position with shares and puts on Monday. Willard references the same Naked Capitalism piece I read that seemed to spark the latest bout of selling on Thursday and concludes:
LPS is increasingly looking at risk of being a major scapegoat for the the TBTF banks and the regulators that are trying to convince the rest of the world that there the fraud inside of the electronic mortgage title system, called, MERS, is limited in scope. LPS is at big risk here and even in the best case scenario — suspend disbelief for a moment and let's say that LPS and MERS are totally viable and accurate and that the hundreds and thousands of civil and dozens of potential criminal proceedings against LPS and MERS are thrown out. LPS' entire business model still only works because of the streamlined, factorized, robotized processing of mortgages and foreclosures, and that business model has to change in order for LPS to actually get up to compliance for even the problems the company has already admitted to. It's hard to come up with a bull case scenario for this stock at this point.
All this makes one wonder what Thomas Schilling, Chief Financial Officer and Executive VP, was thinking when he spent $149,250 to load up on shares on November 18, 2010.
Disclosure: I am short LPS.