While precious metal prices are under attack once again threatening to drop even further, uranium prices have been accelerating lately and an increasing number of investors are running into uranium equities as a historic turnaround is in the making, according to Dundee Capital, Raymond James, H.C. Wainwright and other investment banks worldwide. At $40/lb U3O8, the uranium price is up +43% since the lows of $28 this summer.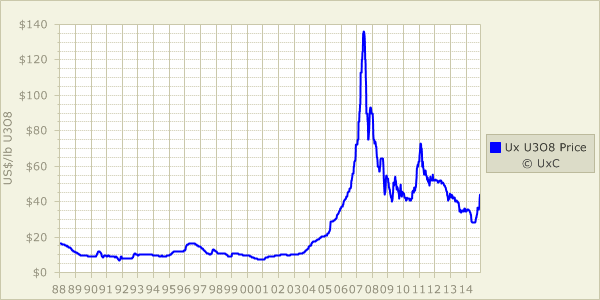 "Dundee has started to believe a meaningful turnaround is happening in the sector. Interestingly enough, the particular dynamics that led to the recent rally have more to do with an increase in buying activity as some unsatisfied buyers from last week came back into the market to fill orders at higher prices, and not actually today's Japanese nuclear power plant restart approval from the Governor of Kagoshima Prefecture (as expected - see note). Most importantly, it is the utilities that are starting to enter the market, suggesting that this rally could have some sustainability. While equities did not partake on previous price increases, they did overnight in Australia and we expect today should be a good day in North America, and the potential catalyst for upward momentum in the stocks." (David Talbot & Aaron Salz from Dundee Capital on November 7, 2014)
Cameco (NYSE:CCJ) is up +16% this month alone, while Denison (NYSEMKT:DNN) is up +24%, Fission Uranium (OTCQX:FCUUF) up +30% and Nexgen Energy (OTC:NXGEF) up +30% as well during same period.
Analysts David Talbot and Aaron Salz from Dundee Capital were in talks with Eric Webb of Ux Consulting on November 7:
"Mr. Webb added that several participants now view the market as more likely to increase over the next year, and are looking to pick up material - including several utilities are either currently active or have indicated interest in spot and mid-term delivery. However, it should be pointed out that the number of buyers or sellers remains limited, so the market remains in a delicate balance."
It is this dried-out uranium market that bestows such strong upswings in prices and as such we anticipate much higher uranium prices in the foreseeable future, respectively, the tide to have turned a few weeks ago, setting the stage for a historic rebound in uranium prices and equities. Dundee explains the likelihood of a sustainable uranium price boom to have started recently:
"We still have those items in the market that we've been watching: Russian sanction potential, ConverDyn-US DOE lawsuit, and shrinking supplies. But the thing that might make this sustainable is that the utilities are starting to buy, in addition to the intermediaries and financial entities that are buying. Trading is still thin, but the makeup of the bidders has changed a lot recently and sellers are getting less needy to sell. The utilities need to purchase both spot and term uranium, and cover for the 2017-18 period in particular. While they may be coming in early for that period, it is easier to talk its management into buying in rising uranium markets than flat. We have always said, just like in 2006-2007, when contracting begins and the price moves, it will move fast. UxC, Cameco and others have been saying for so long the market has been in balance that now it is tightening, it might have caught a lot of people off guard. Exelon in the US is the largest nuclear utility in the largest nuclear power market in the world. It recently bought a considerable sum of uranium at the bottom of the market. Its first mover status has now spurred buying interest from other nuclear power providers such as Southern, Duke, Florida Light and Power, PSE&G Power, and others. And that is in the US alone."
Dundee also notes that intermediaries and financial entities are also becoming more active now. Macquarie, for example, recently acquired the uranium book from Deutsche Bank for $200 million, which has removed a potential overhang in the market and rumors are on the rise that Macquarie has been adding substantially to this book.
Additionally, nuclear fuel traders have entered the market as many seem to be nervous with the rapid price increase and Uranium Participation Corp. becoming a vocal competitor and may need to cover trades. According to Dundee, this includes groups such as Itochu and Traxys (the latter has been a buyer to protect its own clients should it lose its US DOE source due to the lawsuit; next court date is late December).
Mining Analyst David Sadowski from Raymond James sees the reasons for the latest uranium price increase ("the biggest daily jump since the intense volatility seen immediately after Fukushima in March 2011") not only in the recent nuclear reactor restart approvals in Japan but rather in "a resurgence in nuclear utility buying interest - we are hearing that several utilities are in the market looking for supply." Sadowski strikingly sums up the underlying drivers for a vivid uranium bull awakening as we speak:
"Return of Utilities - Sign of the Bottom:

• Multiple industry contacts have indicated that we will see a wave of new contracting in 2015.

• This is important as utilities have been mostly absent from the market since late-2012 (contracting levels have been extremely low) - a big part of why the price dropped from the mid-US$40s to US$28/lb.

• But more buying with Japan less of a dumping threat, combined with reduced spot supplies should squeeze the market and continue to put upward pressure on prices.

• Recent reductions in spot supply include:

- Kazakhstan, which announced a y/y drop in 3Q production for the first time in many years.

- Uzbekistan signing long-term contracts with China and India, diverting material away from the spot market.


- Shutdown of Paladin's Kayelekera.


- China's 25% off-take agreement with Paladin's Langer Heinrich.


- US ISR producers pulling back on output.


- Rio Tinto (NYSE:RIO) (Rössing and Ranger) and BHP (NYSE:BHP) (Olympic Dam) - both typically big spot sellers - producing much less y/y.


- And UPC, which is continuing to buy on the spot market and recently filed a $200 mln shelf so that it can buy significantly more.

• Recall, spot uranium can move extremely quickly because it is such a small market (only ~40Mlbs/yr volume) - in the past we've seen monthly jumps of over US$10/lb - and until recently, the equities have exhibited a strong correlation with spot.

• Accordingly, though it contrasts somewhat with our price deck (see industry report), we believe the recent rise in spot prices (nearly US$40/lb, up from US$28) is likely to continue in 2015.

• We strongly recommend buying the top quality uranium equities heading into 2015."
Sadowski sees the recent approvals for restarting the first reactors in Japan as only the beginning of many other reactors coming back into operation in the next months and years, which will increase the buying pressure for global utilities even more:
"All local approvals in Place for 1st Japanese Restarts: Late last night (N.America time), prefectural councilors in Kagoshima voted in favor of restarting the Sendai number 1 and 2 reactors at an emergency 3-day assembly (news link). Municipal council members voted in favor of the restart last week. This means all local approvals are now in place - all that is left is final operational safety checks by the regulator NRA and utility Kyushu can restart the units. We have been waiting for this moment for a long time. We think restarts in Japan will reduce the threat that Japan's utilities will dump their uranium inventories into the market (>100 Mlbs), which should serve to de-risk the space for investors and spur utilities outside Japan to resume contracting, supporting prices. With the Sendai units back online in January or February, this should expedite the process to get even more reactors operating, now that both the utilities and NRA are familiar with the approval pathway. Recall, we conservatively model one-third of the fleet online by 2018, but most pundits are looking for two thirds."
Joe Reagar from Roth Capital recently wrote in a research note:
"We believe this approval could provide a significant positive catalyst for uranium equities and the industry as a whole."
While Reagar acknowledges that the restart of two reactors is not enough to correct a supply/demand imbalance in the market, he says the approval indicates that nuclear power is part of Japan's long-term energy plan and anticipates three additional restarts by the end of 2015. By 2020, 30 to 35 of Japan's idled plants could restart, he added.
Marina Katusa from Casey Research wrote in mid-November:
"Worldwide, no fewer than 71 new plants are under construction in more than a dozen countries, with another 163 planned and 329 proposed. Many countries without nuclear power soon will build their first reactors, including Turkey, Kazakhstan, Indonesia, Vietnam, Egypt, Saudi Arabia, and several of the Gulf emirates. South Korean plants are back online. Japan is planning to restart its reactor fleet (despite a great deal of citizen protest) beginning in 2015. Russia is heavily invested, with nine plants under construction and 14 others planned. China, faced with unhealthy levels of air pollution in many of its cities due to coal power generation, is going all in on nuclear. Twenty-six reactors are under construction, and the government has declared a goal of quadrupling present capacity - either in operation or being built-by 2020. India has 20 plants and is adding seven more. And in the rest of the developing nations, nuclear power is exploding."
Forbes contributor James Conca looked into the future recently:
"In the developing world, there are 1.6 billion people that have no access to electricity, whatsoever. 2.4 billion people still burn wood and manure as their main source of energy. And 3 billion more people will be born in the next 30 years. This is a lot of people that will require a lot of energy. Just to survive. To have a reasonable life, they will need at least 3,000 kWhs per person per year. That's about 20 trillion kWhs per year, a lot more than all the electricity produced in the world today. That's 2,000 GenIII nuclear power plants. Or 5,000 coal-fired power plants. Or 20,000 gas-fired power plants. Or 20,000,000 large wind turbines. Besides costing between $10 and $20 trillion over 30 years, how do you provide this much energy to the developing world that has almost nothing - no infrastructure, no expertise, no resources?"
Jeremy Whitlock from Atomic Energy of Canada Ltd. believes nuclear power is the answer:
"Never before has there been a technology with so much promise that has been used to so little of its potential."
Disclaimer: Please read the full disclaimer on rockstone-research.com as none of this content is to be construed as an "investment advice."
Disclosure: The author has no positions in any stocks mentioned, and no plans to initiate any positions within the next 72 hours.
The author wrote this article themselves, and it expresses their own opinions. The author is not receiving compensation for it. The author has no business relationship with any company whose stock is mentioned in this article.
Editor's Note: This article covers one or more stocks trading at less than $1 per share and/or with less than a $100 million market cap. Please be aware of the risks associated with these stocks.