I committed two cardinal sins that drew the ire of many Sirius XM (NASDAQ:SIRI) investors over the past couple of weeks. These, by all accounts were considered unforgivable. The first one was that I was short Sirius XM, the second sin, which is considered more egregious, was that I announced it in an article.
When I first announced that I had sold my Sirius position earlier in the month, I also disclosed that at some point when valuations justify me to do so, I would consider re-establishing either a short or a long position. As the share price grew to a high of $2.42, I maintained I did not see any fundamental reason for the premium. Readers argued that there was; citing that Mel issued some very exciting possibilities to look forward to. I agreed that there were some very surprising revelations about the likelihood of a dividend/stock repurchase, as well as having approximately $1 billion in cash by the end of 2012. But did this news warrant an increase in $2 billion market cap in two weeks? This was essentially what occurred.
I argued that when a stock begins to trade off of fundamentals, it is often a cause for concern. I mentioned that the stock needed a period of consolidation from the highs of $2.42; it reached $2.07 last week and for the most part has since established an identifiable trading range. On the point of fundamentals, I committed another sin and used SIRI's trailing P/E ratio of 227 to point out how expensive I thought the stock was. It seemed I offended some readers by doing this, but as promised, going forward I will use the forward P/E instead which currently stand at a respectable 37. Obviously there is a huge difference and I can't fault anyone for their disdain for what appeared as me "bashing" the stock. But to uphold a promise I made to a reader, in fairness, I will use the smaller number in future arguments.
But the question remains, is the stock expensive? Well, that answer depends on the metrics used to evaluate the equity. It comes back to the point I raised when I said there was no fundamental reason for the share price to reach the level that it did or in the manner. But Tuesday, there it appeared; a fundamental event that now justifies Sirius' current valuation.
Moody's upgraded Sirius' credit ratings, citing subscriber growth, good earnings performance and recent debt reductions. It said the ratings outlook was "stable" and raised the corporate family rating to "B2" from "B3." Credit ratings should not go unnoticed nor are they ignored by the astute equity market. Although that was still several levels below investment grade, but in my opinion that is pretty important factor determining the long term viability of a stock; particularly one that is trading under $5. I'm not going to bore you with other details of the upgrade nor why Moody's felt it was time, but events such as this does impact the company's ability to grow; and yes, this does justify (on some level) a higher than normal P/E.
One of the biggest arguments that analysts and investors (myself included) have had with Sirius when discussing fundamentals is that they have a large pile of debt; some of which is coming due in 2013. Sirius has been doing a masterful job recently in refinancing these debts as well as leveraging its convertibles which has saved the company millions on maturities. These fundamental events allow the company to not only spread debt out but also receive a lower interest rate on the bonds at the same time. These do in fact affect the bottom line as well as grow optimism for its long term outlook. The chart below says it best.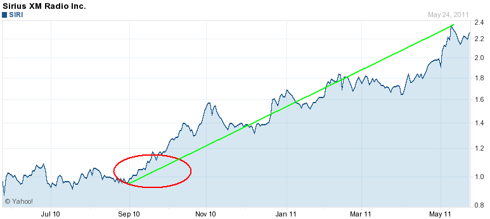 (Click to enlarge)
The last time Sirius received a credit rating upgrade the stock started its surge to where it sits today. Sirius' shares traded at $1.24 on October 3 last year, when first learned of a credit upgrade by Standard & Poors. Another upgrade was issued by Moody's on the 14. By the end of December, Sirius closed at $1.63 for a 31% increase in two months. Of course we can also point to the impact of the Howard Stern signing as a significant catalyst, but the stock still appreciated by 13% before then. So it goes back to our original question, is Sirius' stock still expensive? With these fundamental changes, I will have to say no.
Disclosure: I have no positions in any stocks mentioned, but may initiate a long position in SIRI over the next 72 hours.