Take a look at the following chart showing the price of coffee since January 2008.
[Click to enlarge]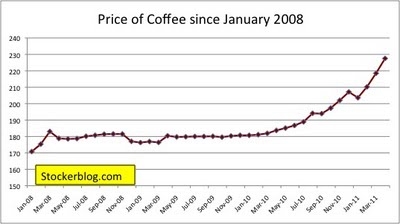 The price of coffee is up 11.7% year to date, up 23.8% over the last 12 months, and up 80.6% since January 2001. Demand is increasing from China, and coffee crops were not as strong in various parts of the world, causing the increased prices. But what is amazing is that coffee drinkers are still drinking coffee.
Investors looking to take advantage of the caffeine addiction have over a dozen coffee stocks to choose from, according to the free list at WallStreetNewsNetwork.com. Seven of the stocks pay dividends with yields ranging from 1.4% to 3.3%.
A perfect example is Coffee Holding Co. (NASDAQ:JVA), a roaster of wholesale coffee which markets wholesale green coffee, private label coffee, and branded coffee in the United States and Canada. The stock trades at 10.9 times forward earnings and has a decent yield of 1.8%. Earnings for the latest reported quarter were up 86.6% on a 20% increase in revenues. Next earnings announcement will be June 6.
Starbucks (NASDAQ:SBUX) is the largest coffeehouse company in the world, operating in 50 countries with over 17,000 stores worldwide. The stock trades at 20.3 times forward earnings and pays a yield of 1.4%. Earnings for the latest quarter were up 20.4% on an 9.9% increase in revenues.
There are a few food companies which sell coffee as part of their product line, such as The J. M. Smucker Co. (NYSE:SJM), which sells the Folgers brand of coffee. The stock has a forward price to earnings ratio of 15.1 and a generous yield of 2.3%.
Disclosure: None.