The Wolfcamp play in the Delaware Basin is starting to heat up as E&P players like Anadarko Petroleum (NYSE:APC) locate the core parts of the play. Last quarter, Anadarko expanded what management refers to its "high-confidence" area in the Delaware Basin, capable of tapping into the most prolific parts of the Wolfcamp. Looking at the map below, Anadarko substantially boosted its "high-confidence" area on the back of strong production results.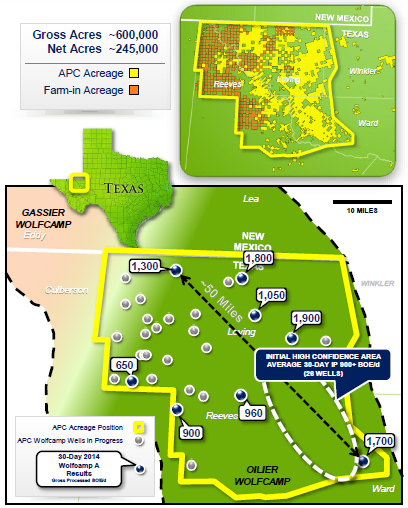 Source: Anadarko Petroleum Presentation
Several wells in Loving County had 30-day IP rates in excess of 1,000 BOE/d (which is considered strong). These wells tapped into the first bench of the Wolfcamp shale formation, known as Wolfcamp A. Wells targeting the Wolfcamp yielded an 80% liquids composition with an estimated ultimate recovery (EUR) rate of 600 MBOE - 700 MBOE. If Anadarko produces wells with 1,000 BOE/d+ 30-day IP rates, it will substantially boost its chances to complete wells that have a higher EUR rate.
Long growth runway
Anadarko has a long runway ahead as the Wolfcamp remains a relatively new play for the company. With ten rigs in the area, Anadarko plans to bring 80 wells online in the formation this year. Over the course of a little over a year, Anadarko has been able to boost its Wolfcamp production from practically nothing to ~10,000 BOE/d by the third quarter of 2014.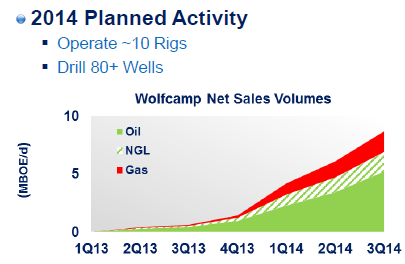 Source: Anadarko Petroleum Presentation
With over 1,000 possible drilling locations across its Delaware Basin acreage, Anadarko has over a decade's worth of places to drill. If Anadarko's drilling program expands its "high-confidence" zone, it will be able to record a larger inventory of high return drilling locations. This is important to note, as wells in the "high-confidence" region generally have a higher EUR than the rest of its Delaware acreage. A higher EUR leads to better returns on its wells.
Investors should pay attention to how well Anadarko's new Wolfcamp A wells perform relative to its past results. Many of its planned wells are being completed to the west of its prolific wells. Strong results would allow Anadarko to further expand its "high-confidence" zone.
Anadarko has been active in the Permian for 30 years, meaning plenty of infrastructure is in place to service its production for the time being. However, more infrastructure will have to be built to support future production growth. One of the biggest things that could hold Anadarko back is the lack of takeaway capacity in the region relative to the amount of Permian production.
Not enough pipelines
Back in August, Bentek Energy projected that the Permian was producing 1.7 million bo/d, yet there was only 1.27 million bpd of crude takeaway capacity via pipelines. Since then the BridgeTex crude pipeline has been brought online five months behind schedule, capable of carrying 300,000 bo/d out of the Permian. Crude production has continued to rise, hitting 1.75 million bo/d in October according to RBN. Even with the new pipeline, the Permian would still not have enough pipeline takeaway capacity.
Due to the lack of takeaway capacity, Permian crude has been selling at a ~$10 a barrel discount to WTI. In light of OPEC holding its production levels where they are, which caused a steep 10% drop in prices, Anadarko needs to get every dollar it can for its crude. This is why new pipelines are imperative to its growth and profitability prospects in the Permian.
Several major pipelines are expected to come online next year to fill the capacity gap. Plains All American Pipeline (NYSE:PAA) plans to bring the Cactus Pipeline online in April 2015. Initially, the Cactus Pipeline will have a transportation capacity of 200,000 bo/d, which will then be increased to 250,000 bo/d through additional pumping capacity. By the fourth quarter of 2015, Plains All American will have boosted the capacity of its Cactus Pipeline to 330,000 bpd. Plains All American is also going to bring the Sunrise Pipeline online in the second quarter of 2015, which will add another 250,000 bo/d of takeaway capacity.
Sunoco Logistics Partners (NYSE:SXL) is lending a helping hand, as its Permian Express II pipeline is expected to come online in the second quarter of 2015. The Permian Express II will initially be able to carry an extra 200,000 bo/d out of the Permian. If Sunoco Logistics and Plains All American can bring these pipelines online on time, then the current strain on the midstream infrastructure in the area would dissipate.
Final thoughts
Anadarko Petroleum has a bright future ahead of it in the Delaware Basin. Liquids weighted output and higher than expected production rates will make the play very economical, depending on what price Anadarko can receive for its crude. There isn't much Anadarko can do to change sub-$70 WTI prices, but the completion of new pipelines will help remove the Permian's pricing differential.
This article is following up on why Anadarko Petroleum is a good buy in light of its recent stock pullback due to lower oil prices. Anadarko can't control the price of oil, but it can develop high return plays that generate decent streams of cash flow which can be used to fund further shale development. Investors who want to read about Anadarko's Wattenberg operations, Gulf of Mexico assets, and financial woes should take A Look At Anadarko Petroleum.
Disclosure: The author has no positions in any stocks mentioned, and no plans to initiate any positions within the next 72 hours.
The author wrote this article themselves, and it expresses their own opinions. The author is not receiving compensation for it (other than from Seeking Alpha). The author has no business relationship with any company whose stock is mentioned in this article.