Although a war-torn Russia has seen economic decline in recent months, falling oil prices are the latest factor affecting the ruble. The ruble has depreciated versus the U.S. dollar over 50% since July as Brent oil prices have declined nearly 40%.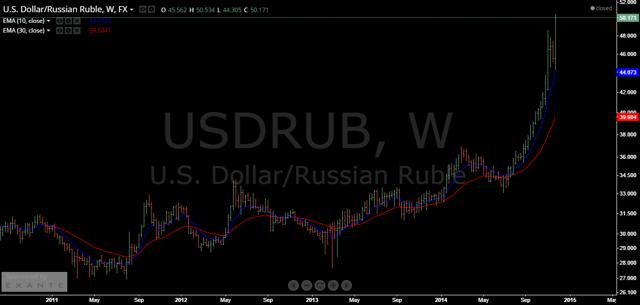 Data provided by Trading View
On Thursday, the Organization of the Petroleum Exporting Countries decided to keep production unchanged in order to maintain global market share, which pushed oil prices down to multi-year lows. As oil production in the U.S. picked up in recent years, leading to more global supply, OPEC has remained resolute in maintaining stable output to fend off losing share of global production. This pushed the price of oil down from $115 in May, to under $70 at one point last week, as is seen in the chart below. The fall in Brent Crude oil prices has adversely affected the Russian economy as a large percentage of external revenue comes from oil exports.
"The slump in oil prices threatens to further slow Russia's embattled economy as around 50% of the country's annual budget revenue stems from oil and gas exports," according to a report by the Wall Street Journal.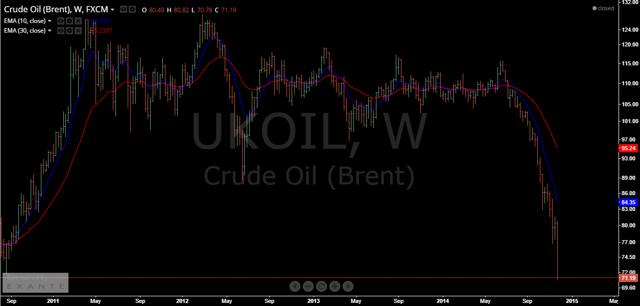 Data provided by Trading View
To further make the point of Russia's adverse reaction to falling oil prices, the chart below shows how exports of oil have grown in importance for the country since 1990. Highlighted in the chart, Russian oil exports began to rapidly increase after 2000, and have nearly quadrupled in the last 15 years. As the price of oil continues to fall, or remains at levels near $70, total external revenue to Russia will fall. This, on top of violence with Ukraine, and sanctions by Western nations creates a perfect storm, holding back Russian economic growth. Expect the ruble to continue to underperform the U.S. dollar as the price of oil, among other ailments, weighs on Russian economic activity.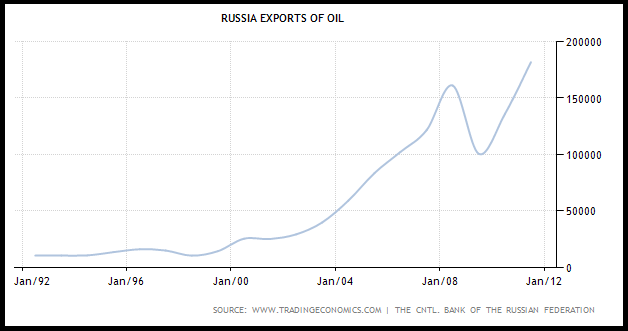 Data provided by Trading Economics
Disclosure: The author has no positions in any stocks mentioned, and no plans to initiate any positions within the next 72 hours.
The author wrote this article themselves, and it expresses their own opinions. The author is not receiving compensation for it (other than from Seeking Alpha). The author has no business relationship with any company whose stock is mentioned in this article.