Precision Castparts PCP is a $34B manufacturer of fastener systems for the aerospace industry and industrial gas turbine applications. The metal components maker reported Q2 EPS of $3.24 per share vs the Wall Street consensus estimate of $3.29 per share (12.5% year over year growth) and revenue of $2.52B vs the $2.53B estimate (7.7% year over year growth; 4% on an organic basis). Operating income and net income totaled $706M and $467M, respectively.
Breaking down the total revenue by segment, each of the three major segments experienced growth in the quarter. The investment cast products segment had a 3.8% increase to $631M, which was due to 4% growth in commercial aerospace sales and a 7% jump in industrial gas turbines sales on upgrade programs. Airframe product segment revenues soared 18% in Q2 to $816M. Fastener products had strong order rates for all of the top commercial aircraft platforms. Forged products, the largest segment of revenue for Precision Castparts, saw a 3.4% pick up in revenues to $1.08B. Seamless interconnect pipe sales surged 30%, but contractual pass-through pricing was flat and they had $30M of costs due to scheduled annual maintenance.
On a quarter over quarter basis, cash and cash equivalents went up 8.3% to $404M. Long-term debt only inched up 2.3% from Q1 to $4B. Total shareholder equity rose 2.2% fiscal year to date to $11.63B, but down quarter over quarter from $11.80B. The company generated positive free cash flow of $162M in the second quarter.
Acquisitions have played a large part in Precision Castparts' investment strategy in recent years. Last year, they completed the $2.5B deal for the largest titanium manufacturer in the U.S., TIMET, which contributed to growth in the forged products segment. Other deals that started in 2012 included RathGibson, Centra Industries, Dickson Testing, Texas Honing, and Synchronous Aerospace. The $600M cash deal Permaswage, a manufacturer of aerospace fluid fittings, was completed late last year (fiscal year 2014). In FY14, there were six other small acquisitions for roughly $400M. The recent purchase of Aerospace Dynamics International expands their market share for Airbus A350's. Management has said they will continue to increase market share in their core businesses through an extension of these smaller deals.
Valuation
PCP shares currently trade at a P/E ratio of 17.38x (FY15 estimates) with 14.6% EPS growth and a P/E ratio of 15.16x (FY16 estimates) with 14.6% projected EPS growth. For Precision Castparts, the year ends at the end of March/early April. Historically, they have saw earnings grow 13-18% on an annual basis, so the FY15 and FY16 projections are within reason. Revenues are expected to exceed the $10B mark in FY15, translating to a 7.6% year over year increase. This is likely to accelerate to 8.3% in FY16 to $11.2B. The stock also trades at a price to sales ratio of 3.41x and a price to book ratio of 2.93x.
Of the 13 Wall Street analysts covering the stock, 10 have a buy rating and 3 have a hold rating. JPMorgan Chase JPM is the most cautious with a neutral rating and a $240 price target, while CRT Capital sees a 3 handle coming for Precision Castparts. CRT Capital had a buy rating and a $307 price target on August 5th.
As of September 30th, 648 13F filers held PCP in their portfolios and 21 of them had PCP as one of the ten largest holdings. Janus Capital Management is the 6th largest owner of Precision Castparts and currently has the stock as the 11th largest holding (added 788K+ shares in the last quarter). Warren Buffett's Berkshire Hathaway BRK.B added more shares to push total holdings above 2M shares, making it the 25th largest holding. Overall Viking Capital Investors added the most shares to their portfolio of all other hedge funds and mutual funds at 1.49M to push total holdings to 1.82M shares (22nd largest holding). On the flip side, JPMorgan Chase liquidated nearly 1.42M shares and now owns less than 100K shares (remember they have the lowest price target on Wall Street).
Technical Analysis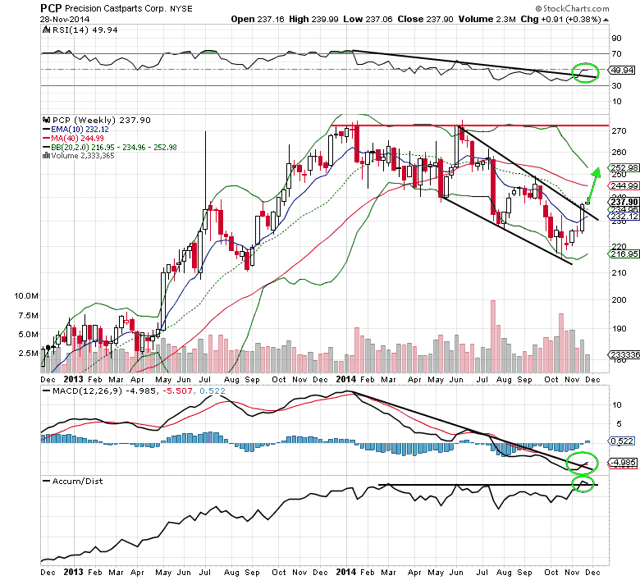 Looking at the two year weekly chart above we can see that shares of PCP had been trading in a downward trending channel since May, but in recent weeks the stock has started to breakout above the top of the channel. The three secondary indicators on the chart are also confirming the recent bullish development. The accumulation distribution line broke out to new highs and the relative strength index (RSI) snapped the near yearlong streak of lower highs and lower lows. The MACD is now showing a bullish crossover as well, confirming it around the same time as the other two indicators. Major resistance really doesn't come into play until the $270-$275 level (failed in December 2013/January and in June).
Going forward management sees massive growth from the airframe product segment (commercial aerospace) leading the business. The addition of Permaswage, Aerospace Dynamics International, and TIMET is already reaping benefits for Precision Castparts and look for more accretive acquisitions in 2015 and beyond. From 2016-2018, they see strength due to the next-generation of aircraft engines for their forging and casting segments. The noted additions via acquisition have made the company a major player for both Boeing and Airbus market share. While the last two quarterly earnings misses may scare away some investors and it apparently has since the stock is down over 13% from the June high of $275.06, it should be no surprise as they have missed analyst EPS estimates on 11 out of the last 16 quarters. The main takeaway and focus should be on the consistent year over year growth. Q3 2011 EPS that came in at $1.80 per share is projected to be up 89% from that period once the Q3 2015 EPS numbers are released in January ($3.41 per share). Prior to the Q3 results, Mark Donegan, the chairman and CEO of PCP, will discuss the current business atmosphere in NYC at the Credit Suisse CS Global Industrials Conference on December 3rd.
Current risks include a slowing of the domestic and global economy, overload of debt as a result of acquisitions, unsuccessful acquisitions, and poor execution by the management. However, a long-term debt to equity ratio of just 0.34x, solid track record of top and bottom line growth, and recent M&A deals show in the meantime that these potential risks are not becoming a reality just yet. The reality actually is that PCP shares trade at a forward PEG ratio of just 1.04x for a consistent double digit EPS growth company. Now is the time to consider starting a position in the stock that is down 11.63% year to date with signs of a bottom forming in recent months.
Disclosure: The author has no positions in any stocks mentioned, and no plans to initiate any positions within the next 72 hours.
The author wrote this article themselves, and it expresses their own opinions. The author is not receiving compensation for it (other than from Seeking Alpha). The author has no business relationship with any company whose stock is mentioned in this article.