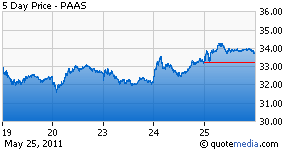 Pan American (NASDAQ:PAAS) released earnings for the first quarter last week, closing the books on a difficult quarter.
Revenues increased to $190.5 million, up from $136 million a year ago on the back of higher silver prices.
However, silver production fell to 5.3 million ounces along with 18,640 ounces of gold during the first quarter due to production issues at a number of mines.
Net income for the first quarter, less a $27.5 million non-cash gain on the quarterly mark-to-market of warrants, came to $64.6 million or $0.60 per share.
The non-cash gain was due to IFRS guidelines which state that if a warrant is not offered to all existing shareholders (ex. part of the acquisition of a company) then the warrant needs to be listed as a liability on the balance sheet and marked-to-market quarterly. The first quarter decline in the stock price of PAAS meant that the balance sheet warrants had a lower valuation resulting in a mark-to-market gain.
Cash costs net of by-products came in at $7.83 per ounce, higher than expected, due to lower production at older mines and social disruptions at others.
Manantial Espejo, in Argentina, produced 859,000 ounces of silver, down 12% from a year ago, and 18,640 ounces of gold due to production issues in the first quarter. Cash costs totaled $8.56 per ounce. Completion of a mine expansion later this year should offset the current production shortfall.
In Peru, Morococha and Huaron produced 515,000 and 654,000 ounces of silver, respectively, during the first quarter of 2011. Cash cost for the quarter totaled $6.86 for Morococha and $11.60 for Huaron. Underground development rates are being stepped up in an attempt to make up lost production from these two mature mines.
Quiruvilca produced 279,000 ounces of silver at a cash cost of $4.65 per ounce. Production remains on target for 2011 as reclamation projects continue in preparation for mine closure.
San Vincente produced 640,000 ounces of silver at a cash cost of $13.49 per ounce. Production disruptions negatively affected mine operations during the quarter but the ability to increase production in high grade areas made up for the entire production shortfall during the month of April.
Noise surrounding the possible nationalization of San Vincente in Bolivia appears to be just that, noise. In a recent speech President Morales did not mention San Vincente as a candidate for possible nationalization and the local community is showing strong support for the mine.
Mexican operations showed strength during the quarter with Alamo Dorado and La Colorada producing 1.3 million and 1.1 million ounces of silver, respectively. Alamo Dorado recorded cash costs of $4.93 and La Colorada recorded cash costs of $4.91 in the first quarter.
A new drill program is being initiated at Alamo Dorado to better understand the ore body which is performing much better than expected.
Work on the Navidad Development Project continues in 2011 with a feasibility study expected later this year. The preliminary feasibility study indicated a 17 year mine life with 19.8 million ounces of silver production during years 1-5 at an estimated cash cost of $6.03 per ounce, net of by-products.
The last 43-101 on Navidad estimated measured, indicated and inferred resource of 751 million ounces of silver and 3.494 billion pounds of lead.
During the conference call management was asked about the possibility of a higher dividend in the near future but with the upcoming feasibility study for Navidad the company is taking the long-term view of conserving cash ahead of the upcoming Navidad mine construction.
PAAS is undergoing a difficult year as problems at Manantial Espejo, combined with lower grades from the Peruvian mines, and nationalization rumors surrounding San Vincente more than offset higher than expected production from Alamo Dorado and La Colorada.
PAAS stock has been under pressure since the beginning of the year and has fallen down to the $32 support level. Investors looking to move into a position would be wise to consider buying a little bit and average into a position. The technical indicators do look bad but PAAS is oversold and on the verge of turning higher.
PAAS is a solid candidate for a short-term trading opportunity ahead of the Navidad feasibility study and second quarter earnings but long-term investors would be advised to wait until production issues are rectified and the release of the Navidad feasibility study.
Disclosure: I have no positions in any stocks mentioned, and no plans to initiate any positions within the next 72 hours.
Additional disclosure: Sources: 1Q press release, AGM presentation, conference call transcript on web site.