During this recent market contraction it has been hard to find stocks that buck the trend and keep on growing. Barchart helped me find AutoZone (NYSE:AZO), a stock that still had 12 new highs and increased in price 4.78% while the general market - as measured by the Value Line Index of 1,700 stocks - is down 2.17% for the same period. As new car sales still are in a slump and the average age of the existing car get older, repairs with AutoZone parts should increase. The momentum has been impressive.
Click to enlarge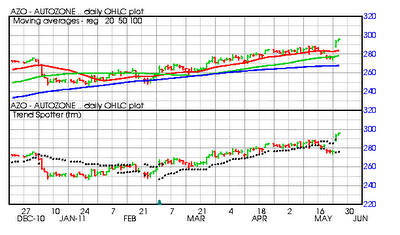 AutoZone is the nation's leading specialty retailer of automotive parts and accessories, primarily focusing on do-it-yourself customers. The company's auto parts stores carry an extensive product line for cars, vans and light trucks, including new and re-manufactured automotive hard parts, maintenance items, and accessories. Many of the company's domestic auto parts stores also have a commercial sales program, which provides commercial credit and prompt delivery of parts and other products to local repair garages, dealers and service stations.
Factors to Consider
Technical Factors:
100% Barchart technical buy signal
Trend Spotter buy signal
Above its 20, 50 and 100 day moving averages
12 new highs and up 4.78% in the last month
Relative Strength Index 68.65% and rising
Trades around 296.17 with a 50 day moving average of 278.39
Fundamental Factors:
Wall Street brokerage analysts look for increases in both sales and earnings.
Analysts released four strong buy, two buy and 15 hold recommendations.
Sales are estimated to increase by 7.70% this year and another 4.80% next year.
Earnings forecasts are to increase by 25.00% this year, another 13.50% next year and continue by 13.60% annually for the next five years.
General Investor Sentiment:
As measured on Motley Fool 648 readers have expressed an opinion.
CAPS members vote 343 to 151 that the stock will beat the market.
The more experienced All Stars agree with a 116 to 38 vote.
Summary: Existing cars are getting older and many people can't afford a new one. Car repairs increase with the age of the cars. Analysts look for about an 8% annual total return from AutoZone over the next five years.
Disclosure: I have no positions in any stocks mentioned, and no plans to initiate any positions within the next 72 hours.