After Intel's (NASDAQ:INTC) phenomenal investor day presentation, the one thing that perturbed investors more than anything else was the relatively underwhelming sales guidance for FY 2015. Admittedly, 5% growth isn't bad, but when the datacenter group is expected to grow sales at 15% CAGR and PC refresh will drive decent growth rates, investors have every right to question Intel CFO Stacy Smith's comments on sales growth.
If anything, Smith was probably being conservative or extrapolating a trend line from prior year sales. Low-balling sales estimates has become the norm. Tech CFOs from companies such as Microsoft (NASDAQ:MSFT), Apple (NASDAQ:AAPL) and Facebook (NASDAQ:FB) are notorious for doing this.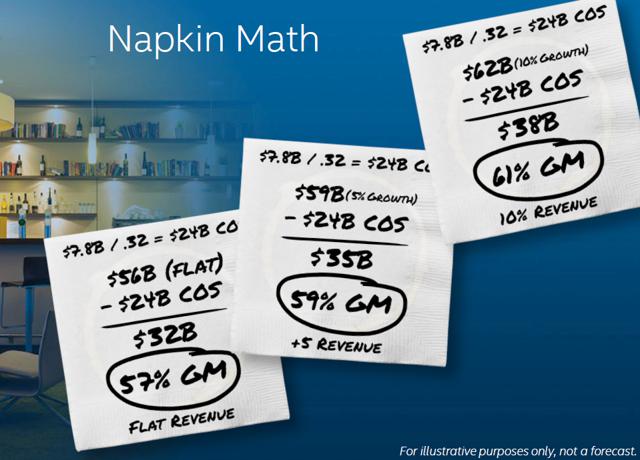 Source: Intel
The gross margin figure wasn't all that impressive either. So this aspect of the presentation wasn't as good. Cost of sales is somewhat elevated as yield deficiency at the 14nm node is driving up costs. However, this impact is temporary and won't carry over into Intel's 2nd generation products at the 14nm node. Yields are expected to get better by the second half of 2015, which will drive gross margins back into the 62-65% range.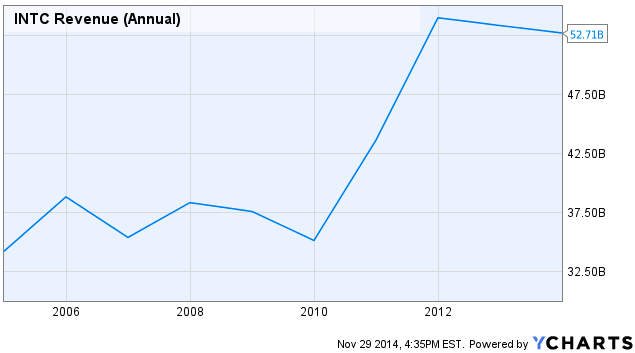 Source: YCharts
Over the prior ten-year period, sales tend to flat-line then go through rapid periods of growth. Look at the 2010 period - sure, the economy was exiting out of a recession, but chances are computers were going through a major 4- or 5-year refresh. Let's zoom the chart back to 2000.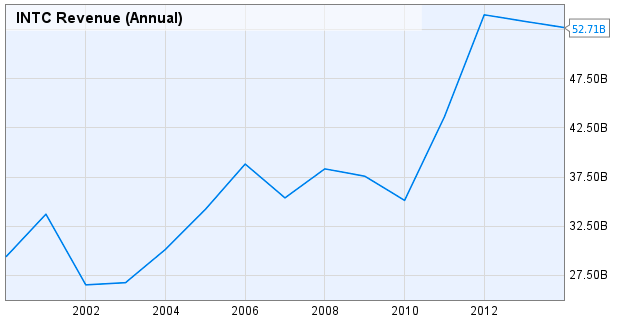 Source: YCharts
Even when we zoom all the way back to 2000, we find that Intel goes through growth spurts that just taper out after awhile. Intel's PC business tends to expand rapidly whenever there are years with new customers and existing installed base refreshes. When a large base of potential consumers avoid upgrading PC sales tend to stagnate.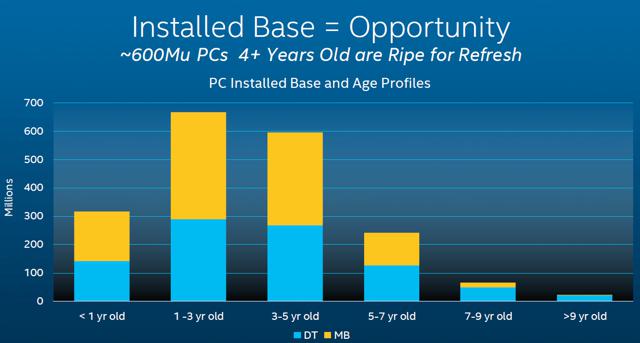 Source: Intel
At present, there are over 600 million PCs due for refresh, as the PC refresh cycle tends to be in the 4-5 year range. Companies are recommended to replace their PCs every three years and may stretch a PCs life to four years. However, after four years a PC tends to slow down, due to hard drive degradation and various other factors. Microsoft has a whitepaper that explains computer failure more succinctly. But basically, once a computer exhibits signs of hardware failure it becomes recurrent and happens with even more frequency. Eventually, a computer completely breaks down and no longer works. A typical PC user will switch out their PC before it completely breaks, as the quality of the experience will degrade significantly.
The desktop PC market is shrinking, but the laptop PC market is expanding, especially the Ultrabook segment. Intel has a near monopoly in both the consumer and server CPU market. I believe this will continue going into 2015 and even 2016.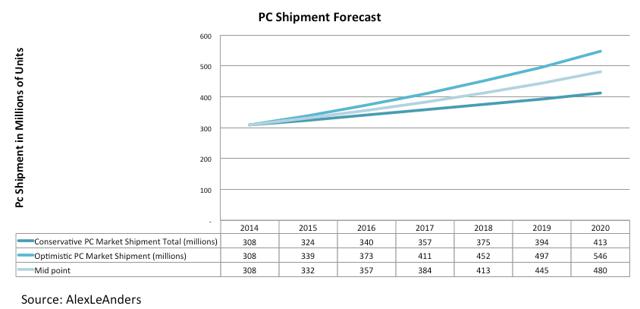 In a previous Seeking Alpha article, I project PC shipment growth in a 5% to 10% range due to a rapidly expanding emerging middle class that will require more powerful computers to be competitive with service-oriented firms in more developed markets. Admittedly, a tablet is a decent piece of hardware for content consumption, but for content creation, a laptop or desktop PC serves this function significantly better due to better multitasking capabilities and better components. Tablet CPUs are designed with a 5W TDP, whereas laptop CPUs TDP tends to be in the 20W-35W range. Tablets prioritize power efficiency, whereas laptops carry larger batter packs and are customizable with embedded graphics solutions that have performance near that of an add-in board. With those factors in mind, high performance computing is a rapidly growing market, as the number of employees graduating with advanced degrees will require the added computing power to handle more advanced workloads.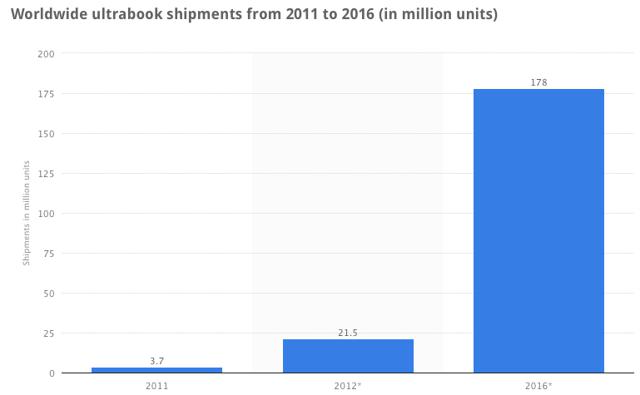 Source: Statista
Ultrabook shipments may reach 178 million. And, with pricing of these premium Notebooks in the range of $700 to $1,200, Intel's average pricing might improve, as the sales mix starts to balance out between tablets and Ultrabooks. This runs counter to industry forecasts, but I'd be dubious of a company with a near monopoly paired with a performance edge to lower pricing on its product (based on microeconomic theory). However, how these dynamics plays out could differ from reality. For example, through fiscal year 2014, Intel reported that ASPs from in the PC Client Group have declined by 3% to 5% (year-over-year). So, assuming shipment growth comes in at around 10%, and ASP starts to stabilize due to a mix-shift to higher value computing, the company may report a much better fiscal year.
However, Intel does plan on consolidating the results of mobile solutions with its PC Client Group. So establishing a clear trend in traditional PCs will be somewhat difficult going forward, as the bill of materials on Intel's Bay Trail is $15, which is more of a mass-volume product.

I expect PC Client Group to grow shipments by 10% and ASP to decline by around 5%. In this conservative scenario, PCCG revenue will grow by around 4.5% and the datacenter group will grow at 15% based on outlook. I estimate that the remaining segments will grow at a consolidated 20% rate. Internet of things (embedded solutions) has a lot of growth potential, as the unaddressed TAM is relatively large. Mobile SoC ramp-up (paired with the end of subsides) will probably result in around $750 million to $2.5 billion in revenue assuming 50 million to 100 million systems are sold at a $15 to $25 ASP. Other segments like software and non-volatile memory will also grow at respectable rates.
Therefore, revenue may come in at around $60.96 billion and, assuming PC refresh continues for the next two or three years, growth will likely accelerate. Assuming cost of revenue is $24 billion, the company's gross margin figure will be 60.6%. This figure will most likely improve in FY 2016 as yields become better and higher volume offsets fixed capital costs.
Intel didn't offer much guidance on operating expenditures. So for those reasons, I don't have as much visibility on net income. However, if operating expenses and taxes are similar to FY 2014, I expect net income to grow at a fairly respectable rate.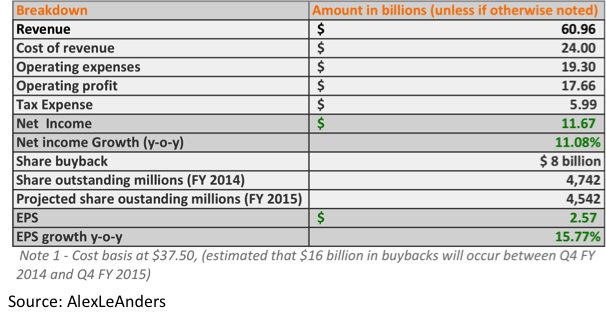 Assuming EPS is $2.57 in FY 2015, I expect the stock to exhibit a fairly reasonable rate of appreciation. However, operating costs have to be managed (basically left constant) for net income to grow. The management team may look to optimize profitability, as there's no pressing need to increase R&D or SG&A spending by much. Furthermore, something has to offset the drop in gross margin, so I anticipate a reduction in operating costs or operating costs left at a constant level year-over-year. However, in FY 2016, gross margins will improve due to volume ramp and better yields, which gives management the flexibility to increase R&D and SG&A. Assuming Intel manages costs levers in this specific way, Intel can keep its net profit margin in the low 20% range. (Intel's five-year average profit margin is 21.5%).
I'm raising my price target to $44.20 on 17.2 times earnings. The stock will appreciate by 18.6% (or more) from current trading levels. If I include the 2.42% dividend yield, the actual return may be closer to 20.5%.
I continue to reiterate my buy rating on Intel and have high conviction the stock will outperform the broader market in 2015.
Disclosure: The author has no positions in any stocks mentioned, and no plans to initiate any positions within the next 72 hours.
The author wrote this article themselves, and it expresses their own opinions. The author is not receiving compensation for it (other than from Seeking Alpha). The author has no business relationship with any company whose stock is mentioned in this article.