Author's Note: This article discusses a microcap stock. Please be advised of the risks associated with microcap stocks. The text of the interview is an edited transcription of a conversation between Lazarus Investment Partners LLLP and Ur-Energy Inc. Ur-Energy had no input into the selection of the title of this article nor into the commentary and analysis that precede the interview. Lazarus is a shareholder of Ur-Energy and received no compensation for this article. Please see additional disclosures below.
Introduction: Higher uranium prices are here. The per pound price of uranium has rebounded from the lows of $28 this summer to reach a recent 52-week high of $44. That's a 57% bounce. The fundamentals for uranium are improving, with Japan announcing the first of its reactor restarts, 70+ reactors under construction around the world (a 16% increase to the number currently operable), and utilities back in the market for uranium. Despite this 57% increase in uranium price since mid-summer, our favorite company in the sector, Ur-Energy (NYSEMKT:URG), is down 18% over the same period. Yes, it's a head-scratcher, but we think it's only a matter of time until the stock price follows the commodity price higher.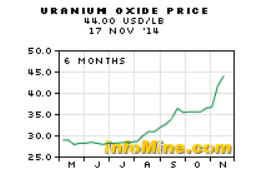 Uranium has been on a run since the summer
Ur-Energy is no stranger to Seeking Alpha which hosts a number of articles on the company, including our own. For background on Ur-Energy and to understand why we are a top shareholder, we recommend reading Part 1 of this series, as well as Part 2. Rather than retell the Ur-Energy story once more, we'd like to focus on an update on the company and share our interview with Jeff Klenda, Ur-Energy's Chairman.
"Ur-Energy is positioned to benefit immediately from an improvement in uranium prices and we would expect it to see the most significant share price appreciation in the near term."

-Joe Reagor, Roth Capital Partners 11/7/14
Production is Going Extremely Well: Our May article (Part 2) highlighted Ur-Energy's graduation from a development company to a producer. Since starting production last year, the company has sold 607,760 pounds of uranium for $32 million, averaging close to $53/lb with a cash cost of $20/lb. The company already fulfilled all of its contractual sales for 2014. For 2014, through the third quarter, management reported 417,760 pounds sold and gave guidance for 150,000 pounds in Q4. Based on existing contracts, next year the company is expecting to sell at least 630,000 pounds at an average price of $50.10 (revenues of $32 million).
That's a lot of numbers to digest, so we'll highlight a few points. First is that production is going extremely well with no serious operational issues. It was just some months ago that Ur-Energy investors were asking themselves if the company would ever really enter production (after a decade of working towards it), and if things would go smoothly once the plant turns on. We are thrilled to see that the answer to both of these questions is yes.
"We continue to view Ur-Energy as the premier publicly-traded uranium producer."

-David Sadowski, Raymond James 11/4/14
Second is that the costs per pound are coming in extremely low - among the lowest of any producer in the world. The below chart from Cantor Fitzgerald shows Ur-Energy producing at about half of the global marginal cost of production. Its costs are the lowest of any public company Cantor looked at - lower (by a hair) even than industry giant Cameco (NYSE:CCJ).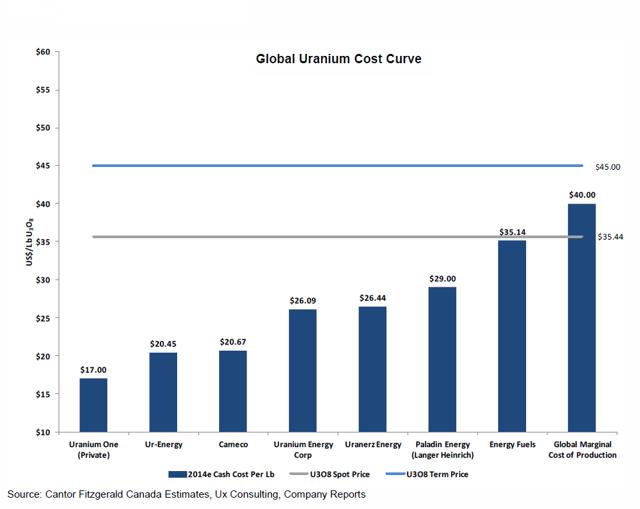 Ur-Energy is one of the lowest cost producers in the world
Third is that Ur-Energy did a terrific job of locking in long-term contracts for a portion of their production. In the third quarter they sold uranium at a 92% premium to the average spot price. The company also had the discipline and financial strength to stay away from selling additional uranium into the spot market at the low prices seen earlier this year.
Predictable Revenue + Upside Exposure: We wrote of sales of "at least 630,000 pounds" next year because, depending on uranium prices, the company could sell even more than what they already have contracted. Wayne Heili, the company's CEO, explained in a press release, "The recent increase in spot prices gives us encouragement that we can enhance our revenues significantly beyond those associated with our long-term contracted sales next year."
Because of low uranium prices for much of this year, Ur-Energy deliberately produced less uranium than it could. Production in 2015 should be 1 million pounds, with further sales possible either under new contracts or to the spot market. By targeting contracted sales of 50-60% of production and keeping the rest available for market transactions, Ur-Energy offers a great balance between predictable revenues and upside exposure to higher uranium prices.
"The well-managed, 100%-owned Lost Creek in-situ leach mine in Wyoming features lowest-quartile cash costs, is running smoothly and we believe by early-2015 should be able to scale up production rates significantly if spot prices warrant."

-David Sadowski, Raymond James 11/4/14
Shirley Basin Adds 9 Million Pounds: Another important announcement that we saw this year related to the completion of a resource analysis for the recently acquired Shirley Basin project. This analysis showed 8.8 million pounds of measured and indicated uranium, more than double the measured and indicated pounds at the company's producing property, Lost Creek. At $44/lb, that's $387 million in gross uranium value which Ur-Energy acquired for under $7 million.
A company statement commented, "Our efforts have demonstrated the presence of a well-defined, high-grade uranium roll front deposit at very favorable production depths on our Shirley Basin Project. Based on the strength of this maiden resource, we feel that the project has the potential to be Ur-Energy's next production center in Wyoming."
Uranium Bulls: We've made the bull case for uranium in our other articles so we won't repeat the details here beyond a few highlights. Suffice it to say that it's about supply going down and demand going up. The US consumes 57 million pounds of uranium annually yet produces only 5 million pounds. Just last month the US Department of Energy announced $12 billion in loan guarantees for advanced nuclear energy projects.
"Our conversations with industry participants in the uranium market have gained a far more positive tone, which further strengthens our confidence in firmer prices in the interim."

-Rob Chang, Cantor Fitzgerald 10/16/14
The news this month that Japan will be restarting some of its reactors shortly is the catalyst many observers are looking at to kick-start the market. Currently, all 48 of the country's reactors are halted. Japan was using 21 million pounds a year of uranium pre-Fukushima to supply as much as 30% of the country's electricity. Analysts are calling for most, but not all, of that demand to return to the market over the next few years.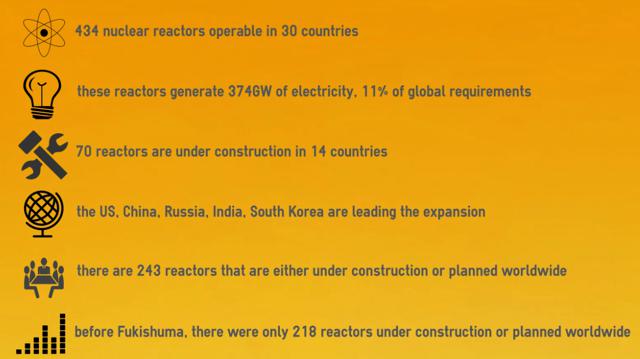 Some of the reasons we are long term bullish on uranium pricing. Based on data from The World Nuclear Association as presented by Denison Mines.
It's Crazy: If the low valuation Ur-Energy received in the past could be explained by a bear market in uranium, how does one explain it now that uranium is up so sharply off its lows? In the first quarter of this year, Ur-Energy traded at more than double its current stock price even though uranium prices then were about 20% lower than they are today.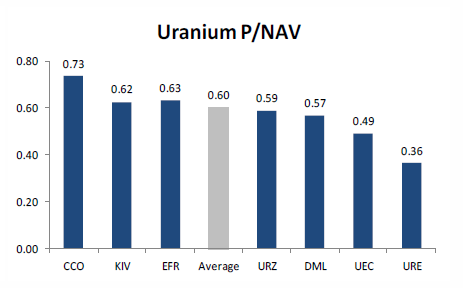 This chart by Cantor Fitzgerald shows Ur-Energy (URE above) as the cheapest stock on a price/NAV basis at a little more than half the average valuation. (Data based on Cantor Fitzgerald Canada estimates and company reports).
In the month of May of 2009, Ur-Energy had an average closing price of just over $1 per share, about 22% higher than the share price as I type this paragraph. This is true even though:
It was before the company was fully permitted (with no guarantees of ever getting fully permitted)
It was before the company was properly financed (with no guarantees of ever getting properly financed)
It was over four years before the company would enter production
It was when a lot less was known about the company's Lost Creek and Lost Soldier projects
It was before anyone knew the company would ultimately more than double its uranium resource through the acquisition of Pathfinder
It was in an environment where uranium prices traded in a band between $40 and $50 per pound, just where it is today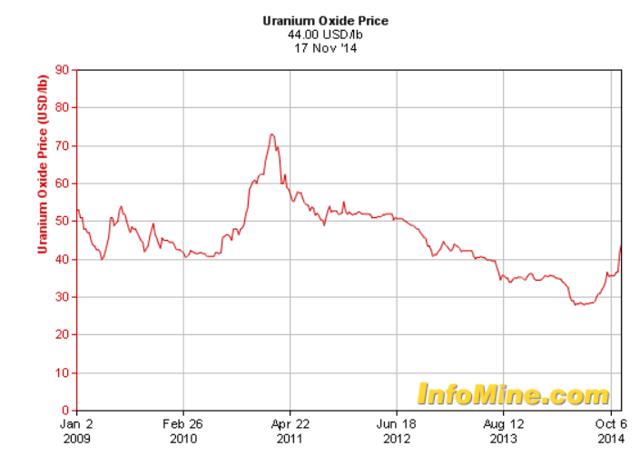 5-year uranium price chart
Yes, there has been around a 35% increase in the company's shares outstanding since then, but it's still bewildering to us that with all this progress the stock price is lower today than it was in May of 2009 and less than half of its March 2014 high, back when uranium prices were lower than they are today.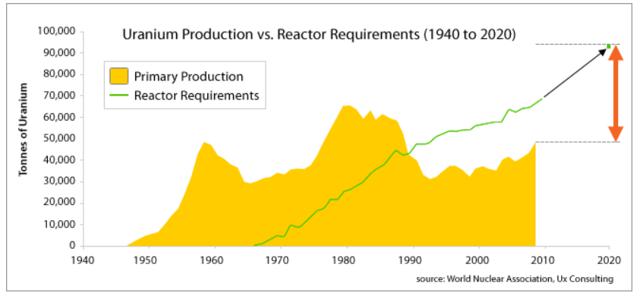 Uranium demand is predicted to far outpace supply. Source: Macusani Yellowcake, Inc.
What's More: Despite incredible company-specific progress and results, Ur-Energy has been one of the worst performing stocks in the sector over the past six months. The below chart shows that the company is down the most over this period compared to Energy Fuels (NYSEMKT:UUUU), Cameco, Uranium Resources (NASDAQ:URRE), and the Global X Uranium ETF (NYSEARCA:URA). We mentioned at the beginning of the article that Ur-Energy is down 18% over the same period in which uranium itself is up 57%.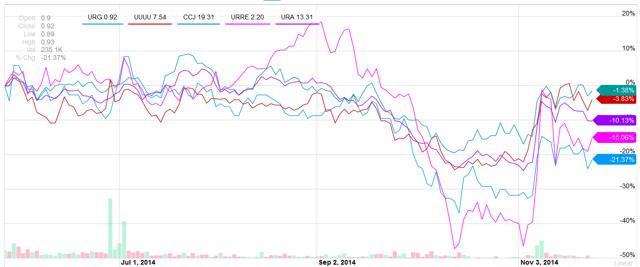 6-month chart of industry players. Ur-Energy is blue. Chart created in Yahoo Finance.
We've heard several theories as to why Ur-Energy's share price has struggled. Among these: getting kicked out of the Russell Index, ETF rebalancing, portfolio manager changes, and negative momentum. None of these theories feel truly satisfying. Even though we can't fully explain why Ur-Energy's stock has not been reflecting the company's progress, we think that's the opportunity. Momentum is not currently with this stock but fundamentals are. We are pleased to own a company where the story has gotten better and the valuation has gotten cheaper.
We see all the upside still here. In 2011, uranium showed signs of life and Ur-Energy's shares traded at over 3.5x today's price. Both Cantor Fitzgerald and H.C. Wainwright have price targets for Ur-Energy in the $2.30 range, approximately 250% of today's price.
Because Ur-Energy's mining costs are mostly fixed, a spike in uranium prices would be of huge significance - potentially creating billions of dollars of value for a company whose market cap today is little more than $100 million. For further thoughts on this topic, please see the section "Upside" in our Part 1 article in this series and the section "The Upside is in the Billions" in our Part 2 article in this series. We think Ur-Energy has the possibility of appreciating to many times its current price. For that to happen, one of the most important factors is higher uranium pricing. The recent 57% upturn in uranium coupled with an improving outlook for the commodity pushes this story in that direction.
Insider Buying: Ur-Energy insiders have noticed that they are not getting stock price credit for their accomplishments or for the upturn in uranium. The last two insider transactions are purchases by the company's CEO and CFO. We asked Wayne about his purchase of 24,500 shares and if he would comment on the record. He replied:
"I have added to my URG share position on multiple occasions this year, including this most recent open market purchase. My purchases reflect my strong belief in the company and its future."

-Wayne Heili, Chief Executive Officer, Ur-Energy
Chairman Interview: Once again we express our gratitude to Jeffrey Klenda, Ur-Energy's Chairman, for participating in an interview with us. We are pleased to share this conversation with our readers.
Would you walk me through Ur-Energy's key accomplishments since our last interview?
Jeff: Absolutely. This has been a very eventful year for us. We are still in our first year of production and that's a big deal. Before production, you want to think that everything is going to go smoothly but until you turn on the pumps, you simply don't know. So we've been very, very pleased since we spoke last.
We have been able to maintain an excellent level of production at Lost Creek. We have successfully delivered uranium for sale into our high-priced contracts. And, most importantly, we've been able to consistently put yellowcake in the can and out the back door at about $20 a pound [in cost]. We're very proud of that.
The other thing that we accomplished in the last six months is that we completed our technical report and that is under National Instrument 43-101 in Canada. We demonstrated that we have measured and indicated about 8.8 million pounds, very high-grade, at Shirley Basin. This was high on our list of objectives for 2014.
Would you comment on management's strategy for how much uranium to produce and the strategy for how much to sell under long-term contracts versus the spot market?
Jeff: This has been an ongoing strategy and one of the things that I think, hands down, we've done better than any of our peers in the industry; and that is put in long-term sales agreements with United States utilities at attractive prices.
We have targeted contracts for roughly 50% to 60% of our nameplate production which is, at Lost Creek, 1 million pounds per year. That's 500,000 pounds to 600,000 pounds and our objective has been to realize $50 a pound or greater. We came out with guidance where we discussed that we had 518,000 pounds that we were going to be delivering into high-priced contracts this year at $51.10 and that would generate gross revenues for the company of about $26 million.
Further, we said that for 2015 we would deliver about 630,000 pounds into the contracts that we already signed and that would be at $50.10, generating gross revenues of about $31 million. So we expect to have excellent cash flow for next year with the usual caveats applied that nothing is 100% certain.
We also announced that any other sales into the marketplace beyond those which were represented by the long-term contracts would be at the discretion of management or the board based on what pricing is in the marketplace.
With uranium prices in the middle of a sharp recovery, how has that caused you to reassess your sales and production strategy?
Jeff: Right now we are targeting delivering that 630,000 pounds as we move into 2015. We have made the decision that we will attempt to move all the way up to nameplate production next year. And, this was discussed in a press release, we would target 1 million pounds a year, and if the pricing was favorable, we would deliver discretionary pounds into the marketplace at higher prices. Otherwise, we would build inventories for future deliveries. So, the only real change in strategy would be whether or not we're building inventories or delivering pounds into the market at higher prices.
Are there other issues that can get in the way, perhaps disposal-well limits of getting to 1 million pounds next year?
Jeff: None that I'm concerned about right now. We have had wastewater limitations and, frankly, it has constrained our production. That's not unusual in a new operation. What we have done since we last spoke is that we have completed the drilling on a third deep-disposal well. We are expecting it to give us a great deal of increase in our wastewater capability. And so, we think that we're going to be able to go ahead and ramp up to 1 million pounds per year or about 250,000 pounds per quarter. That's our objective.
Uranium has been recovering for the past few months, but it's really only more recently that we've begun to see just a mild recovery in Ur-Energy's stock price. Why do you think that is?
Jeff: It's hard to say. But, I can tell you anecdotally from visiting with fund managers around the country that there is a core group of investors that are not just natural resource investors, but uranium investors specifically. One of the things that we've seen, as you pointed out, is that over the last three months we've moved from $28 on the low during the end of the summertime to where we are now at $41, $42 a pound. But most of that move has been just in the last few weeks.
I think some portfolio managers have been head-faked in this industry before. I don't think they want to be faked out once again. And so, I think that they've been looking to see that the recent change in spot price is going to be sustainable. Personally, I think we're going to be staying in this $40 range, if not higher, for a while and I believe that the equities will have to respond because of that. I think the portfolio managers are simply taking a wait-and-see attitude to make sure that the movement in price is a sustainable move.
What do you make of the recent news out of Japan regarding the restart of the Sendai nuclear power plants?
Jeff: It would appear as though the last obstacles are now behind Sendai 1 and 2 and that those will be restarted sometime in the first quarter here. Restarting two plants is not going to have a huge impact on supply-demand fundamentals, but it will have a huge psychological impact because it's going to send a clear signal to the marketplace that these reactors are going to be restarted and we're probably going to see more of them come online. Basically, I think it adds to the bull case for uranium in 2015 and this impact is already being seen in the marketplace.
What else can you say about your outlook for uranium pricing?
Jeff: I was very recently at the Nuclear Energy Institute Conference in Atlanta, and one of the things that was a clear takeaway was that the utilities are back in the market. In fact, we sat down with 11 or 12 US utilities while at the conference and virtually every one of them indicated that they would be in the market sometime in 2015 and most of them indicated that they would be in the market in the months ahead. So, the utilities are back in the market buying in a big way. This is very, very important.
And I think now, with the Japanese reactors being restarted, there's some good momentum with spot prices. I think we've got the capability of moving into the mid-$40s and sustaining it. If we get these reactors coming on in a timely manner now in Japan, I think that we can sustain moves even higher. So, it's been a long time coming, but I do think that higher prices are at hand.
Would you update us on the development plans for the Pathfinder assets?
Jeff: Pathfinder was a great acquisition for us. We closed this in the back half of December last year, 2013. And we got a great suite of assets there. As I mentioned earlier, we updated the 43-101 and were able to confirm with updated technical reports and third-party review on that it was every bit the resource that we had hoped that it would be.
The beauty of Shirley Basin, of Pathfinder, is that we don't have to spend that much to advance that project. It's on patented mining claims so we own the ground that it's on. In addition to that, it's already permitted and licensed for conventional. We've done confirmation drilling now on the project. That enabled us to move forward and update the technical reports, the 43-101. In addition to that, we have begun our baseline data gathering so that we will now be able to, in about the first half of next year, submit our license applications for in-situ recovery licensing there at Shirley Basin. I think we can move this along very quickly.
We only have a little over $1 million budgeted for Shirley Basin for 2015 and maybe $1 million to $1.5 million for 2016. So, we can bring this all the way to shovel-ready for probably only about $3.5 million to $4.5 million total out of pocket. So, it's a true brownfields project and one that we feel that we can bring into production very quickly, very efficiently.
How about the company's financing needs? Won't we need new financing to develop those assets?
Jeff: Well, we may not. As I described earlier, we expect gross revenues in 2014 of about $26 million and about $31 million in 2015. That's assuming no discretionary spot sales, but we will probably engage in some. So, we could have gross revenues in excess of that.
We did put up a shelf registration back in September and we felt that it was the prudent thing to do. We had never registered shares in the United States and now, as a full domestic filer, we felt that it was just good housekeeping. It was something that gives us another arrow in the quiver, financially speaking, and the ability to raise money if we need to in the United States. But, again, we do not currently anticipate it.
We're also in a position now where, because of our cash flows which are unlike virtually any of our peers, we think that we can execute on our business plan without additional financing this year. So, you never know. There can be unforeseen expenses that you have to handle as they arise. But, in the event that there are none, we feel that we can meet all of our obligations for 2015 without the need for additional financing.
If I look even further ahead, will there be more investment required to turn Shirley Basin on?
Jeff: Well, when we get to the point where we're building out Shirley Basin, there you're going to get into the larger-scale capital expenditures. There you can anticipate about $20 million for the satellite plants, maybe another $10 million for well-field development. We would have to make sure that we cover those capital expenditures as we approach the build-out.
One of the options that we may have is to seek another industrial revenue bond from the State of Wyoming. That's been very, very favorable money for us and so we're very pleased that we have the state's support. Those funds may be available to us this time around again.
In addition to that, we have our commercial banking relationship with Rand Merchant Bank, RMB, out of South Africa. And they have been hand-in-hand with this over the last two years, providing us financing as needed. And that's been a very good relationship for us because it has enabled us to advance our projects without diluting the shareholders to any great extent. We're very happy with that.
So, we've got plenty of time for the market to rise and to see our share price go higher before we would even consider doing any kind of an equity raise, if there's even a need for that way ahead. But we also think that we could have good options like RMB and the State of Wyoming. [Author's note: H.C. Wainwright estimates production at Shirley Basin starting in 2018].
For the rest of this year and through 2015 what milestones should investors look for from Ur-Energy?
Jeff: Our primary objectives as we move into 2015 are actually quite simple. We've already touched upon them in this interview. First and foremost, we want to get to what we call steady-state production. Steady state for us is accomplishing that rate of a quarter-million pounds per quarter, reaching steady state of 1 million pounds per year at Lost Creek.
We have tried to be very transparent in terms of our cost of production so far for 2014 and, as we have averaged out all of the prices that we've put into the market, we've actually been able to produce at a little over $20 a pound - that is cash cost plus sustaining development cost. So, steady state enables us to match up a full quarter of production with a full quarter of expenses and that should keep our costs right around that $20 a pound range.
The other objective for us is to fast track Shirley Basin, continue to move it forward as quickly as we can, and ultimately get the application filed with the NRC [Nuclear Regulatory Commission] and WDEQ [Wyoming Department of Environmental Quality]. Right now, the target for that is roughly June.
Finally, our third objective moving into 2015 is resource growth. It's important for us to not only demonstrate that we are going to continue to be one of the lowest-cost producers not just in North America, but in the world. But, in addition to that, we want to demonstrate to the marketplace that we are replacing those pounds that are being produced and that we are growing our resources.
Is there anything else you would like to communicate to shareholders and prospective shareholders?
Jeff: I had an interesting discussion with a group of shareholders in New Orleans and one of the things that we got to talking about was how we started this company almost 11 year ago. I'm very proud of the company that we've been able to build during this period of time.
When you look at our story in particular, take a look at the final permitting and licensing that took place, the financing and the build-out of the processing plant, and the pre-ops inspections, the commissioning, the low-cost production, the delivery into the contracts, and the contracts themselves. At the time Fukushima occurred over three years ago, we only had one contract in place and now we've got a strong portfolio of contracts at over $50 a pound that we're consistently delivering into. One of the key things that I would like the readers to understand about us is that we've got a great team that has been able to execute on our business plan, post-Fukushima.
Post-Fukushima has been a very, very difficult and challenging time in the uranium space with things only looking up more recently. But our people have been able to perform admirably and most of the things that have been accomplished by this company have been accomplished in the post-Fukushima environment, in a very difficult time, and there aren't many companies that can say that. So, we're very pleased with where we find ourselves now a bit over a decade since our formation, and I think that our best days are in front of us. We are now producing uranium, we have strong contracts secured, and uranium prices are moving higher, so I think we are in a great place.
Thank you very much for the conversation.
Jeff: You bet.
Author's Note: Between the time this article was written until it completed our review and compliance process, uranium prices in the spot market dropped from $44/lb to $40/lb. The uranium market is both volatile and opaque (uranium does not trade on a formal exchange), so such moves over just a few days are common. We want to mention this as the lower price does detract from our thesis somewhat, but not materially so. The upturn in uranium prices is still in place, UR-energy is still very undervalued in our view, and we still believe in the long term case for uranium.
Editor's Note: This article covers one or more stocks trading at less than $1 per share and/or with less than a $100 million market cap. Please be aware of the risks associated with these stocks.
Additional disclosures: I will not sell shares of Ur-Energy for the 2 trading days following publication of this article. Please see our full legal disclaimer which applies to this article.
This article may contain "forward-looking statements," within the meaning of applicable securities laws, regarding events or conditions that may occur in the future (including, without limitation: timing and completion of the ramp-up of operations; production and sales targets; costs per pound; the ability and decision to sell uranium into the market or under contract; projections on needs for additional operating funds) and are based on current expectations that inherently involve a number of significant business, economic and competitive risks, uncertainties and contingencies. Factors that could cause actual results to differ materially from any forward-looking statements include, but are not limited to, capital and other costs varying significantly from estimates; failure to establish estimated resources and reserves; the grade and recovery of ore which is mined varying from estimates; production rates, methods and amounts varying from estimates; delays in obtaining or failures to obtain required governmental, environmental or other project approvals; inflation; changes in exchange rates; fluctuations in commodity prices; delays in development; and other factors, some of which are described in the public filings made by Ur-Energy Inc. at www.sedar.com and www.sec.gov. Readers should not place undue reliance on forward-looking statements. Ur-Energy Inc. disclaims any intent or obligation to update any forward looking statements or revise them to reflect any change in circumstances or in management's beliefs, expectations, or opinions that occur in the future.
Disclosure: The author is long URG.
The author wrote this article themselves, and it expresses their own opinions. The author is not receiving compensation for it. The author has no business relationship with any company whose stock is mentioned in this article.
Editor's Note: This article covers one or more stocks trading at less than $1 per share and/or with less than a $100 million market cap. Please be aware of the risks associated with these stocks.