JinkoSolar (NYSE:JKS), a China-based solar energy company, hasn't been able to make the most of the solar opportunity. In fact, the stock has lost 16% of its value so far this year. In addition, JinkoSolar posted mixed results for the third quarter, as it failed to satisfy the Street's expectation on the top line, but thrashed the bottom line estimate by a whopping 91.5%.
Hence, things aren't too bad at JinkoSolar. The company is gradually gaining traction, and its performance on the stock market has been better than rivals Yingli Green Energy (NYSE:YGE) and Trina Solar (NYSE:TSL).
Moreover, Jinko's third-quarter revenue increased 13.5% year-over-year on the back of record high module shipments of 758.1 megawatts, or MW, including 100 MW for its own downstream project. Shipments to China increased 81.4% sequentially, selling 380 MW during the quarter. Now, a closer look at the growth of the solar market in regions where Jinko operates indicates that the company's performance can continue improving going forward. Let's see why.
Solar market growth will be a tailwind
According to a GlobalData report, the APAC region's solar installation capacity is poised to breach the 420 gigawatts, or GW, mark by 2030, representing a CAGR of 18.6% from 2012-2030. Of this, China and Japan will be the key growth drivers, accounting for 77% of the projected capacity growth. Additionally, according to Bloomberg New Energy Finance's (BNEF) 2030 Market Outlook, the APAC region is projected to add more power generation capacity as compared to the rest of the world.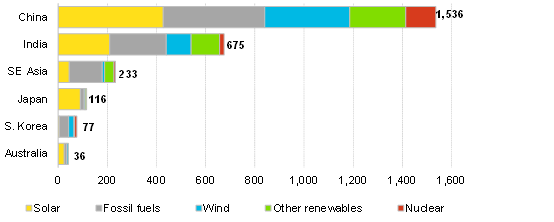 Source: Asia Pacific gross power capacity additions chart via BNEF
Specially, China has pledged to push renewable energy's share to 20% of all energy by 2030, with a commitment to achieve 100 GW of solar energy by 2020. The tailwinds in China are strong as a result of the economic recovery, and going forward, Jinko is confident of making the most of it by increasing its shipments in the domestic market.
However, Jinko will face stiff completion in its domestic market from Yingli Green Energy , which is projecting that 40% of its fourth-quarter revenue will be from China. On the back of a strong performance in China, Yingli posted a strong third quarter recently, and for the first time in more than three years, its operating income was positive at $32.5 million.
Product development and diversification into new markets
As a result, Jinko will need to focus on its product development moves in order to keep rivals at bay. Hence, it is not surprising that Jinko will be gradually increasing the proportion of distributed generation (DG) project construction in order to create a more balanced portfolio. In addition, management is also contemplating spinning-off and listing its downstream business in order to create more value for shareholders in the long term.
Moreover, besides working towards maintaining a strong position in China, Jinko is also looking to increase its market share in another key market of the APAC region - Japan. The China-based solar energy company is also diversifying its geographical footprint by expanding into emerging markets like Chile and South Africa. On the back of a few large scale projects in both countries, Jinko is now the top solar PV module company in Chile and South Africa.
Expanding capacity to cater to demand
Going forward, in order to serve the expected increase in demand in the solar market, the company plans to expand its module capacity, including the expansion of its overseas facility. With more stress being laid on DG projects, Jinko has increased capacity to produce its high efficiency PID-free Eagle + modules. Now, as the average selling prices of solar modules are improving, the company's investments in new module capacity looks like a smart move. According to management,
With global ASP stabilizing, we plan to further increase our module capacity, including expanding overseas facilities. The added capacity will enable us to meet growing demand from our clients, as well as our own projects, overseas production facilities.
As a result of the expected increase in demand from different end-markets, Jinko's fourth-quarter module shipments are expected to be in the range of 1,030 MW - 1,120 MW, including 300 MW-350 MW for downstream projects. For the full fiscal year, shipments are expected to be in the range of 2.9 GW to 3.2 GW. The company expects 600 MW of total project development in fiscal 2014 as a result of its downstream business.
Conclusion
At a trailing P/E of just 9 and a forward P/E of 6, JinkoSolar looks like a good bet to benefit from the growth of the solar market in the APAC region. The company has been expanding its module capacity in order to address the growing demand in the solar market, a move which should have a positive impact on its financials given the stable ASP of solar modules.
In addition, analysts expect JinkoSolar to deliver bottom line growth of 65% a year for the next five years. Hence, the company's weak performance in 2014 looks like a good buying opportunity as it can get better in the long run due to improving end-markets and positive industry conditions.
Disclosure: The author has no positions in any stocks mentioned, and no plans to initiate any positions within the next 72 hours.
The author wrote this article themselves, and it expresses their own opinions. The author is not receiving compensation for it (other than from Seeking Alpha). The author has no business relationship with any company whose stock is mentioned in this article.