Gafisa (NYSE:GFA) is a diversified national homebuilder serving all demographic segments of the Brazilian market. The company manages and promotes all forms of real estate ventures. In fact, Gafisa is one of the most respected homebuilders in Brazil with over 1,000 projects delivered and 12 million square meters built. It has a large presence in Rio de Janeiro and Sao Paulo, but also in 40 other cities across Brazil.
First, I'm bullish on Gafisa for the long term due to its deeply undervalued situation based on its balance sheet.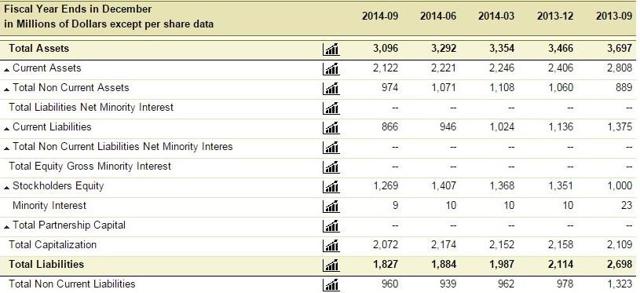 (Source)
Gafisa has $2,122 million in current assets and $866 million in current liabilities for a working capital (C.Assets-C.Liabilities) of $1,256 million. It's pretty incredible and rare to see this phenomenon. The stock is selling for only one-third of its working capital, but this is not the most important point. Instead, take a look at its net working capital. The net working capital is calculated by subtracting all liabilities from the current assets. Therefore, Gafisa has a net working capital of $295 million or $2,122 million minus $1,827 million for a market cap of only $423 million. Stocks selling below their net working capital are not just cheap. In fact, they are selling for less than their quick assets alone, giving no value at all to their fixed assets. It is completely illogical to say that Gafisa is worth more dead (bankrupt) than alive, but that is what Wall Street is saying right now.
Second, in a August press release, the company provided some information about the future spin-off. In particular, it said that the split of the two entities is planned to happen in 2015, but no exact dates or details can be named. (Source)
This major move will allow the separation of the profitable business (Gafisa) from the unprofitable division (Tenda). In my opinion, it will create value to the shareholder by generating positive earnings. Subsequently, I think the stock price will follow the earnings trend.
Moreover, the firm is coming to the end of a restructuring program. During this program, the company reduced its debt by approximately 50%. This significant drop in long-term debt reduces financial costs and also increases the company's flexibility.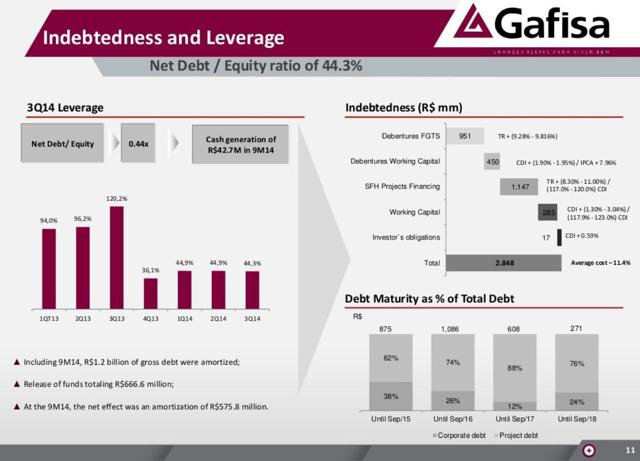 (Source)
Finally, a stock price below 2$ gives to Gafisa a price to book ratio (P/B) of 0.347x. The last time I saw such low price to book ratio for a real-estate company was in 2008 during the financial crisis. 6 years later, they are now trading at an average of 1.4 to 1.5 times their book value. Meritage Homes Corp (NYSE:MTH) is an example. Since 2008, its stock price almost quadrupled. I expect the same kind of move by Gafisa for the next four to five years.

(Source)
In conclusion, Gafisa is a dirt-cheap stock. Maybe it is not so rosy today, but remember that it is almost free. Moreover, the reorganization plan is coming to an end, the firm has now an healthier debt level and the stock is cheaper than ever. In my mind, it is clearly the time to initiate a position in Gafisa. On the other hand, it is always important to do your own due diligence before buying the stock. The stock is relatively volatile and it is pretty hard to predict the short-term move, so please be careful before investing.
Disclaimer: The opinions in this document are for informational and educational purposes only and should not be construed as a recommendation to buy or sell the stocks mentioned. The information in this document is believed to be accurate, but under no circumstances should a person act upon the information contained within. We do not recommend that anyone act upon any investment information without first consulting an investment advisor as to the suitability of such investments for his specific situation.
Disclosure: The author has no positions in any stocks mentioned, and no plans to initiate any positions within the next 72 hours.
The author wrote this article themselves, and it expresses their own opinions. The author is not receiving compensation for it (other than from Seeking Alpha). The author has no business relationship with any company whose stock is mentioned in this article.