Seadrill (NYSE:SDRL) created a big wave when it announced the suspension of its dividend on November 26. As the Company had previously pledged that it would maintain its dividend through 2015, many investors (including the author) were surprised by the decision to cut it to $0.00 (during the conference call, management refused to provide timing of reinstatement, only a vague assurance when market conditions improve). Though many had speculated the dividend would be cut, the market reacted with extreme vengeance, slashing the stock price by 23%. Industry peers Transocean (NYSE:RIG) and Noble Corp. (NYSE:NE) dropped by 6.3% and 5.1%, respectively, as the implied severity of the current contracting and financing market became more apparent to holders of those securities.
The next (American) trading day, SDRL dropped a further 8.3% as OPEC failed to reach a common production or pricing goal. Major oil companies, such as Exxon Mobil (NYSE:XOM) and Royal Dutch Shell (NYSE:RDS.A), as well as RIG and NE fell from 4% to 10%. Total two-day loss for SDRL: 29.2%.
The violent market reaction of the stock market to these and other events in the last month make it difficult to draw any short-term definitive conclusions.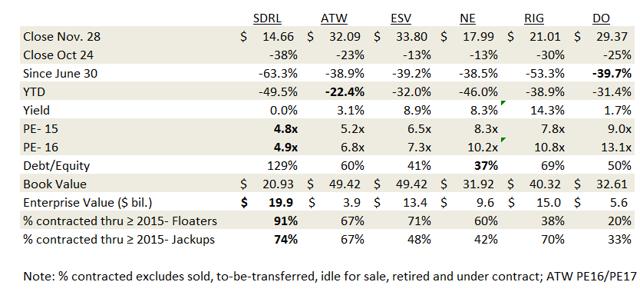 However, if there is any lesson to be learned from the market reaction, it is that the market has punished highly-levered companies much more severely than those with debt/equity ratios of less than 50%. Surprisingly (to the author), to date, the market has paid little attention of the quality of assets or the contracting acumen of management. To me, one of the reassuring aspects of the conference call was the contracting summary, confirming SDRL has contracted 91% of its floater availability and 74% of its jack-up availability in 2015.

Source: Seadrill; Floater contracting
My takeaways from SDRL's third-quarter results and conference call were apparently a little different than the market reaction. While I already had assimilated a very negative current market condition, the market had not quite come to that conclusion. And while I had not expected the dividend to be cut, the biggest takeaway for me was a rapidly tightening credit market, which is less relevant to SDRL (due to the small amount of debt rollover in 2015 - $350 million in the second half of the year and ability to drop down rigs if necessary to finance new-builds) than other market participants. My Company-specific takeaways were as follows (more "intense" than my expectations, on a scale of 1-5 high):
The Company is strong at operations and is strong at anticipating market changes (2)
The Company is well positioned, due to its contracting, for 2015 and reasonably well positioned for 2016 (2)
The Company is skilled at contacting (compare SDRL's recent new contracts to RIG's) (3)
The Company's statements are more current feelings than promises (referring to the dividend) (4)
The Company is willing to react quickly to changes in the market for the good of the long-term (again referring to the dividend) (3)
The Company is more concerned about financing availability than I had imagined (4)
My industry specific takeaways were as follows:
Financing availability is collapsing (4)
There will be blood in the water and buying opportunities (2)
Spec rigs are going to be delayed for months, if not, years, materially blunting the oversupply dynamic (4)
Drillers are vulnerable to production companies, freezing their capital plans in the face of extreme price-driven uncertainty (3)
Other drillers will be cutting their dividends and taking additional asset write-downs and impairments (2)
SDRL announced a buyback program of up to 10% of the Company's outstanding common stock. Given that one quarter of dividend could fund about 7% of the outstanding (at November 27 prices), I hope the Company takes advantage of today's prices and spends at least 50% of the savings on buying back stock.
SDRL is my worst (paper) loss since AIG! While I (and my wife!) sincerely wish I had never heard of the Company, there is nothing I can do to change past actions. I can only deal with today's situation and the facts as I understand them - and make the best risk-adjusted decisions possible, given my understanding of these facts. Referring to the chart of forward PE's posted above, I find it hard to argue against holding a stock with a forward multiple of less than 5x. Given a fair "normal" market multiple of 10-12x and a down market multiple of 8x, there seems to be minimal downside (over the longer term) and significant upside to the October 24 price of $24. Unknowns include the price of oil, the contracting desperation of other industry players, CapEx adjustments from producers and any bankruptcy/distress action by industry participants. Expect more volatility ahead.
This article only reflects the author's opinion. It is not designed, and should not be used as the basis of an investor's buy or sell decision. Investors should always conduct their own due diligence and make their own buy and sell decisions.
Disclosure: The author is long SDRL, NE.
The author wrote this article themselves, and it expresses their own opinions. The author is not receiving compensation for it (other than from Seeking Alpha). The author has no business relationship with any company whose stock is mentioned in this article.