Introduction
With this article, I am beginning a segment called "Buy on the Drop?" where I will choose a certain stock that recently experienced a large decrease in stock price and I will give a recommendation on whether investors should "buy on the drop" or not. There will be five simple recommendation ranks: Strong Buy, Buy, Risky Buy, Avoid and Strong Avoid. Using rankings like these leaves the door open to generalization so if you intend to actually act on any recommendations, please read the entire article as investment opportunities are rarely black and white. Additionally, the ideas that form the basis for this segment are heavily reliant on momentum and contrarian investing philosophies so it is not for everyone. If you want to see more of this segment, you can follow me and if you have any questions feel free to message me or leave a comment.
Background
Westport Innovations (NASDAQ:WPRT) is a company that produces engines and fuel system technologies for use in natural gas vehicles. The company's revenue is mainly derived from two joint ventures: Cummins Westport and Weichai Westport. WPRT has 50% equity interest in Cummins Westport and 35% interest in Weichai Westport. Both of these joint ventures are seeing rising revenue as natural gas continues to prove its value as both a cleaner and a more affordable (for now) alternative to oil.
The Drop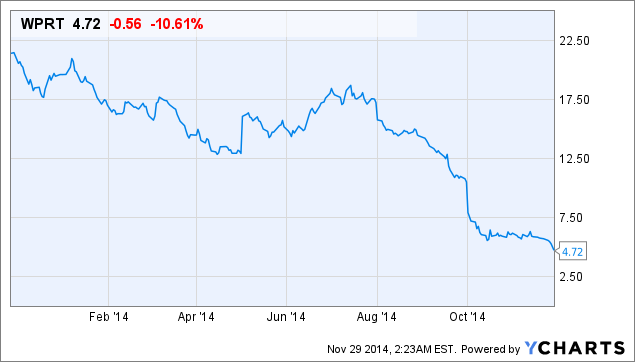 WPRT's share price tanked over 10% on Friday after OPEC decided not to cut oil production. This decision sent oil prices plunging as oversupply of the resource has hit record levels, leading crude oil prices to drop into the low 70s. This is great for owners of vehicles with internal combustion engines that run on oil, but not so great for WPRT investors. The main advantage that natural gas has over oil is its affordability, but as oil gets cheaper and the price gap narrows, natural gas becomes a less viable alternative. Now you can say that natural gas is also better for the environment than oil and so vehicles that use it for fuel should gain adoption anyways, but that is an unrealistic scenario.
The main market for natural gas vehicles is commercial vehicles such as buses and trucks. However, natural gas vehicles come with a much higher price tag for operators of bus and truck fleets because the vehicles themselves are more expensive than oil operated vehicles and because infrastructure for natural gas vehicles is still almost nonexistent. This is in sharp contrast to oil vehicles and infrastructure which are ubiquitous. So the incentive to buy NGVs is mostly embedded in the affordability of the natural gas resource itself when compared to oil. Now that oil prices have dropped so drastically, sales of NGVs will slow to a crawl. The biggest incentive for commercial vehicle operators to transition to natural gas is dissipating the further oil prices fall.
Buy on the Drop?
Before assessing WPRT's future prospects based on oil prices, I will briefly examine the company's current financials. WPRT's joint ventures generated $164 million in revenue for the company in 2013 and $103.2 million for the first nine months of 2014. The company expects full-year 2014 revenue to come in at $130-$140 million, which would be a large decrease from 2013 revenue and from 2012 revenue, which was $155 million. This development should not be worrisome as the revenue of both JVs, which provide an overwhelming majority of WPRT's revenue, are both increasing. It is estimated that 40% of new trucks in the U.S. will run on natural gas by 2045 and it is also estimated that there will be 3.8 million NGVs in China by 2020, which is more than double the number there currently. NGVs are taking off in China and are also gaining traction in the United States, which puts WPRT in a good position to benefit. For a more in-depth analysis of WPRT's business and target market, you can read my article on the company here.
However, this positive future for the company is not a sure thing. As I mentioned earlier, the only way WPRT can succeed is if oil prices rebound and the advantage that natural gas holds over oil, which is affordability, is reestablished. I believe that oil prices will rebound as countries in OPEC realize that they cannot afford to support their national budgets with oil at such low prices. The oversupply of oil will most likely be rectified as oil producing countries feel the effects of what they have wrought and realize that lower priced oil is not sustainable for their economies. While Saudi Arabia was the driving force behind the most recent decision not to cut production, other poorer members of the organization such as Venezuela, are adovcating for OPEC to reverse its decision because it hurts their oil-reliant economies the most. I believe that even rich countries such as Saudi Arabia will feel the effects of cheap oil and will eventually cut production if oil prices continue their free fall and do not rebound.
Conclusion
Because of the positive outlook for sales of NGVs and the high probability that oil prices will rebound, I rate WPRT a Buy on the drop. The rebound of oil prices should provide a short-term stock price increase for traders, and the growth of the NGV market in China and the U.S. should produce gains for long-term investors as well.
Disclosure: The author has no positions in any stocks mentioned, and no plans to initiate any positions within the next 72 hours.
The author wrote this article themselves, and it expresses their own opinions. The author is not receiving compensation for it (other than from Seeking Alpha). The author has no business relationship with any company whose stock is mentioned in this article.