I've been following Vertex Energy (NASDAQ:VTNR) since May of 2011. When I wrote "Vertex Energy: A Classic Valuation Gap" in July 2012, the stock had drifted down from its 52-week high of $3.40/share to a new low of $1.30. The recent downturn in the oil market combined with a temporary underperforming quarter created the perfect storm, causing the stock to decline 68% from its 52-week high to its current price of $3.66/share. At today's price, I believe this is one of the greatest buying opportunities I've seen since I started following the company.
Vertex Energy directly competes with Clean Harbors, Inc. (NYSE:CLH) a $2.8B company and Heritage-Crystal Clean, Inc. (NASDAQ:HCCI) a $305M company. In the chart below you can see a comparison of these 3 companies over the past 3 months.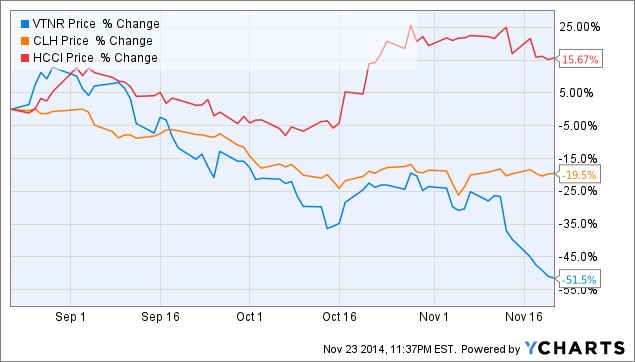 Vertex collects and purchases used motor oil (UMO) and re-refines it into various finished products. The company is focused on building out its regional strategy over the next 12-24 months. Ben Cowart (CEO, Chairman of the Board, Founder) has shown numerous times that he can execute his plan as he has closed acquisitions, brought his TCEP plant (thermal chemical extraction process) online, and increased revenue year over year. I've spent several hours with Ben picking his brain about his strategy on the business and he definitely knows the industry well. Ben has been collecting used motor oil for 28 years and his experience proves to be invaluable as he builds his vertically integrated business. Similar to when I wrote in July 2012, I believe the company is at another inflection point on their way to becoming a Billion dollar company within the next 5 years.
The company's story has changed significantly over the past year. When I started following the company at $0.70 / share it produced a single product which was sold at low margins. In the last 12 months, Vertex grew revenues by 64.9% to $243M across many products. As their recent acquisitions of Omega Refining and Heartland Petroleum are integrated into the business, I expect significant improvement in both the top and bottom line as Vertex goes from being a small player to an industry leader.
Vertex Energy is the second largest advanced processor of used motor oil in North America having the capacity to refine 137M gallons / year. A year ago, the company collected ~10M gallons of UMO from the street. Today they collect ~20M gallons of UMO and plan to grow their collection footprint organically and through strategic acquisitions. Under normal market conditions they save $0.15-$0.20 / gallon in contribution margin as compared with 3rd party purchased used motor oil. Since the waste is regulated, there will always be a need for collection.
Q1 and Q2 2014 numbers and margins were impressive. In Q3, the company strategically initiated 5-year maintenance on TCEP facility as well as stack testing at Marrero significantly impacted financial performance by ~$0.10/share. The TCEP facility only ran at 62% of total quarterly production as they cleaned their 5 tanks and worked on adding a new 6th tank. Marrero produced 87% of expected quarterly output, and Ben noted in the Q3 call he requested an increase in allowed production volume from the State. I expect to see the refineries back at full production in Q4 2014 and the company to report a quarter consistent with their growth story.
While the recent dip in the oil market may have been unexpected, I still expect the company to execute on its plan, finishing acquisitions and bringing the new assets online. The company's major success to date includes developing, patenting, and bringing its TCEP refining plant online. Since, it has been able to show an increase of 60% processing capacity.
Ben owns 25% of the company and hasn't sold a single share along the way.
Vertex's Regional Operating Strategy
Vertex is building a national footprint consolidated into regional hubs. The west coast region has facilities located in California and Nevada, and they have facilities in Houston and New Orleans to cover the Gulf Region. This will help them save millions in transportation costs. Vertex will leverage its national used motor oil aggregation network to supply raw materials (feedstock) to their newly acquired refineries.
Gulf Coast Operations
TCEP Facility - Baytown, Texas
A year ago, Vertex had one finished product that it refined into a cutter fuel stock that can be used to produce marine ship fuel. It's produced by their TCEP facility in Baytown, TX. They built this facility ground up in 2009 and have increased production in the refinery each year. Management current goals for the facility is to produce 80,000 barrels per month which is 40.3M gallons of refined UMO a year.
I toured the TCEP facility in the summer of 2013. Here is a picture of Ben giving the Tour.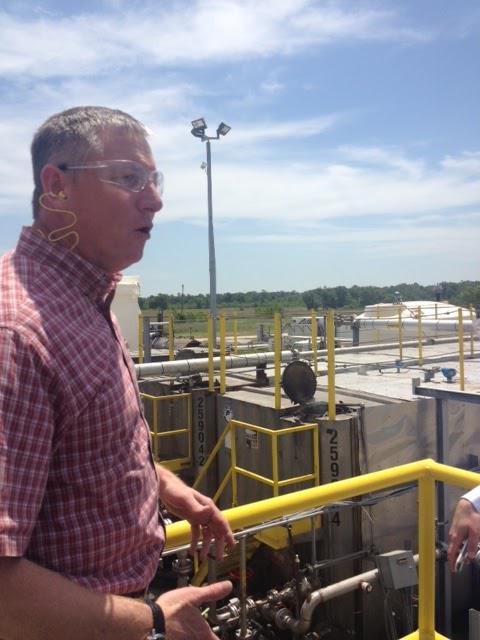 H&H Oil - Southeast, Texas (Austin, Corpus Christi, Dallas, Houston)
Vertex Energy Acquires Vertex Holdings LP - April 16, 2012
The H&H Oil collection business is a business that Ben purchased in 2007 and was founded back in 1986. They currently are growing ~40% year over year as they expand their footprint in Texas while keeping a strong foothold on the market. With H&H, Ben has been able to drive down the PFO (Pay for Oil) price, which is the price they pay a Jiffy Lube or car dealership to pick up their used motor oil. Since oil prices have been dropping the price for PFO comes down even further as UMO is priced on a discount to crude.
Vertex's 2014 Acquisitions
Omega Holdings
Vertex Energy Announces 1st Closing of Omega Assets - May 2, 2014
Omega Holdings generated $185M in revenue in 2013. The Omega acquisition not only brought revenue producing re-refining assets, but also added key synergies between teams. Omega assets benefit from the value of Vertex's previous core expertise in the collections business and selling the product. Omega's team has extensive refining expertise from their engineering backgrounds.
Vertex acquired 3 assets and will have 4 once Bango is closed. The Marrero facility is operating now producing Vacuum Gas Oil (VGO). Golden State Lubricant Works a blending and storage facility expected be operating in January 2015. The Bango facility which produces Group II base oil is scheduled to come online in Q4 2014. Myrtle Grove is currently offline located 26 miles south of Marrero on 45 acres. They basically received this facility for free. It needs ~$20M injected into it, but I see this being a 2017/2018 project after they fully digest the acquisition. Myrtle Grove could produce a Group II base oil or a white oil. I like to think of this asset as a call option for shareholders. I believe Myrtle grove could add an additional $25M in EBITDA / year once it gets up and running.
Marrero - Marrero, Louisiana
Finished Product: Vacuum Gas Oil
The Marrero refinery produces a Vacuum Gas Oil which is sold to refineries and to the marine fuels market. There is typically high demand for the product and this facility has the capacity to re-refine ~60M gallons a year. In Q3, production decreased was lower as the company completed stack work and worked on permitting issues in an effort to increase production volumes for 2015. Management is targeting an increase in production from 4,500 to 6,000 barrels/day. Upcoming marine regulations are requiring VGO at a 0.1% sulfur fuel oil spec which Vertex's product meets. New U.S. / EU marine regulations are beginning Jan. 1, 2015, and globally in 2020 which may greatly increase demand for low sulfur fuels such as VGO and TCEP.
Golden State Lubricants Works - Bakersfield, CA
Finished Product: Lubricants (Motor Oil, etc...)
The Golden State facility is used for the blending and storage of product. The Group II Base Oil from Bango is sent here where additives are blended in producing a finished lubricant product. Finished Lubricants are an interesting product group as the price is significantly less volatile than the other finished products sold by the company, bringing a steady higher margin product into the mix. Without any additional capex improvements the Bakersfield operations can produce 8 - 10M gallons of finished lubricants each year. I believe the company will produce and sell 4 - 5M gallons of lubricants in FY15. I think the company will package them up and sell a bulk packaged product back to the same customer they pick up UMO from. At this stage Vertex has completed their closed loop system. I'm looking forward to visiting this facility December 1st before attending the LD Micro Conference.
Bango Refining - Fallon, Nevada (Not Yet Closed)
Finished Product: Group II Base Oil
The Bango refinery produces a high purity Group II Base Oil. This refinery can process ~22M gallons a year. While under Omega's ownership Bango had an unfortunate fire in December of 2013 which destroyed 12 tanks. Vertex ensured that insurance payments would cover the damage before proceeding with the acquisition. Vertex was expected to have closed on this facility by now and I anticipate they will before year end. The Bango refining facility plays a major role in contributing to the 2015 west coast growth story.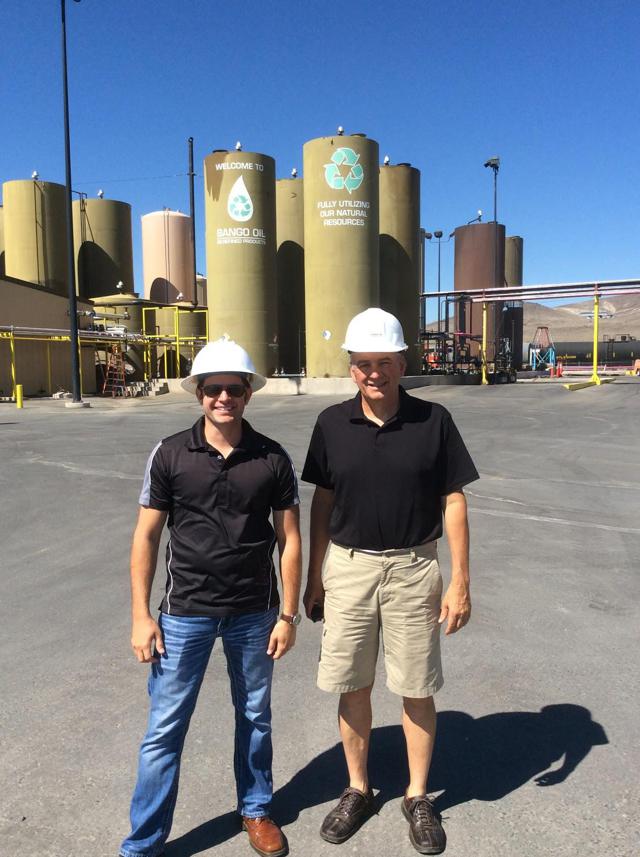 I toured the Bango facility with a fellow investor from MicroCapClub in September 2014.
Myrtle Grove Complex - Belle Chaise, Louisiana
Finished Product: Group II Base Oil and White Oil
This is a 45 acre property with a 99 year lease on it. The facility had $100M in capex invested in 1990 and another $20M by Omega within the past 3 years. The facility is not operational today. This asset can produce $25M in EBITDA if it was operational and I estimate it would need ~$20M in CapEx to get it up and going. I see this as a call option for additional EBITDA in 2016-2017. I haven't visited the complex yet, but from speaking with the CEO it sounds like the facility could be a valuable asset long term.
Heartland Petroleum - Columbus, Ohio
Finished Product: Group II Base Oil
Vertex signed a consulting agreement with Heartland Group on July 30th to begin their due diligence process. On October 28th, 2014 the company entered into an asset purchase agreement with Heartland Petroleum. (8k filing). Heartland collects used motor oil and produces Group II base oil. Heartland has 17M gallons of refining capacity and collects ~7M UMO gallons / year. Vertex signed a definitive agreement with Heartland and is scheduled to close by the end of Q4. Heartland operates with a very interesting collection footprint in the Midwest which is a different pricing market for UMO and diversifies the geographic location of the collection business.
Adjusting the Revenue Model
The company released an updated presentation on May 28th, 2014 that they used for the Craig Hallum conference May 2014. Slide 12 is very important. It shows the companies target model along with the average commodity prices for each of the finished products. In my model, below I've used today's market prices. WTI has fallen ~30% in the last 60 days. During the Q3 call the company talked about the pay-for-oil price coming down an additional ~25% in Q4. While PFO prices come down relatively speaking, the generators of the oil are still treated as customers and it's harder to get them down to market price. Therefore as a large collector you may wind up paying a premium compared to buying UMO at third party market prices. Considering Vertex currently collects 15% of the UMO they need, the fast market decline likely benefited the company in the short term compared to its peers who have a large oil collection footprint.
Updated Financial Model
| | | | |
| --- | --- | --- | --- |
| | Q4 2014 (Est) | FY2015 | FY2016 |
| Total Revenue | $80,154,000 | $474,368,801 | $574,854,645 |
| Revenue Growth % | | 72% | 21% |
| | | | |
| TCEP | $15,960,000 | $84,268,800 | $99,542,520 |
| Marrero | $28,350,000 | $159,000,001 | $196,205,625 |
| Bakersfield (lubes) | $0 | $15,440,000 | $34,000,000 |
| Mrytle Grove | $0 | $0 | $0 |
| Bango (base oil) | $3,033,334 | $48,620,000 | $58,558,500 |
| Heartland (base oil) | $2,010,666 | $40,040,000 | $48,048,000 |
| Refining & Marketing | $19,200,000 | $80,500,000 | $91,000,000 |
| Non TCEP Revenue | $7,100,000 | $28,000,000 | $28,500,000 |
| Recovery | $4,500,000 | $18,500,000 | $19,000,000 |
| | | | |
| Gross Profit | $8,015,400 | $75,899,008 | $114,970,929 |
| Gross Margin % | 10.00% | 16.00% | 20.00% |
| EBITDA | $1,603,080 | $35,577,660 | $57,485,465 |
| EBITDA Margin % | 2.00% | 7.50% | 10.00% |
| Net Income | $801,540 | $26,090,284 | $43,114,098 |
| Net Margin % | 1.00% | 5.50% | 7.50% |
| | | | |
| Diluted EPS | $0.03 | $0.84 | $1.31 |
| Shares Out (FD) | 29,000,000 | 31,000,000 | 33,000,000 |
| | | | |
| Multiple | | | |
| 15x | | $12.62 | $19.60 |
| 20x | | $16.83 | $26.13 |
| 25x | | $21.04 | $32.66 |
| | | | |
| Commodity Price (AVG) | Q4 14 | FY 15 | FY 16 |
| UMO | $1.25 | $1.38 | $1.51 |
| VGO | $2.25 | $2.48 | $2.60 |
| TCEP | $1.90 | $2.09 | $2.19 |
| Base Oil | $2.60 | $2.86 | $3.00 |
| Finished Lubricants | $3.60 | $3.86 | $4.00 |
Target Return of 214% by end of 2015
Vertex has already generated $196.3M in revenue for 2014 and I estimate it will complete the year around $276M. If the company share price appreciates to the low end of my 2015 range and trades at a 15 P/E ratio, you can capture 214% by the end of the year. It's possible the company could exceed my targets and trade at a higher multiple considering competitor HCCI is currently trading at 60 times earnings.
Will Vertex Make a Run at Thermo Fluids?
I think it is possible that Vertex could acquire Thermo Fluids (TFI) owned by Nuverra Environmental Solutions (NYSEMKT:NES) which collects ~50M gallons a year of UMO internally and ~5M from third parties. The Heartland acquisition brings additional refining capacity into the Vertex platform and in turn the need for more feedstock (at the time of acquisition Heartland collected 41% of their refining capacity). Acquiring a large oil collector, collecting ~50M+ gallons would put Vertex in control of nearly ~60% of their feedstock. Acquiring TFI could fast forward the businesses growth and margin expansion. However, if the company has to overpay the acquisition may not make sense. If Vertex doesn't do a deal with TFI they still have the option of going after smaller oil collectors throughout the west coast region.
Michael Hoffman, an analyst with Stifel published an interesting read on September 15th, 2014 discussing the potential purchase of Thermo Fluids and what it would mean for the company. He made a few interesting points:
With the Omega Refining acquisition, Vertex now purchases approximately 55% of TFI's collections
In 2013, TFI generated $116M in revenue and ~$13.8M in EBITDA.
At the end of Q4 this year, the current contact between Vertex and TFI expires.
Verolube was the potential buyer and originally offered $175M for TFI. After several months of negotiating under an exclusive agreement, Verolube reduced their offer to $145M. On September 2nd 2014, NES (Nuverra Environmental Solutions) terminated the agreement.
Vertex could process all of TFI's feedstock and be a player on the West Coast with a diverse base of a 20,000 customers. TFI was originally acquired by Heckmann (now NES) for $245M in 2012.
Vertex, Omega, and Heartland combined have ~137M gallons of refining capacity but they only collect ~20M gallons of UMO/year. Vertex constantly needs to manage their operating risk (the difference between the price they acquire UMO for compared to the price they sell finished product for). If they are forced to purchase 117M third party gallons to feed their refining assets, the margins will definitely be tighter than if you were collecting the oil internally. The company stated that when you collect the oil internally, it's a pricing improvement of $0.15 - $0.20/gallon. That's significant. Pennies are important in this business. If you are processing over 100M gallons a year and you save $0.20/gallon that's $20M/year in additional EBITDA. Therefore, I have an easy time understanding why Vertex may consider acquiring an oil collection business.
TFI is one of the last large oil collectors for sale. FCC Environmental was recently acquired by Heritage-Crystal Clean, Inc. for $90M. I think HCCI may have overpaid for FCC, but they expect $20M in EBITDA synergies to come from it. HCCI is now collecting 100M gallons, with ~65M in annual refining capacity. FCC currently collects 50M gallons, but operates in a much more competitive market on the East Coast.
HCCI's refining capacity is oversupplied with UMO and during their Q3 call, management mentioned that they don't have further plans to expand their refining capacity at this time. Clean Harbors, Inc. collects over 200M gallons of UMO / year with ~160M gallons of refining capacity, and like HCCI is over supplied.
The most recent Nuverra Environmental Solutions 10Q states:
(14) Assets Held for Sale and Discontinued Operations
Following an assessment of various alternatives regarding its Industrial Solutions business in the third quarter of 2013 and a decision to focus exclusively on its Shale Solutions business, the Company's board of directors approved and committed to a plan to divest TFI, which comprises its Industrial Solutions operating and reportable segment, in the fourth quarter of 2013. In March 2014, the Company entered into a Stock Purchase Agreement with respect to the sale of 100% of the equity of TFI to VeroLube USA, Inc. ("VeroLube") in exchange for $165.0 million in cash and $10.0 million in VeroLube stock. In June 2014, Nuverra and VeroLube entered into an Amended and Restated Stock Purchase Agreement which, among other items, extended the closing date of the transaction. In August 2014, the agreement with VeroLube was terminated pursuant to the terms of the agreement. Subsequent to the termination of the VeroLube agreement, the Company engaged in negotiations with other potential acquirers. Although the Company has not yet entered into a definitive agreement with any such prospective purchaser, on September 24, 2014, Nuverra entered into a non-binding letter of intent for the sale of 100% of the equity of TFI to a new prospective acquirer in exchange for a combination of cash and common stock of the acquirer. Closing of a transaction would be contingent upon various conditions including execution of definitive transaction documentation, purchaser due diligence, purchaser obtaining the necessary financing and various other matters.

The September 24, 2014 letter of intent for the proposed sale is for an amount that is below the carrying value of TFI's net assets. Based on the letter of intent and subsequent negotiations with the prospective purchaser, TFI recorded a charge of approximately $49.0 million , reducing the estimated net recoverable value of its net assets to approximately $103.7 million at September 30, 2014. The estimated net recoverable value was determine based on Level 2 and Level 3 inputs with respect to the value of the common stock of the prospective acquirer using an average of recent closing prices and adjusted for certain discounts. The charge was primarily related to a further reduction of goodwill in the amount of $45.5 million as well as estimated additional transaction costs related to the sale. The Company is in the process of negotiating definitive transaction documentation with the proposed purchaser, which may result in modifications to the final transaction terms (including, but not limited to, the amount and form of consideration to be paid by the prospective purchaser). To the extent that the final net sale proceeds are less than the carrying value of TFI at the end of future reporting periods or at the time of sale, additional write-downs may be required.
I wonder who the prospective buyer is...
Understanding Vertex's Market and Risks
Base Oil Market Changes and Pressure
The base oils can be tracked alongside WTI Crude and with an oversupplied market prices have come down sharply. Additional declines in the price for crude may continue to drive base oil prices down but as demand increases the oversupply discount should come out helping to raise prices. As crude comes down, Vertex is also able to reduce the cost of their raw materials, effectively managing the "spread" or their margin. Essentially they buy UMO for less, and fortunately they buy a large percentage from a third party collectors vs. UMO they collect themselves. As a collector, it's hard to take advantage of a rapidly declining oil market.
Hitting current profitability / margin targets is less about the price of crude oil and more about properly maintaining margin ("spread") in volatile markets. With management's experience I believe Vertex is doing well here. Since I've been tracking the company, Vertex Energy has been ahead of every trend in the market.
Why did Chevron build a Billion dollar Base Oil facility in 2014?
Currently the base oil market is oversupplied due to global supply as well as Chevron (NYSE:CVX) recently investing in a $1.4 billion base oil facility in Pascagoula, MS. Chevron expects global base oil demand to increase 97% by 2025 from 2010 levels. Why is demand expected to grow? As a recent example, in Europe, Total recently shut down a Group I base oil facility where they had invested more than $1.25 billion. Demand for Group I base oil is declining sharply due to environmental regulations, which in turn increases demand for the Group II base oil which Vertex produces.
Balance Sheet
Accounts Receivable
According to VTNR's Sept. 30, 2014 filling, it reported cash and equivalents of $1.2MM with $21.7MM in accounts receivable and $11.5MM of assets in a "Note receivable-related party." The note is related to a $13.9MM secured promissory note provided to VTNR by Omega Refining and Bango Refining as part of the acquisition. The promissory note is comprised of five loans: (1) $7.56MM loan to Omega for consideration relating to the assets agreed upon in the initial closing; (2) a $750K loan related to delivery of used motor oil inventory at the initial closing; (3) a $1.4MM loan related to the delivery of a certain amount of used motor oil inventory at the final closing; (4) a loan in a single advance of $3.15MM to satisfy accounts payable and other working capital related to obligations of Omega after the initial closing; and (5) an additional loan of up to $1.0MM for capital expenditures. The repayment of the Omega secured note is guaranteed by Omega Holdings and is payable in full no later than March 31, 2015. Accounts receivable swelled to $21.7MM from $14.0MM as the customer mix shifted to an increase in major lubricant packagers whose settlement terms are typically 45-60 days, while legacy trading customers have typically had 2-3 day settlement terms. VTNR is working to shorten terms with new customers to 30 days, but acknowledged that the extent it can shorten these terms may be somewhat limited. We believe VTNR's accounts receivable will moderate, providing increased liquidity over the next 1-2 quarters as VTNR laps the initial 45-60 day term period and the average settlement term shortens going forward.
Status of Default
VTNR reported total debt of $42.8MM in its latest quarterly filing. Of the debt, $40MM originated in a credit agreement, outlined below, between VTNR and Goldman Sachs with the purpose of acquiring the Omega Refining assets. On May 2, 2014, VTNR entered into a credit agreement with Goldman Sachs to provide a term loan totaling $40MM to be repaid on May 2, 2019 with interest between 5.5%-7.5% of debt outstanding. Minimum principal repayments were decided as follows: $300K per quarter until Dec. 31, 2014 with minimum payments rising to $800K per quarter thereafter until maturity. As of Sept. 30, 2014, an accounting change was made that reported $40.8MM of debt from long term to current liabilities after an event of default occurred when covenants of the term loan were broken. As a result, VTNR has restricted access to its line of credit debt facility.
Covenants in the Goldman Sachs and amended Bank of America credit agreements provide that VTNR maintain a quarterly ratio of consolidated debt to consolidated EBITDA between 4:1 and 2:1 (depending on the quarter), maintain quarterly consolidated EBITDA (as calculated and adjusted in the credit agreement) between $4.25MM-$17MM and maintain liquid cash on hand and available for drawdowns of at least $3MM. While neither lender is charging default interest on debt outstanding or exercising any rights in connection with the defaults at this time, neither has agreed to forebear their rights from taking any action in the future. It is our understanding that Goldman Sachs and Bank of America are actively working with VTNR to reassess the current business and adjust the covenants as necessary. We believe VTNR will incur penalties in the form of higher interest rates on outstanding debt until the company has rectified its position within the covenants. We believe the penalties could include up to 2% higher interest on debt outstanding during that period. Based on comments from management on VTNR's last earnings call, we would expect the covenants will be adjusted in VTNR's fourth quarter. While we believe VTNR is at a low risk of liquidation or bankruptcy, we do acknowledge that the relationship with these banks may be at risk and future borrowing necessary to consolidate UMO collectors and refining assets would be compromised if VTNR were unable to borrow additional capital in the future.
Source: Global Hunter Securities November 25th Report
So, Why is Vertex Trading Down?
The greater oil market has been under heavy pressure, WTI Crude has dropped over 30% in a short time period.

On the Q3 call, the company said that they are currently in default with Goldman Sachs in regards to their debt covenants. It's likely this situation contributed to the 34% decline since the Q3 call.

Bango Refining hasn't closed yet, and the company thought it would close in Q3, which shows some execution risk. The situation with Goldman Sachs may have slowed the closing of this asset.

From a technical perspective, the stock's chart does not look good and likely attracted technical short sellers and induced panic or fear in other holders. After support broke at $5 there seemed to be additional margin selling pressure on the stock.

Tax loss selling combined with investor fear driving a falling stock that has a complex business model.
Final Thoughts
I believe that the Vertex Energy story is very misunderstood. Seeing opportunity in Vertex requires the ability to understand how the company can purchase assets at a discount and deploy their people to bring them online. The company is quickly growing into a vertically integrated re-refiner which owns the entire value chain from source (UMO) through multiple finished products (VGO, Group II Base Oil, Low-sulfur TCEP product, etc...).
I'm looking for the company to get back into good standing with creditors and close the Bango and Heartland facility. With these two events behind us, we can remain confident the growth story is still intact. Based on my conservative model, I estimate the company will be worth between $400 - $675M by the end of next year, implying a share price somewhere between $12.62 and $21.04 by the end of 2015. I believe the management team is building a world class organization and I intend to be a shareholder for many years to come.
Related Oil Collection Acquisitions In The Last 2 Years
March 10, 2012 - Heckmann to buy Thermo Fluids for $245 Million
October 29th, 2012 - Clean Harbors to Acquire Safety-Kleen for $1.25 Billion
Disclosure: The author is long VTNR.
The author wrote this article themselves, and it expresses their own opinions. The author is not receiving compensation for it (other than from Seeking Alpha). The author has no business relationship with any company whose stock is mentioned in this article.
Editor's Note: This article covers one or more stocks trading at less than $1 per share and/or with less than a $100 million market cap. Please be aware of the risks associated with these stocks.