Over the past few months, crude oil has fallen significantly, with WTI falling from $100/barrel to $66/barrel and Brent falling from $110/barrel to around $72/barrel.
As crude has fallen, high flying solar stocks have fallen as well.
Since September, the Guggenheim Solar ETF (NYSEARCA:TAN) has fallen roughly 23%, with many solar stocks such as JinkoSolar (NYSE:JKS), Canadian Solar (NASDAQ:CSIQ), and Trina Solar (NYSE:TSL) down significantly higher percentages.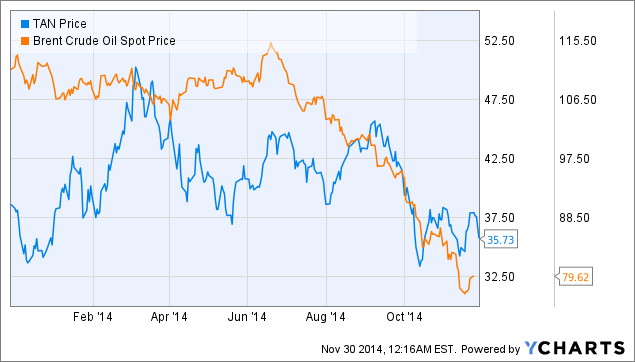 Solar has had a complex relationship with crude oil.
Before 2010, solar and crude were highly correlated, with a correlation coefficient of 0.7. In recent years, however, that correlation has broken down. Before September, solar had a correlation of close to 0 to crude oil this year.
After crude oil started falling in earnest in September, however, solar began falling as well.
In some ways, the correlation does not make any sense.
Due to its high energy density and high relative expense, most of the world's crude oil is used for transportation purposes rather than for electricity generation.
Rather than competing against petroleum, solar competes principally against natural gas and coal, which make up 27% and 39% of U.S. electricity generation, respectively. Crude oil, on the other hand, generates only one percent of U.S. electricity (and five percent of global electricity).
Given that natural gas and coal prices have not fallen nearly as much as crude in recent months, it is certainly puzzling why solar has fallen so much. Solar industry fundamentals are currently very strong, with many solar companies running at full capacity and reporting rising margins.
Personally, I think there are three reasons why crude has recently become correlated with solar:
First, the precipitous fall in Brent may have caught some market participants off guard and may have generated substantial margin calls. Those margin calls may be forcing hedge funds into sell shares of solar companies to meet those calls, thereby causing solar stocks to fall as well.
Second, solar depends subsidies and incentives, which depend on government support. Government policies are ultimately derived from the consent of the people. If gasoline/diesel prices are high, people are more likely to support government subsidies to solar, whereas if gasoline/diesel prices are low, people are less likely to support subsidies to solar. Less subsidies mean less growth and lower solar equity prices.
Third, the Chinese economy is decelerating. China imports 5 million to 6 million barrels of oil a day, and accounts for one quarter of global solar demand. If the Chinese economy is weak, all the factors that depend on China will eventually be weak as well. While the Chinese government is presently supporting solar, if China undergoes a hard landing, credit will contract, and the weaker solar companies will suffer significantly. The flip side, however, is if China recovers, crude oil and solar will likely recover as well.
Disclosure: The author has no positions in any stocks mentioned, and no plans to initiate any positions within the next 72 hours.
The author wrote this article themselves, and it expresses their own opinions. The author is not receiving compensation for it (other than from Seeking Alpha). The author has no business relationship with any company whose stock is mentioned in this article.