"Black Friday"
The sharp decline last Friday (November 28) brought many Oil & Gas stocks further into the negative territory for the year and to their lowest trading levels in a long time. Many large-capitalization equities in the sector are currently priced at levels similar to mid-2012 when WTI declined to as low as $82 per barrel.
Reduced liquidity during the short holiday trading session in the U.S. last Friday likely contributed to the Oil & Gas stocks' reaction to OPEC Meeting's resolution on Thursday. Risk management-driven position liquidations by hedge funds and in individual margin accounts may be another factor exacerbating the decline. Still, many stock price moves on Friday seem disproportionately wide, even in the context of the sharp oil price drop that followed OPEC's announcement.
As one would expect, the sell-off was most pronounced among small-capitalization stocks. However, large-capitalization names were not immune either. While ~10% declines on the day were fairly common (with the exception of Oil Majors), the category of stocks that saw 20%+ declines was strikingly large and included names that are broadly perceived as competent operators with high-quality assets (Laredo's 34% decline provides a vivid example of such an outsized move). The following list of one-day moves on Friday illustrates the severity and breadth of Friday's sell-off:
Continental Resources (NYSE:CLR): - 20%
Whiting Petroleum (NYSE:WLL): - 21%
Oasis Petroleum (NYSE:OAS): - 27%
Triangle Petroleum (NYSEMKT:TPLM): - 26%
Laredo Petroleum (NYSE:LPI): - 34%
Clayton Williams Energy (NASDAQ:CWEI): - 26%
EP Energy (NYSE:EPE): - 25%
Bonanza Creek Energy (NYSE:BCEI): - 24%
Penn Virginia (PVA): - 29%
Sanchez Energy (NYSE:SN): - 29%
Carrizo Oil & Gas (NASDAQ:CRZO): - 20%
SandRidge Energy (NYSE:SD): - 26%
LINN Energy (LINE): - 17%
Superior Energy Services (NYSE:SPN): - 17%
Seventy Seven Energy (NYSEMKT:SSE): - 25%
Given that the declines occurred on a Friday following Thanksgiving, one would need to see a confirmation this coming week that these unusual declines can hold. In the absence of a meaningful recovery this coming week, the decline would indicate that the market's perception with regard to the shape and longevity of the cyclical trough for oil has materially changed.
Correction Scorecard
Friday's trading session accounts for the lion's share of the decline that stocks in the Oil & Gas Sector have posted since my previous update two weeks ago (prior to Friday, one could characterize stock moves as "relative stability"). As shown on the chart below, all stock groups in my sample universe, with virtually no exception, are down over the past two weeks. As one would expect, Oil Majors and natural gas-focused stocks were least impacted, whereas oil-focused independents and oil service stocks posted the strongest declines.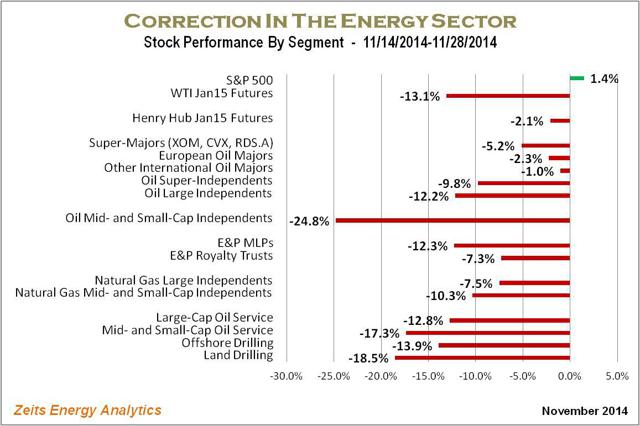 (Source: Zeits Energy Analytics, November 2014)
While the most recent two-week decline in the sector is very significant in percentage terms, in absolute terms it is in fact no different from the moves that we have already seen during the earlier phase of the current correction. The correction scorecard graph below summarizes average "recent-peak-to-current" performance by individual stocks that are grouped together by sector and size. Individual stock performance is provided in full detail in the spreadsheets at the end of this note.
Mid- and small-capitalization stocks, in both Upstream and Oil Service segments, remain the worst performing groups, now trading at an average discount to each individual stock's recent peak price of ~50%, a staggering decline. Large-capitalization E&P independents and large-capitalization oil service stocks are trading at a ~30% average discount. This compares to a ~35% peak-to-current decline in the price of the January 2015 Nymex WTI contract and ~17% peak-to-current decline in the price of the January 2015 Nymex Henry Hub contract.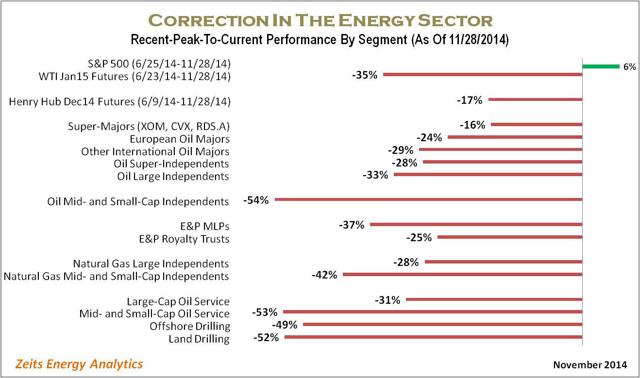 (Source: Zeits Energy Analytics, November 2014)
Oil Majors Are Finally "Catching The Flu"
The performance of the three oil super-majors - Exxon (NYSE:XOM), Chevron (NYSE:CVX) and Shell (NYSE:RDS.A) - continues to stand out relative to the rest of the Oil & Gas Sector. However, the correction is taking its toll on these three stocks as well, particularly when performance is benchmarked against the S&P 500 index. Using the average recent-peak-to-current performance metric, the three majors are now lagging the S&P 500 by ~22%, a significant underperformance. As a reminder, the combined $0.9 trillion market capitalization of these three stocks is comparable to the combined capitalization of all small-, mid- and large-capitalization stocks in my sample universe (excluding other Oil Majors and Schlumberger). From a fundamental perspective, the Super-majors are characterized by very low financial leverage, high proportion of counter-cyclical production sharing contracts ("PSAs") and the effective hedge from downstream assets, which limits their exposure to the oil price decline.
Russia's Lukoil (OTCPK:LUKOY) was the best performer in the Oil Majors category in the past two weeks, gaining 3%. The solid performance is somewhat surprising, given the continued deterioration of Russia's political risk and increasing concern over the risk of a credit crunch that the heavily indebted Russia's corporate sector may face in the near future.
Small-Capitalization E&P Stocks Lead The Decline
Small- and mid-capitalization E&P stocks extended their dramatic underperformance in the past two weeks, with the huge decline posted last Friday. Many stocks in this group are currently trading at less than one-third of their recent peak prices. The average recent-peak-to-current decline stands at a staggering 54%.
It is understandable that debt and reliance on value from future drilling become concerns for this growth-oriented group in a low oil-price environment. However, it appears that stocks are beginning to price in a fairly pessimistic scenario with regard to the future oil price.
Oil Service Stocks "Catch Up" In Their Declines
After several weeks of poor performance, Oil Service stocks have essentially caught up with the Upstream stocks in terms of their peak-to-current declines. This is a logical outcome, as the loss of economic return due to lower oil prices will ultimately be shared by all segments of the industry's value chain, given its highly fragmented and competitive structure.
Similar to the E&P Sector, stock performance in Oil Services is strongly differentiated by size. The performance of smaller Oil Service stocks matches that of smaller E&P stocks and the performance of larger Oil Service stocks matches the performance of larger E&P stocks, as one can see from the chart above.
The dividend suspension by Seadrill (NYSE:SDRL) served as a negative performance catalyst in the Oil Service sector last week. The company's comments with regard to the overcapacity in the offshore drilling fleet and lack of visibility with regard to demand inevitably lead to a parallel with other segments.
An Opportunity Or A Falling Knife?
An eternal question. The answer appears to be a function of one's view on the shape of the commodity price cycle and pace of demand growth. The experience of the past four years indicates that a recovery scenario, where oil prices again reach above $90-$100 per barrel of WTI, certainly has a right to existence. The strong commodity price signal that we are currently seeing should at some point translate into a supply response.
However, as I discussed in my other note, in the event OPEC's decision is driven by structural concerns over accelerating capacity growth from oil mega-projects, it would be difficult to count on OPEC's support in making the current downcycle shorter and less painful.
Oil & Gas Sector Correction Scorecards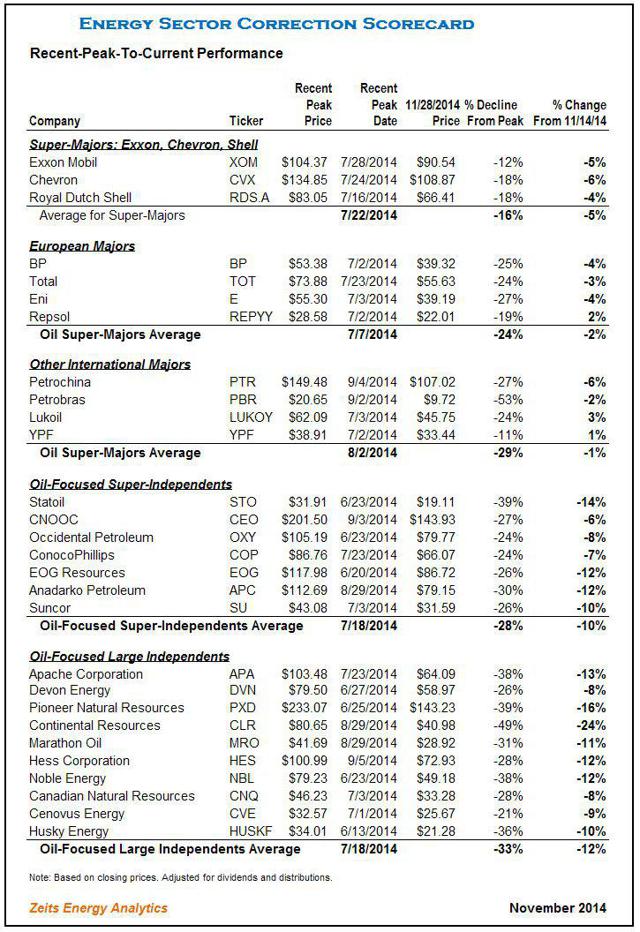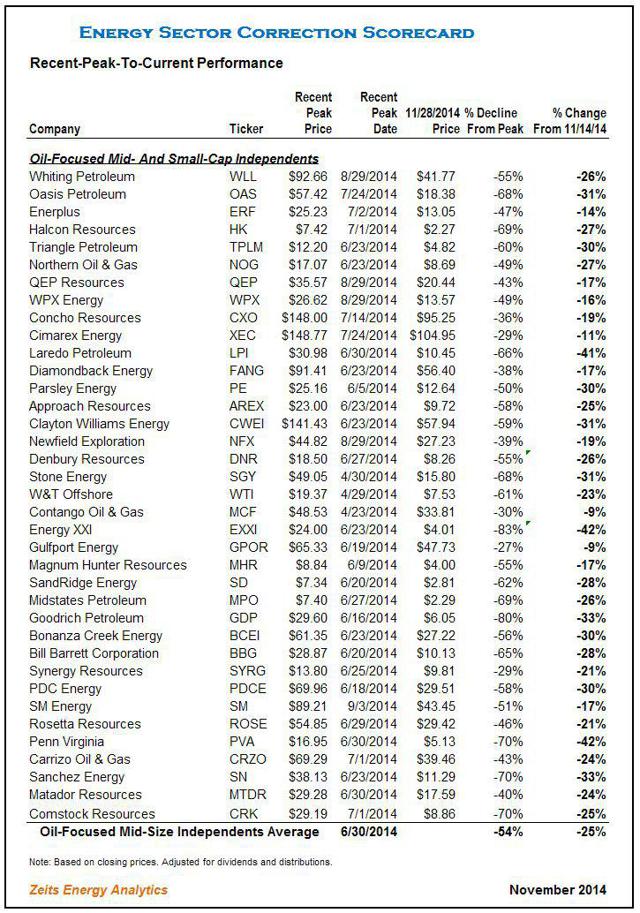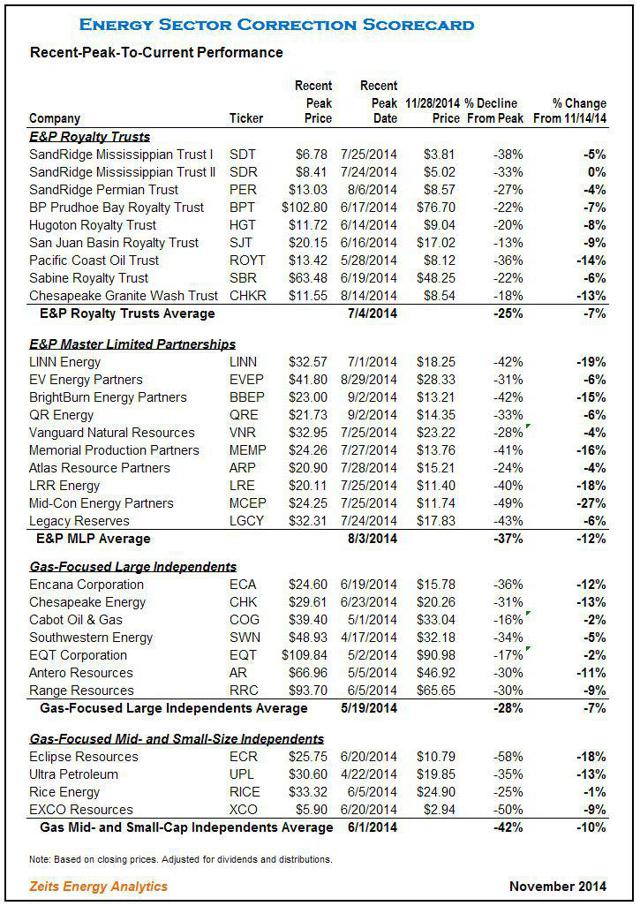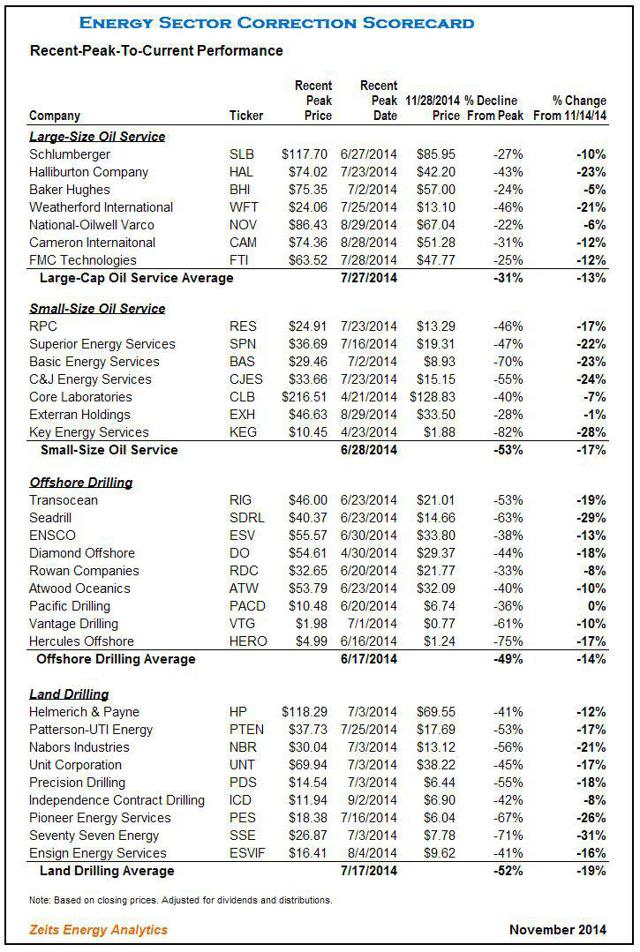 (Source: Zeits Energy Analytics, November 2014)
Disclaimer: Opinions expressed herein by the author are not an investment recommendation and are not meant to be relied upon in investment decisions. The author is not acting in an investment advisor capacity. This is not an investment research report. The author's opinions expressed herein address only select aspects of potential investment in securities of the companies mentioned and cannot be a substitute for comprehensive investment analysis. Any analysis presented herein is illustrative in nature, limited in scope, based on an incomplete set of information, and has limitations to its accuracy. The author recommends that potential and existing investors conduct thorough investment research of their own, including detailed review of the companies' SEC filings, and consult a qualified investment advisor. The information upon which this material is based was obtained from sources believed to be reliable, but has not been independently verified. Therefore, the author cannot guarantee its accuracy. Any opinions or estimates constitute the author's best judgment as of the date of publication, and are subject to change without notice.
Disclosure: The author has no positions in any stocks mentioned, and no plans to initiate any positions within the next 72 hours.
The author wrote this article themselves, and it expresses their own opinions. The author is not receiving compensation for it (other than from Seeking Alpha). The author has no business relationship with any company whose stock is mentioned in this article.
Editor's Note: This article discusses one or more securities that do not trade on a major U.S. exchange. Please be aware of the risks associated with these stocks.