Know what you are invested in. This rule should apply to investors of all levels. After speaking with many friends and family over this holiday season I was amazed at how many people unknowingly took large bets on Exxon Mobil (NYSE:XOM) and Chevron (NYSE:CVX), two companies that largely dominate the energy fund space (due to their size). While I believe these companies will do well long-term, I believe they should be avoided currently due to poor forecasted earnings and sales.
Many investors are told to own funds to gain broad exposure to certain markets. While this can be good for certain areas, such as small cap funds and emerging market funds, I believe it is wiser to be very picky in the oil and gas space. Below is the chart for ProShares Ultra Oil & Gas (NYSEARCA:DIG), indicating that the fund is starting to become oversold. But before pulling the trigger on the gas pump, you may want to hold out a little bit longer.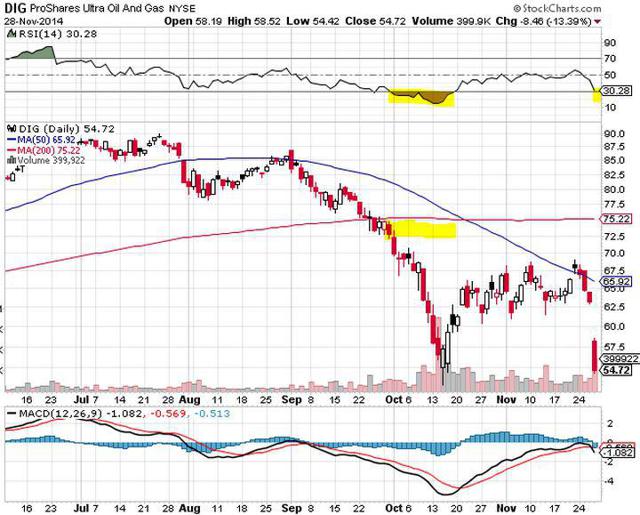 DIG is just starting to enter another hole to climb out of. If you notice, the last time this happened was October when the price had a rough trading session for about 11 trading days until some recovery happened. I think this will break through support and continue downward in the near-term.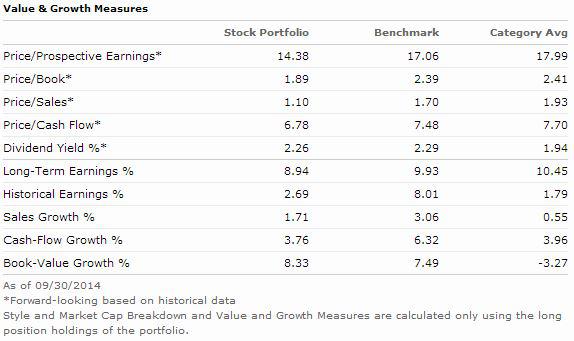 Positives include the fact that earnings and sales are still growing, valuation is cheap compared to historical averages, and the technicals are indicating oversold. This information above is via Morningstar. The fund is leveraged so it's a higher risk proposition in the oil and gas space.
The problem is that OPEC is not cutting supply and the prices will remain to be suppressed until production levels slow. How long will this last? Great question, and if you have the answer to that you would know exactly when to re-enter the oil and gas space. However, predicting the future is extremely difficult, even for the best forecasters. Therefore, let's instead examine which companies are still healthy and profitable and are most likely to stay in business and handle all of the market shakes.
The largest holdings in DIG are below.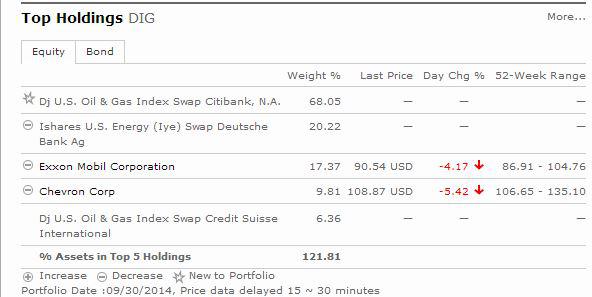 Notice that the largest single stock holdings are Exxon Mobil (XOM) and Chevron (CVX). The fund also has a 5.71% holding in Schlumberger Ltd. (NYSE:SLB) and a 4% holding in ConocoPhilips (NYSE:COP). Let's examine these stocks further.


A couple key things to notice in the above charts provided by finviz accessed on November 30th, 2014 are the earnings and sales. Schlumberger is the only company that can expect some growth in the next year in revenue. COP and SLB also outperform on all profitability metrics - but keep in mind their market cap is much smaller so percentages can be misleading to some extent. I personally don't like to own a fund when the largest holdings are expected to decrease in both earnings and sales, it is simply a difficult argument to make. While long-term expectation is positive for both XOM and CVX, the buying points are critical and I do not believe there is a good margin of safety for these giants at their current levels. If there is news that OPEC is slowing production, that may be a good point to re-examine these!
If you dig into energy funds, you will notice a trend. Exxon Mobil Corp. is so huge that owning an energy fund is essentially owning XOM. One example is Energy Select Sector SPDR (NYSEARCA:XLE), which is over 16% XOM and 13% CVX.

A fund with a better diversification is provided by Vanguard, Vanguard Energy Inv (MUTF:VGENX), which has portfolio weight spread more evenly.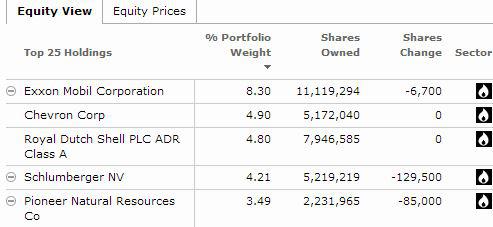 Notice you see the same names come up time and again. Exxon, Chevron, and Schlumberger. My concern is that investors don't realize they are making large bets on Exxon Mobil when they really mean to take advantage of cheaper buying opportunities. I have my favorites, which are Schlumberger and ConocoPhilips, which I believe are well poised to survive the current market volatility. Make sure you examine what you are invested in and are aware of your exposure during this new year, good luck!
Disclosure: The author has no positions in any stocks mentioned, and no plans to initiate any positions within the next 72 hours.
The author wrote this article themselves, and it expresses their own opinions. The author is not receiving compensation for it (other than from Seeking Alpha). The author has no business relationship with any company whose stock is mentioned in this article.